News and Public Safety Broadcasters Use Dejero for COVID-19 Coverage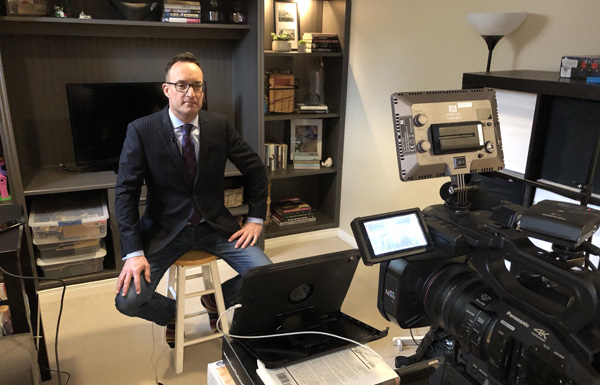 Dejero is making support options available to broadcasters and public safety groups who need to continue creating and delivering live content or communications, with the usual reliability and quality, during the COVID-19 pandemic.

Broadcasters must adhere to changing government requirements, many staff members are working from home. Emergency teams, on the other hand, need to mobilise and respond quickly in times of network stress.
Dejero is giving access to its LivePlus mobile app, which broadcast talent and content contributors can use to create and deliver live video, produced in the field, into the broadcast workflow. Complimentary new licenses of the app are available to use until 30 September 2020 to make remote reporting easier for content contributors. So far, Dejero said they have recorded ten times the usual number of live streams from LivePlus over the last month.
Home Studio
Anchors, reporters and meteorologists working from home are also using the ability to view return video and teleprompting feeds from the broadcast facility. By monitoring low latency feeds on a smartphone, tablet or computer screen, positioned at eye-level behind the camera, reporters and anchors can continue to use professional studion tools that they are accustomed to, live from home.


These feeds are served by a Dejero CuePoint return feed server located at the broadcast facility. When researchers and script writers send updates to the teleprompter feeds, CuePoint's low latency—as low as 250 milliseconds—allows the on-screen talent to read updated text as it flows in near real-time to make sure the audience is receiving the most up to date information. It also lets them see the programme's other talent in the studio or in other remote locations, resulting in genuine interaction with their colleagues during in-programme conversation.
Sarah-Jane Mee of Sky News, CBS/CW San Diego TV news anchor Marcella Lee and WUSA9 TV news anchor and reporter Adam Longo are some of the TV news staff working from home who have used Dejero's LivePlus mobile app, downloaded to a smartphone, tablet or notebook to produce news content from their home environments while they are on lockdown.
Live from Toronto
Nick Dixon, anchor and reporter for CP24 & CTV News in Toronto, started anchoring CP24 programming from home in late March with a setup that includes a Dejero EnGo HEVC mobile tranmitter. The equipment gives him and his reporter colleagues the ability to continue broadcasting from several locations across the Toronto area while maintaining social distance.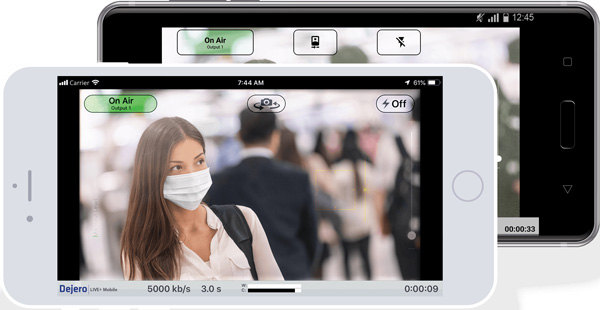 LivePlus app.
He said, "The EnGo sends a strong enough signal to make the feed from my house as clear as a standard shot from the studio. It's connected to my camera through a cable and a separate cable connects my ear piece so that I hear the control room and know when to speak and when to be quiet, other reporters and guests who join our broadcasts via FaceTime, Skype and so on."
To help him read the news, LivePlus allows him to see a feed from the TelePrompTer, run by a rotating crew of staff manning the studio, on one of his iPads and on another iPad he sees the return feed.
Expert Commentary for Newsrooms
The overwhelming scale and socio-economic impact of the pandemic means that viewers want to hear from experts on many different topics related to coronavirus. Dejero now has a 'Find an Expert' search capability accessible to journalists and show producers from inside the Dejero Control cloud-based management system. This function accesses a database, compiled and maintained by ExpertFile, of healthcare professionals, university academics and industry experts who are available to share their expertise with journalists.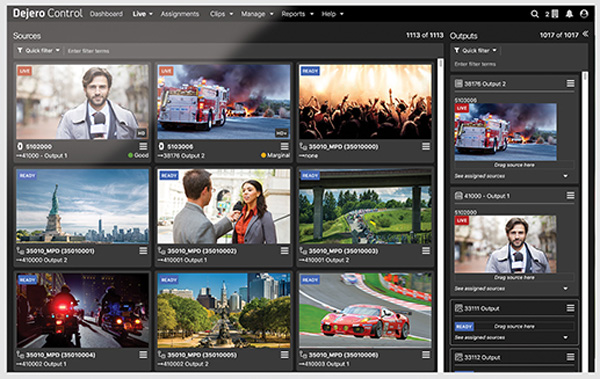 Dejero Control cloud-based management
To help these experts avoid relying on consumer-grade video chat systems, risking poor image quality or the need to learn how to integrate live video into a media organisation's broadcast workflow, Dejero is supplying them with free licenses of its apps. The apps are specifically designed to use Dejero's technique of combining connections including Wi-Fi, cellular and broadband, and automatically adjust to the available bandwidth to preserve the quality of the feed without interruption.
Emergency Connectivity
Dejero devices are also able to help public safety agencies deploy emergency connectivity rapidly, especially in areas of limited connectivity, through the use of the company's Smart Blending approach to portable connectivity. For example, organisations that depend on live video and real-time data from mobile command and control vehicles and unmanned aircraft systems (UAS) for situational awareness, can access the combined bandwidth of multiple networks for greater overall capacity and reliability.

By simultaneously employing different network connections from multiple network providers including cellular and satellite, Dejero equipment achieves reliability and bandwidth with connection diversity. By aggregating provider services into a single Dejero virtual network, provisioning and management becomes simpler, and coverage is typically greater than a single provider can deliver.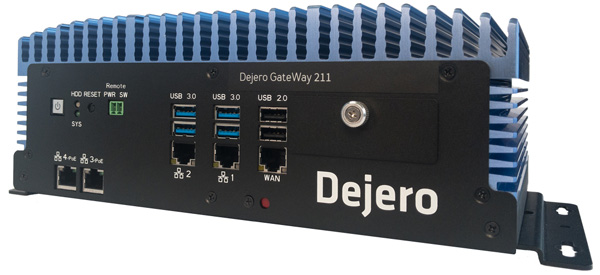 Dejero Gateway
Business Continuity
Dejero GateWay hardware is made to support mobile remote connectivity systems that give broadcasters and public service agencies fast, reliable, secure access to the public Internet, private networks, newsroom and MAM systems and cloud SaaS providers. They can also be used for connectivity in backup systems protecting business continuity. If primary connectivity fails due to a weather event or service interruption, Dejero portable connectivity systems can be rapidly deployed. www.dejero.com