ATEME and Broadpeak Optimise Live Multiscreen QoE For DVB-I Services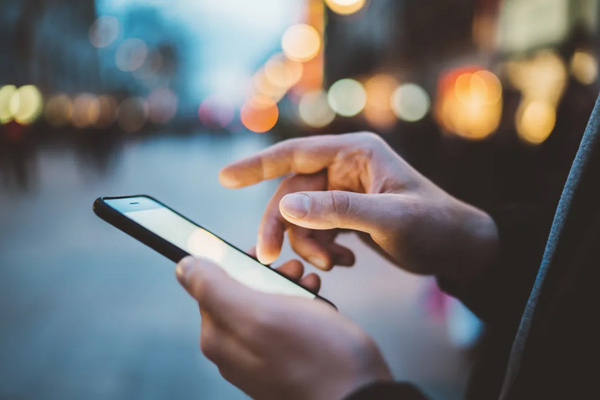 CDN and video streaming company Broadpeak and video delivery developer ATEME have collaborated on a new ultra-low-latency live video streaming system for content providers and pay-TV operators that supports the emerging DVB-I standard ecosystem. Recently demonstrated at IBC2019, the joint system aims to ease the challenges pay-TV operators face as they shift to multiple-screen delivery and try to ensure image quality and their viewers' quality of experience (QoE) for live streams.
The developers have combined several new techniques, such as machine learning-based encoding, multicast ABR, low-latency CMAF (common media application format) and HTTP chunked transfer encoding (CTE), and say the system enables delivery with just 1 second of end-to-end latency.
DVB-I Ecosystem
Member companies of DVB, which develops specifications for digital television systems, are collaborating on specifications to help make linear television over the internet as straightforward and robust as traditional broadcast television. To remain competitive and continue seeking new markets, many TV broadcasters are moving toward internet delivery as an option for their services.
The DVB-I standard will support any device with a suitable internet connection and media player, including TV sets, smartphones, tablets and media streaming devices. Signalling and distribution of DVB-I linear television services via internet will be standardised, so individual services won't need specific apps or integrations to run. The goal is to allow viewers who only have access to the internet, to choose services that were previously only available on broadcast platforms.

Where and when both broadband and broadcast connections are available, devices will be able to display a combined list of both streamed and broadcast services and content. In other words, viewers can choose according to what they like instead of the type of delivery. Broadcasters will be able to deploy common services across a larger range of devices, and manufacturers will be able create a single consistent user experience for all video services.
Beyond service discovery and programme information, the DVB-I ecosystem extends to other DVB specifications like DVB-DASH, which was recently updated to include a low latency mode, and a specification for Multicast ABR streaming is expected in early 2020.
Multicast ABR, Optimisation and QoE
Michel Artières, ATEME's CEO said, "Because latency is a major issue for our customers, we have implemented machine learning-based compression to minimise video pipeline buffer. Through our partnership with Broadpeak who specialise in multicast ABR, we can significantly improve the quality of live video streaming as well."
The two companies' system combines ATEME's Content Adaptive Encoding tools from its TITAN software with Broadpeak's BkS350 Origin Server and Packager, BkE200 transcaster server, and nanoCDN multicast ABR solution. Broadpeak's nanoCDN is unusual as an approach to multicast ABR in that it combines multicast delivery with CMAF and HTTP CTE, allowing continuous, on-the-fly video delivery.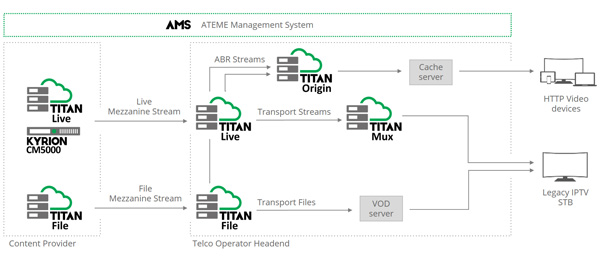 NanoCDN allows transformation of a unicast stream into multicast in the head-end before delivery over a network and from there, the transformation of multicast back into a unicast stream in the home network, addressing mobile devices. The system takes advantage of the networks' multicast capabilities, and the control operators have over home network equipment such as home gateways and set-top boxes to optimise the delivery of ABR content, without needing a specific chipset in the device. Operators can establish a stable network, similar to IPTV, and keep buffering at an acceptable level.
Optimising Delivery Networks
TITAN's Content Adaptive Encoding is built on machine-learning algorithms that reduce latency, the bitrate needed for multiscreen delivery and also CDN costs - with the same video quality. These algorithms allow content distributors to use TITAN to optimise bandwidth delivery, and meanwhile ATEME continues to increase codec diversity, improve compression efficiency and optimise ABR delivery.
"Many technology providers are developing low-latency video streaming systems by reducing the player buffer size without optimising the network. They may perform well in a lab setting but don't account for jitter on real-world networks or the succession of rebufferings that can occur, which impacts QoE," said Jacques Le Mancq, CEO at Broadpeak. "By collaborating with ATEME, we can resolve these issues from a longer perspective, including the headend components and the network components, giving us a better opportunity to make sure of quality of experience across all screens."
Broadpeak and ATEME are members of DVB and committed to the DVB-I/multicast ABR standardisation process. broadpeak.tv