Avid NEXIS Integrates with Critical Broadcast Workflows at Connect Live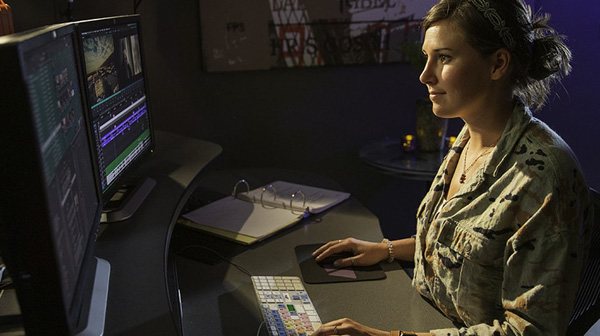 At the Avid Connect Live event in Sydney on 17 July 2019, Avid's Nexis shared storage was a major focus for speakers from across the broadcast industry, including Cisco, Spectra Logic and HP.
Earlier this year, Avid made Nexis more accessible to organisations that want to back up data in the cloud with their Nexis Cloudspaces service. At Connect Live, Kevin Usher, Avid Director Strategic Solutions | Storage, showed how Nexis users can park inactive media and suspended projects, or back up finished content, in the cloud and make the on-site space available for new incoming projects.
Onsite Avid NEXIS workspaces can be sychronised as a simple kind of offsite backup. Cloud storage is automatically provisioned so that manually offloading and moving media is not necessary. Users can also store, search and retrieve content fairly rapidly instead of looking through external drives.
Spectra Logic Black Pearl and RioBroker
Michael Cocks, Australia's country manager from Spectra Logic, talked about his company's expanded Avid environment support to include integration with the Avid MediaCentral Cloud UX platform. As a result, performance has increased for all Avid integrations, including Avid with Spectra's BlackPearl converged object storage platform.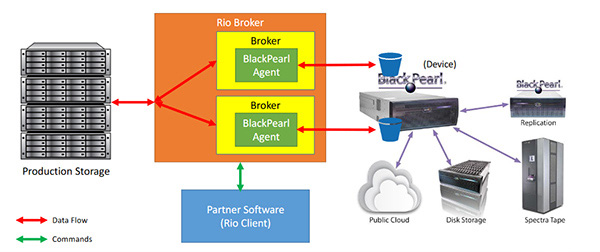 Black Pearl now has a data mover, called RioBroker, to speed up file transfers and make content migration workflows more direct. It scales out BlackPearl systems in performance and capacity to accommodate growing amounts of digital assets. As a software front-end to BlackPearl, which moves content automatically and at low cost into disk, tape and cloud, Spectra RioBroker offloads the data transfer job from the storage application to the Spectra RioBroker system. This functionality increases the platform's performance and use of parallel processing, making it more scalable and consistent, and easier to implement.
BlackPearl works through a system of integrations with certified 3rd party post production software. Broker makes client development for partners easier with a dedicated abstraction layer over the BlackPearl interface, separating out unrelated tasks and making it unnecessary to write your own code. Also, more clients and applications will be able to share BlackPearl object storage resources
Cisco IP Fabric for Media
NEXIS was made for organisations that use collaborative workflows for video and audio media, developed for smooth, reliable playback to multiple editorial clients. Systems can scale from a few clients to many using media from HD to 4K/UHD and beyond. They also have specific buffering requirements on the Ethernet network devices forming connections between the NEXIS storage engines and NEXIS clients.

Mert Karma, Systems Engineer Sales for Media and Entertainment at Cisco, was at Connect Live and spoke about Cisco's IP Fabric for Media which helps content providers and broadcasters migrate from legacy SDI to a flexible, scalable IP-based infrastructure. The result is the ability to handle more camera feeds, higher resolutions with 4K and 8K video, and virtual reality capabilities. Optimised for media workflows, Cisco IP Fabric for Media (IPFM) is based on Cisco Nexus 9000 Series Switches, with Data Centre Network Manager acting as a software-defined networking network controller.
Avid Nexis also supports Cisco's switches, which means Nexis users can take advantage of IPFM to support their SDI- to IP-based infrastructure migration. The system carries SDI over IP using standard SMPTE 2110, 2022-6, 2022-7 designs, operating at the same level of quality and robustness that SDI achieves now. Bidirectional interfaces from 1 to 100Gbps are available meet extreme increases in bandwidth and multi-signal requirements. One common non-blocking IP infrastructure is used for video, audio and metadata.
Networks are the source of flexibility and reliability in IP systems. Because there are no single, unconnected paths and no randomness in the system, providers can support Cisco's deterministic quality of service. Users can allocate resources according to the traffic and performance requirements of the system's clients.
HP Workstations
Mark Fenson from HP spoke about the integrations between HP's hardware and Avid's software, developed to optimise performance. HP and Avid engineers collaborate to certify new versions of Media Composer, NewsCutter and Pro Tools as they are developed on the most recent HP Workstations.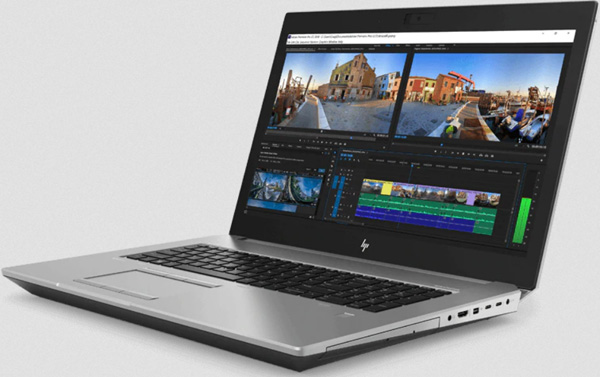 HP Workstations are designed for Avid film, video and audio users who need high performance, extreme expandability and mission-critical reliability. HP Workstations are built with up to dual 8-core Intel Xeon processors, up to date NVIDIA Quadro graphics hardware, up to 512GB of RAM and tool-free chassis design.
As part of Avid's relationship with HP, Avid uses HP Workstations to develop, test and demostrate their software and hardware products. Avid also uses HP Workstations for its turnkey systems including Media Composer and NewsCutter. www.avid.com