Icon Broadcast Integrates Social & Graphics into Live Production
The current trend at live events is to connect with live audiences and, ultimately, extend the audience beyond the stadium or concert hall. This kind of event emerged when, for the third year running, Icon Broadcast Group operated the live production of VESTROCK Festival, held each June in Hulst in the Netherlands.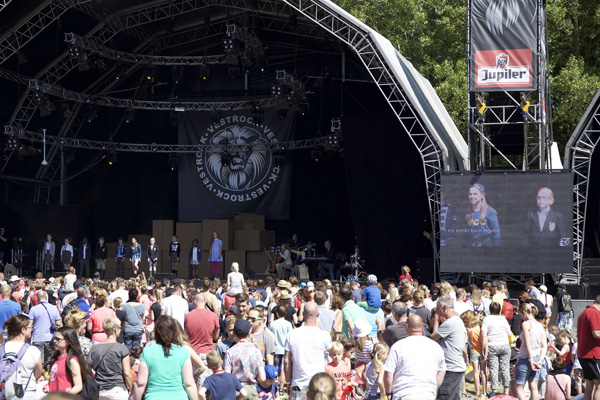 The event mixes music, art and science expressed in various kinds of concerts, performance arts, theatre, street art and others. The number of visitors has increased tenfold since it started in 2010, and it has been nominated ten times for a European Festival Award.
Icon Broadcast Group owns a NewTekTriCaster 8000 video mixer, the highest specified system in the TriCaster ProLine. For live production of VESTROCK, the TriCaster served as the hub of the control room and was receiving feeds from 12 cameras, including IP cameras installed above the stage to shoot scenes from overhead.
Used alongside the TriCaster was LiveCG Broadcast, a multi-layer graphics generator made by LiveXpert. LiveCG Broadcast is a system in a 1U rack with a dedicated interface to generate animations, crawlers, banners and various types of graphics to implement into a live production. LiveCG Broadcast can work with most video mixers, including all of the TriCaster systems, through an IP connection.
Independent Live Network Editing
One advantage of LiveCG Broadcast is that the graphics and text can be worked on during live production without interfering with its operation with the switcher or mixer. The page editor from the UI is available as a free, stand-alone tool that can be run on a PC to prepare graphics from several workstations. In other words, you don't work on the system, you work on a network of PCs.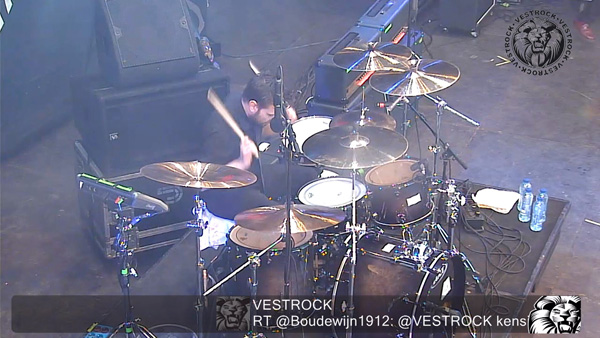 For this production Jan Warnier, CEO of Icon Broadcast Group, and his team needed to gain space in the control room and wanted to make the production mobile and more versatile. They virtualized several LiveCG Broadcast systems on one physical server, including the system's integrated Social Hub, a social media management module that needs to be installed on an external PC.
On another virtual machine they installed an Android operating system to run the WhatsApp application to receive text messages from the event's Lost and Found Meeting Point. By programming the Social Hub and other applications on separate virtual machines, all applications were made accessible from outside the OB van - even through an iPad, in the Festival PR office or on the field.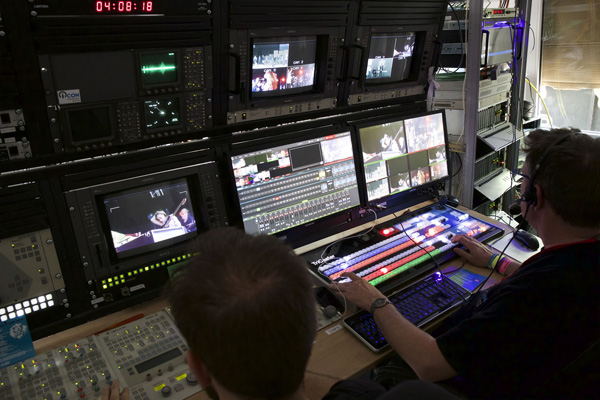 Audience Interactive
For Icon Broadcast, the attraction of bringing social media to live productions is interactivity with the audience. Reaching the audience in real time generates instant feedback from followers, but adding social media to a production is still not easy and adds to production costs. LiveXpert's development of Social Hub is an affordable option that can be connected to many of the familiar social platforms, as well as Whats App. The module can connect to Facebook, Twitter, Flickr, Skype, Instagram, Line, RSS feeds and email accounts, to receive feeds, monitor and send a selection of the messages to go live.
During VESTROCK Festival, the Social Hub was receiving RSS feeds and incoming messages from Twitter and Instagram. These feeds were sent live to several large LED screens on site. In the case of the Meeting Point, messages were broadcast about children who had lost their parents. Managed by the Festival's organizers themselves, the messages from What'sApp could be sent directly to the big screens.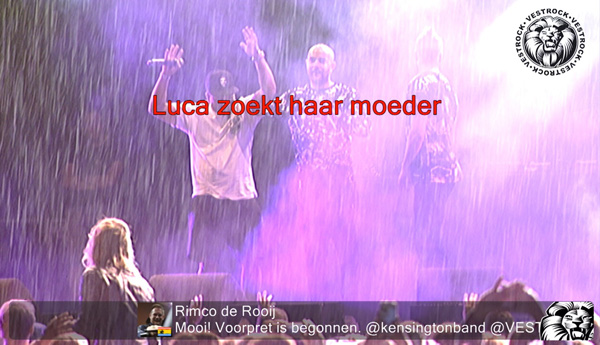 Managing Live Content
Jan Warnier said, "When producing live, it's important to have everything ready before the show, but also not to be disturbed by unexpected elements during the live operation. With LiveCG Broadcast, my graphics and the social media interface were completely independent from the TriCaster. The graphic elements in LiveCG Broadcast are called from a simple Excel spreadsheet. The Excel spreadsheet is a great advantage to manage live production content, because it can be changed without interfering with the production."
Because Icon Broadcast Group has so much live event experience and expertise in IT, they can combine these to take advantage of LiveCG Broadcast. Jan said, "Being able to work on the graphics to make last minute changes and connect with social media, without interfering with your live operations and over the network, are the critical factors in making LiveCG Broadcast work." www.3dstorm.com