Blackbird Takes Flight for Fast, Cloud Native Video Publishing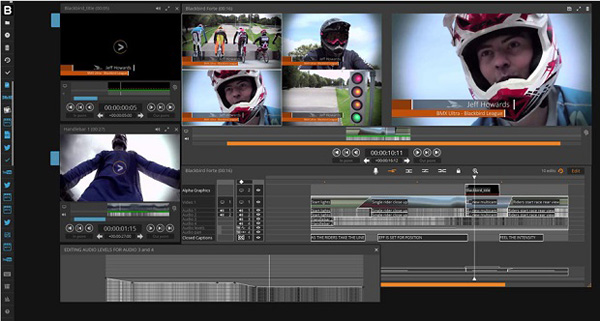 Cloud infrastructures have become more interesting to media companies because of their potential to cost-effectively, and rapidly, scale operations up or down. Also, within a cloud environment, organisations can to use or offer customers services and functionality that they have not had access to before. Right now, cloud infrastructures are especially interesting to content owners who want to control how, when and where their media is published.
Many cloud migration strategies focus on moving existing hardware or software functions and services from on-premises deployments to run partly or completely on cloud infrastructure. But some developers are pursuing a cloud-native approach instead. Digital Media World spoke to Stephen Streeter, Director of Video Technology for the Blackbird cloud editing and publishing platform, developed by Forbidden Technologies. Instead of working with existing functionality Blackbird builds re-configurable workflow capabilities specifically for the cloud environment.
A significant characteristic of Blackbird is its lack of many of the content interchange stages of traditional workflow automation. Raw materials - video, audio, graphics, stills - are only supplied to the platform through Blackbird's lightweight proprietary codec.
Going Cloud Native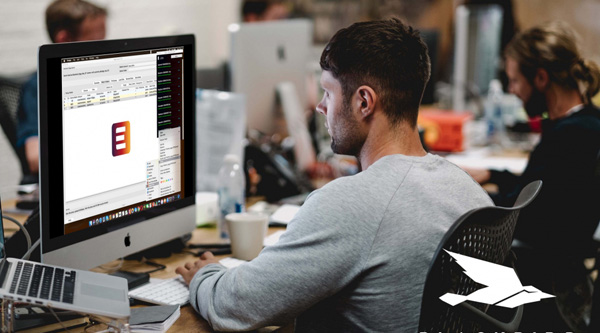 Due to this codec, Blackbird's tools do not work on original content, only on low bitrate, bandwidth-efficient proxies. Blackbird manages the infrastructure and enables workflows for enriching, manipulating and delivering content using highly scalable publishing functions. It serves broadcast, social media, online and OTT destinations and viewers, and meanwhile, the owner can store and protect the content wherever they want.
"The cloud challenge has always been concerned with getting full-resolution video into the cloud and to work on it there. For a company with only average resources, that is expensive and impractical," said Stephen. Blackbird's single piece of hardware, the Edge ingest server, is installed at the location where the original content resides. Selected content is placed on the server where the codec compresses and transcodes it into proxies that are uploaded to the platform as required - like a high-performance workstation on a lightweight connection of 2 mb/s.
"All users can then see the content and work on it with Blackbird's editing tools," Stephen said. "Our two editing packages, Forte and Ascent (more details below), are built as cloud-native applications that avoid latency by completing all image processing tasks locally in the browser. We don't have to wait for commands to reach the media, functions to complete in the cloud and results to be downloaded and finally displayed in the browser.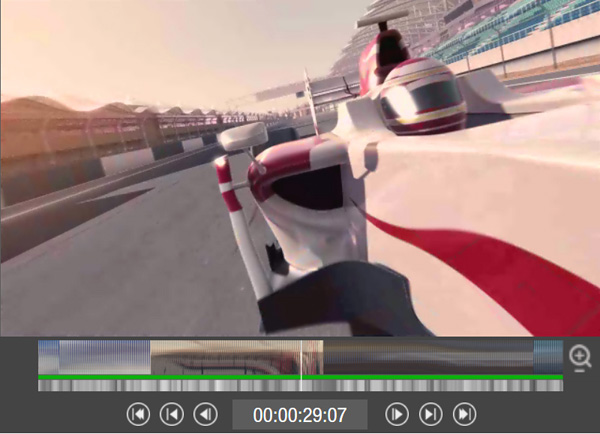 "Instead, the software has been designed with efficient, intuitive algorithms. When the editor selects the frames he or she wants to work on, Blackbird automatically downloads only the proxies for those frames and those immediately surrounding. Not only are the proxy frames light enough to download instantly, but because they now reside on the local hardware, no delay occurs for playback or processing."
Efficiency and Speed
The Blackbird codec is optimised to work efficiently on software. It does not apply MPEG compression standards and file formats to media, which are optimised for hardware environments, but works through Javascript, which was developed to use as a scripting language for web clients.
The Blackbird proxies are used both for playback, without pre-rendering, and for editing. The original content is only involved at the point of publishing - even then it does not hold up operations because publishing proceeds directly from the Edge server where the content is being held, not the editor's computer.

Stephen commented that the speed with which teams can publish video via the cloud is changing the broadcast landscape. Speed to market has always defined how competitive a broadcast company could be and, in turn, has traditionally been defined by expensive hardware. Now that the use of internet and cloud services has altered the nature of the competition, the market has become fragmented. "Giant corporations, traditional broadcast outlets, plus the thousands of digital publishers trying to cut hardware costs to a minimum, can all compete. In fact, a company that does not have a hardware legacy, that is already prepared to run as a cloud-native business, has an edge," he said.
Forte and Ascent
The Blackbird codec supports frames with a high degree of accuracy. This allows Forte's navigation bar to also display and handle your media as individual frames, with timecodes, that you can access with precision. A logging system is included for adding metadata to customise searching and set up archiving later on. The non-linear editing tools are packaged into two applications. Forte is a full set of NLE tools, and Ascent is a simpler cutting and marking application for non-editors.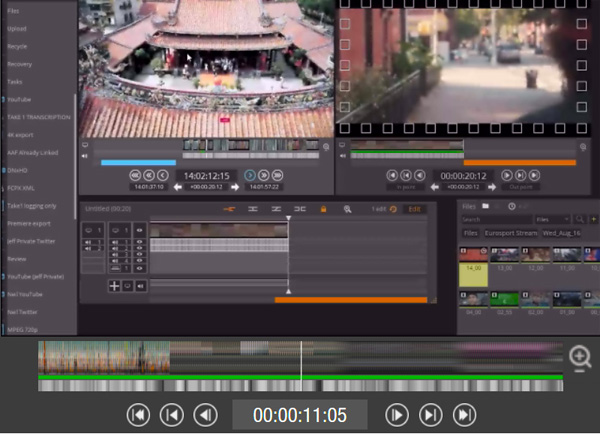 Editors have a working window, a viewing window that displays the edit as it is refined, and a timeline positioned below these two windows. They can look through the video, frame by frame if necessary, in exactly the same way that they would if the original media had been placed on the timeline in front of them. They can work on the audio and graphics tracks separately or together, and choose to display all or only one track. The trim modes available in the UI change depending on what the editor is trying to do. Users have access to many different fades, cross fades, fade-to-black and other transitions and effects, plus colour correction tools.
Ascent is a much simpler package for use by journalists, producers and other non-editorial members of the production who only need to make and review clips. When it comes to sharing between the team members, the only elements that are shared are the viewer, the editing tools and the page that will be published, which is also open for branding and advertising. In effect everything, including all of the media, remains under the rights holder's control.
Blackbird in Action
Looking at how different media companies use Blackbird illustrates the tools and how the video is handled. Von Johnson & Associates uses Blackbird to localise, produce and secure delivery of video content to television, feature film and international OTT platforms including Apple, Netflix and Amazon. Blackbird integrated directly into VJA's existing media infrastructure and workflow, which uses a third-party facility management system to oversee existing operations.

They are able to process huge volumes of video content, including watermarking. Files can then be accessed and viewed within a few seconds via streaming from browser-based devices, anywhere in the world at any time - without fully downloading any files. In this case the security advantages are especially important, as well as time and cost savings.
Blackbird is also fully integrated with Microsoft Azure Media Services, so that production teams can use the software platform running on Azure to turn live video into edited, enriched stories that are published through Blackbird and hosted on Azure. For example, sports broadcast and digital services supplier Deltatre is using Blackbird through Azure to extend its OTT editing services for live and on-demand content for football, athletics, golf, rugby and cycling.
Atlas Digital uses Blackbird for post-production, dailies and secured delivery to TV, film and OTT clients. One of their specialities is customising efficient, secured video and audio finishing workflows for productions. Without having to download or upload completed work, the production team can use the Blackbird platform on a low bandwidth connection for review, annotation and approval within a minute of capture. Because Blackbird supports viewing and logging for up to 18 video sources and 36 audio channels, Atlas can supply live dailies concurrently to multiple locations, even as a growing file accommodating closed captioning.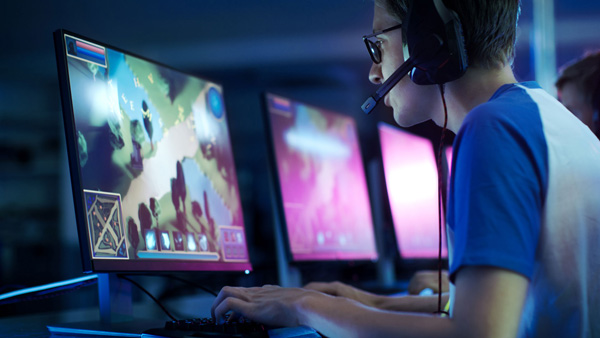 For MSG (Madison Square Gardens) Networks, the media crew behind the Buffalo Sabres NHL ice hockey team in New York, speed is critical if they are to remain competitive within their role. They are using Blackbird to access, edit, add closed captions and publish video highlights of the Sabres' matches to social media and TV for their international fans.

The Blackbird codec allows video to be frame-accurately viewed and edited 6 seconds after live from anywhere on a bandwidth as low as 2Mbps. MSG's video production teams also find that using tools in the cloud means they can avoid the potential technical points of failure that on-site hardware can cause. www.blackbird.video