Harmonic Targets QoE, Compression and Time-to-Market for Mobile OTT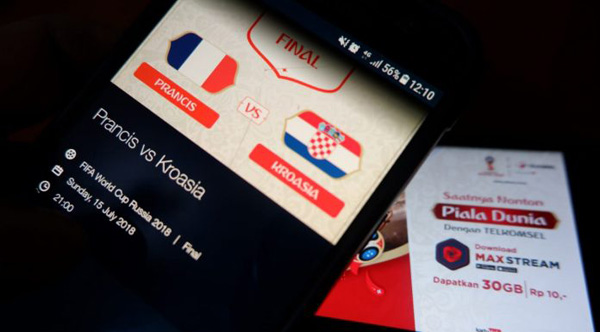 Indonesian mobile network operator Telkomsel is running its new MAXstream OTT service from the cloud. The scalable, flexible nature of cloud services means Telkonsel can control and maintain the quality of streaming content, including live sports events, even when their subscriber base grows very rapidly.
To run MAXstream OTT, the company is using Harmonic's VOS 360 Video SaaS, which they also used during the 2018 World Cup in Russia to successfully serve 550,000 concurrent viewers and achieve the desired QoE. "In the OTT environment, scalability is critical," said Crispin Tristram, head of digital lifestyle at Telkomsel. "VOS360 Video SaaS brings agility to our operations, making it possible to launch new channels in a matter of hours. Channel expansion is ongoing at Telkomsel, and we now have live matches from the world's top leagues. We're hoping to continue with the success we achieved at the World Cup."
VOS360 Video processing software as a service is based on a pay-as-you-grow business model with built-in scalability and elasticity supplied through a public cloud infrastructure that Telkomsel can use to add linear and VOD content to MAXstream. VOS 360 delivers live playout, time-shift, cloud DVR and VOD streaming services directly to consumer devices, and Telkomsel pays only for the services they use, when they use them.
Harmonic believes that SaaS is one of the best approaches for deploying OTT services, considering simplicity, flexibility and rapid time-to-market. VOS 360 has a UI and APIs that video operators use to design and deploy specific OTT services. Each user identifies their sources, uploads their VOD catalogue and defines their regional or global distribution policies. Instead of managing their own physical plant, VOS 360 delivers the content directly to consumers via global CDN, either restricted to the providers' country or region, or delivered globally.
Real-time Compression and Quality Optimisation
VOS360 SaaS is integrated with services from Accedo that Telkomsel uses to deliver live streams on iOS and Android apps. Telkomsel is also using Harmonic's EyeQ content-aware encoding with VOS360 Video SaaS to increase bandwidth efficiency while maintaining QoE during peaks in viewership.
EyeQ content-aware video compression optimises the video quality, especially over constrained OTT networks, and works as an enhancement to Harmonic's software-based PURE Compression Engine. As more high-resolution profiles are selected, less toggling between profiles occurs with EyeQ. In particular, EyeQ reduces the network load during peak streaming events, such as live sports.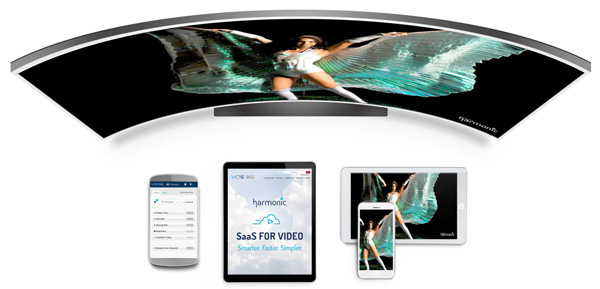 EyeQ's optimisation is based on human eye mechanics - the Human Visual System (HVS). Traditional encoding methods, such as constant or constrained variable bitrate (CBR and CVBR), are less effective at measuring video quality according to this system and consequently tend to utilise too little or too much bandwidth to maintain video quality. EyeQ continuously assesses quality in real-time according to the HVS, and focuses bits where and when they make a difference for the viewer. Measuring and adjusting the quality in real time achieves consistency, and meanwhile unnecessary bits are eliminated so that quality targets are met at the lowest possible bandwidth.
As EyeQ is entirely H.264 compliant, operators do not need to change their existing infrastructure. Relying on H.264 instead of HEVC reduces the cost of deployment by avoiding extra license fees, risk and complexity involved with migrating to a new compression standard. The operator only has to purchase a software license for the PURE Compression Engine.
OTT Options with VOS360 Video SaaS
VOS360 Video SaaS now enables operators to deliver targeted advertisements, replace content during blackouts and support disaster recovery strategies, increasing the monetisation potential for OTT content and improving the end-user experience.
VOS360 Video inserts content based on end-user location and device, taking advantage of the SCTE-224 Event Schedule Notification Interface (ESNI) standard. SCTE-224 is used to distribute content based on attributes that are critical to how mobile consumers receive and view video, such as device type, geographic location and many other characteristics.
This new Harmonic functionality has already been deployed by a major broadcaster in the US for the insertion of unique station data, taking into account OTT rights management, blackouts and local ad insertion requirements.
There are also various ways broadcasters, content owners and service providers can support true disaster recovery scenarios with VOS360 Video SaaS by accessing the public cloud. The SaaS approach suits disaster recovery, because it combines the resilient, extremely scalable nature of the cloud with a usage-based pricing model.
One example is the need to secure a live event with reliable disaster recovery infrastructure. The traditional approach is an on-premises, hardware disaster recovery headend to add resiliency to live streaming projects, which is effective but usually costly. Harmonic believes that running software-based media processing on-premises simultaneously with disaster recovery in the public cloud, can be an affordable way for content providers to deliver major events with the required QoE to viewers across all screens.
At IBC2018, Harmonic's Crystele Trevisan also said that using this type of infrastructure to replicate high priority portions of a channel in the cloud instead of physically replicating entire channels on-premises, can be a practical, cost effective way to maintain program playout in the event of disaster. www.harmonicinc.com