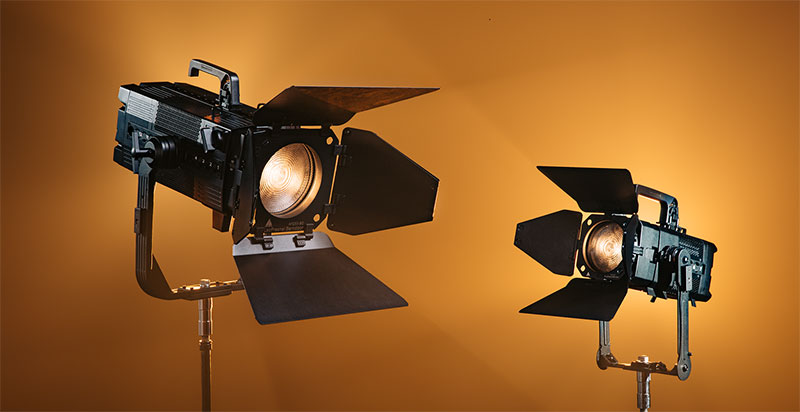 A new series of two LED Fresnel lights are now available from Astera, who specialise in wireless LED-based hardware and software. These new lights are developed specifically for integration with Fresnel lenses.
Astera says it aims to make the advantages of LED available to users – including lower power draw, higher output strength, precise colour control, lightweight profile and wide installation/application flexibility – while still supplying lighting technicians with the specific creative qualities associated with Fresnel lighting, especially for portrait work and the replication of daylight settings.
Filling a Gap
The two models are the compact PlutoFresnel and the larger LeoFresnel, intended to fill a gap in the video and live production market when it comes to effective Fresnel lighting. The lens used in a Fresnel light is a composite lens made up of concentric ring elements, assembled in a relationship resulting in a short focal length that concentrates the light into a relatively narrow beam.
In terms of the power consumption to output ratio, the PlutoFresnel achieves the equivalent of a 300W Tungsten Fresnel but draws only 80W, and the LeoFresnel achieves an equivalent output of 1000W, using only 250W.
Both lights are able to maintain a beam angle of between 15° and 60° with no colour fringing, which makes them useful in a many different applications, from on-stage lighting to film and documentary work. The Fresnel lens can also be removed altogether, allowing the LED base to be used in various other applications.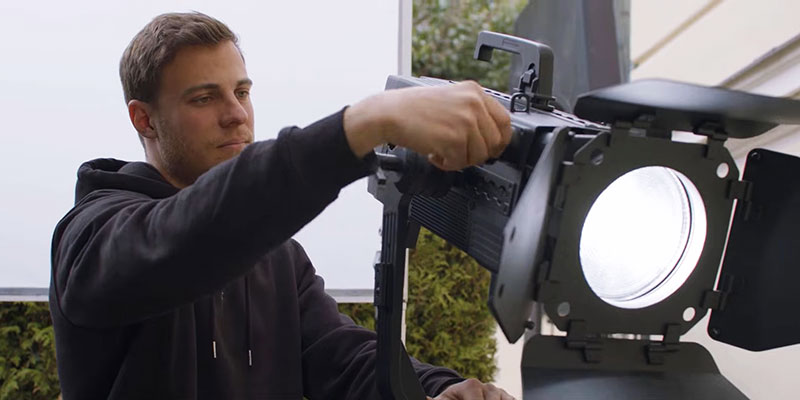 Titan LED Engine
Like Astera's wider range of LED lights, the Fresnels are driven by the Titan LED engine that supports a full range of colours and ensures precise colour fidelity and lighting consistency – all controlled using either the AsteraApp with Bluetooth Bridge, CRMX Wireless DMX, or wired DMX controls. The engine's accuracy means the lighting can be integrated directly into the user's regular workflow.
The Titan LED engine is an algorithm that Astera developed for use during manufacture to generate an individual calibration for each light after measuring its photometrics. This procedure results in accurate colours and consistency between fixtures, and also optimises the output for high CRI (Colour Rendering Index) and long battery runtime, whether displaying white or highly saturated coloured light. The CRI indicates how accurately a light renders an object's true colour.
Logistics
As well as their technical specifications, the Astera Fresnel range has some logistical features that set them apart. Designed with the goal of making Fresnels portable, the unyoked weight of the Pluto and Leo are only 4.5 and 14kg respectively, meaning that they can be transported and installed fairly easily in situations that would be more challenging for conventional Tungsten Fresnels.
They are also among the first Fresnel lights in the market with built-in batteries, giving two and three hours of maximum brightness runtime, respectively. To extend those runtimes further, they can be used with Astera's RuntimeExtender and Seamless Runtime systems, suitable for working in locations with limited access to power. Various mounting options are available, including a detachable quick-release YokeBase, a removable handle and Airline Track mounting – all of which improve physical logistics and technical control.
Distinctive Effect
"With their concentric ring design, Fresnel lights achieve a very distinctive effect that has been a vital part of the lighting engineer's repertoire for decades," said Sebastian Bückle, Sales & Marketing Director at Astera LED-Technology.
"But the market has yet to see many effective translations of this lens onto chip-on-board LED bases. These lights combine the two elements in a way that brings the creative aspects of Fresnel lenses and the practical benefit of LED technology together, and gives lighting professionals greater flexibility in their lighting setups, regardless of context."
astera-led.com