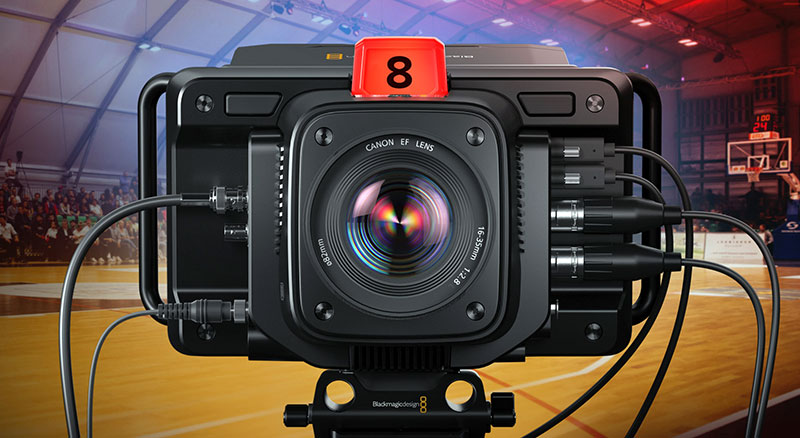 The Blackmagic Studio Camera 6K Pro has an EF lens mount, a 6K sensor for accurate colour reproduction and fine detail, ND filters and built-in live streaming via Ethernet or mobile data. Blackmagic Studio Camera 6K Pro is compact with a lightweight, rugged body, integrated 7-inch HDR viewfinder and full broadcast connections.
Blackmagic has also updated the Studio Camera 4K Pro G2 to include built-in live streaming.
Blackmagic Studio Cameras have the same features as full-sized studio cameras, but scaled down and reorganised into a portable design. Built with dynamic range and colour science similar to digital film cameras, the Studio models can help productions working under compromised lighting conditions to produce cinematic looking images. The sensor's ISO of up to 25,600 gives further support in dimly lit venues.
Among its other features are talkback, tally, camera control, a built-in colour corrector, Blackmagic RAW recording to USB disks and live streaming. The new 6K Pro and the update 4K Pro G2 models both integrate live streaming via Ethernet or mobile data, making them useful for remote work almost anywhere in the world.
Beyond Live Switching
While the Studio Camera 6K Pro is designed for live production, its application extends past live switching. Since it records Blackmagic RAW to USB disks, it can also be used on a tripod. The 7-inch viewfinder makes it useful for chat shows, in television production, broadcast news, sports, education and conference presentations, as well as weddings. The display is large, bright and has side handles, a touch screen and physical controls, which make tracking shots easier and extended use more comfortable.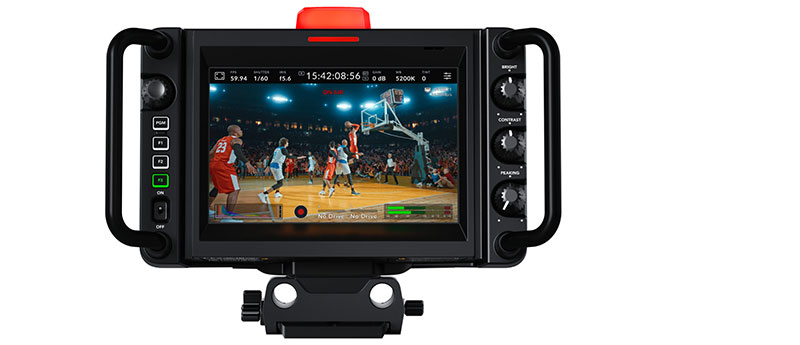 Combining the sensor with Blackmagic generation 5 colour science results in the same imaging system used in digital film cameras. The colour corrector can also be controlled from the switcher. With 13 stops of dynamic range, colours in the images range from darker blacks to brighter whites, with wide scope for colour correction. Suitable for both HD and Ultra HD production, the 4K models record a resolution of 3840 x 2160 and the 6K model achieves a resolution of 6144 x 3456. All models support 23.98 to 60 fps frame rates.
Adding EF or MFT lens mounts makes Blackmagic Studio Cameras compatible with many affordable photographic lenses, of a type designed for use in high resolution photography. Optional focus and zoom demands are available for users who prefer to adjust the lens manually from the tripod handles, like on a large studio model, instead of reaching around the camera. This set-up gives the user the same experience as an expensive B4 broadcast lens.
Connections and Connectivity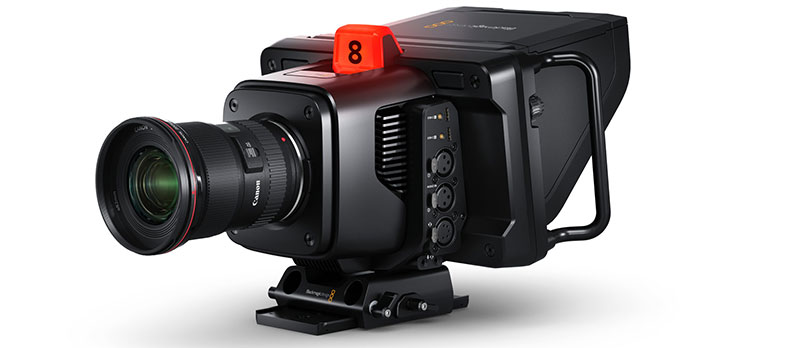 The Blackmagic Studio Camera 4K Pro G2 and 6K Pro models have SDI connections that include talkback so the switcher operator can communicate with camera crew during live events to guide shot selection and prevent duplication. The talkback connector is built into the side of the camera and supports standard 5 pin XLR broadcast headsets.
Various other ports connect the Studio cameras to both consumer and broadcast equipment. Designed for broadcast workflows, the Studio Camera Pro models have 12G-SDI, 10GBASE-T Ethernet, talkback and balanced XLR audio inputs. The 10G Ethernet supports all video, tally, talkback and camera power via a single connection, shortening set-up time. The procedure is like a SMPTE fibre workflow, but uses standard Category 6A copper Ethernet cable, lowering the cost.
Using the Studio Camera 4K Pro G2 and 6K Pro models' live streaming functionality, users can place cameras remotely, at any location, to generate a H.264 HD live stream for delivery over the internet back to a studio. The camera can be connected to the internet using the built in Ethernet connection, or a 4G or 5G phone can be connected to the USB-C port to stream via remote data.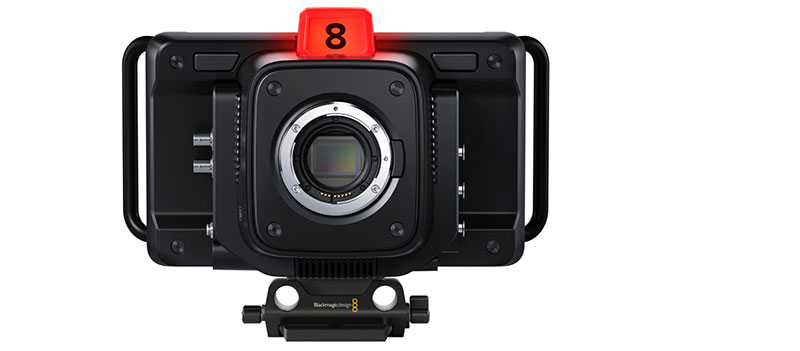 ND Filters
Blackmagic Studio Camera 6K Pro features its own 2, 4 and 6 stop ND filters, used to quickly reduce the amount of light entering the camera. Designed to match the camera's colorimetry and colour science (or, how colours are re-mapped inside the camera), the filters give further latitude, even under harsh lighting, and filter both optical and IR wavelengths evenly, eliminating IR contamination of the images.
The ND filters can be electronically controlled by the function buttons on the back of the camera, or using buttons on the focus and zoom demand. They can also be controlled remotely, which leaves the camera operator free to concentrate on shot composition and action.
Blackmagic Studio Camera 6K Pro is available now, priced from AU$3879. www.blackmagicdesign.com