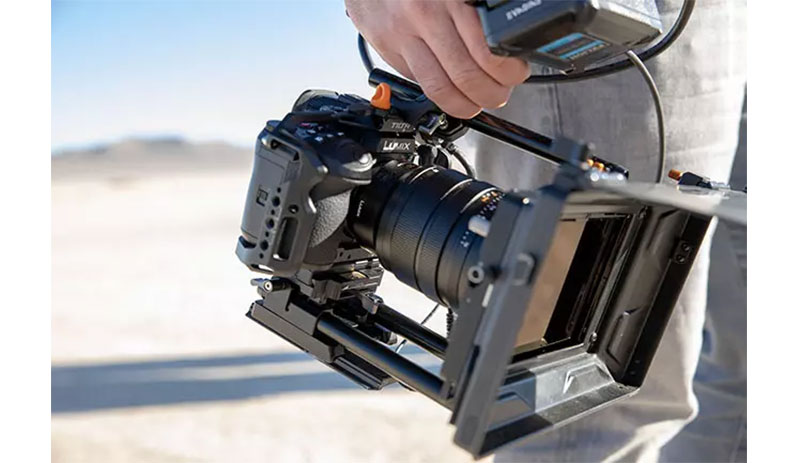 The new LUMIX GH6 now leads Panasonic's LUMIX G Series digital mirrorless camera, based on the Micro Four Thirds system standard.
The camera's new 25.2-megapixel Live MOS Sensor was built for high resolution, high speed signal readout and wide dynamic range. The new Venus Engine processor is equipped to render high resolution images with natural noise texture and rich colour reproduction. The LUMIX GH6 incorporates V-Log/V-Gamut – a first for LUMIX G Micro Four Thirds cameras – and achieves 12+ stops of dynamic range for pre-installed V-Log recording.
The GH6 can reach 13+ stops when using Dynamic Range Boost mode, when a saturation-priority image generated from the low ISO circuit and a low noise image generated from high ISO circuit, are synthesised at each pixel. The composite image achieves both low noise and high saturation, resulting in a clear HDR video with smooth gradation.
Processing Power
The GH6's sensor, developed without LPF (Low-pass Filter), reduces rolling shutter issues. The new Venus Engine has the processing power needed to handle the new sensor's higher pixel counts, higher resolution and higher bit-rate video. New Intelligent Detail Processing detects the edges and flat and detailed parts in a frame more accurately, resulting in more realistic images.
2D Noise Reduction suppresses chromatic noise and improves the texture of luminance noise to make photography clear and natural, even when shot at high sensitivity. High Precision 3D Noise Reduction for video detects still and moving parts of the images more accurately in order to optimise noise reduction and minimise afterimages. As a result, the image quality of video with dynamic motion is enhanced. High-precision Dual 3D Color Control improves colour reproduction via brightness level, saturation level and hue level.
The combination of the new sensor with the enhanced saturation performance and engine makes it possible to render clearer images even in 25.2-megapixel high resolution and lower minimum ISO sensitivity at ISO 100. The camera also supports a wide variety of recording formats, resolutions and framerates to choose from according to the purpose.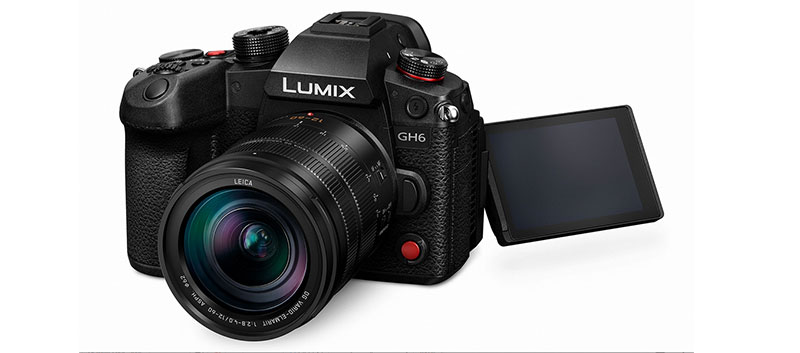 Recording Options
Owing to LUMIX's heat management, the new LUMIX GH6 can achieve 4:2:2 10-bit Cinema 4K 60p unlimited video recording time, depending on the battery and recording media. To reproduce dynamic motion of the subject, 4:2:0 10-bit 4K120p, equivalent to 5x slow motion, 4:2:2 10bit FHD 240p HFR and full HD maximum 300fps VFR, equivalent to 12.5x slow motion, are other recording options, available for expressive editing such as speed ramping. High-speed burst shooting is also possible at 14 (AFS) / 8 (AFC) fps with a mechanical shutter and 75 fps with an electronic shutter.
As well as 4:2:0 10-bit 5.7K 60p, 4:2:0 10-bit 5.8K 30p (or 4.4K at 60p) anamorphic 4:3 video can be recorded to capture the full area of the sensor. It is possible to display de-squeezed footage on the monitor in real-time. 5.7K 30p video recording is available in Apple ProRes 422 HQ for the first time in LUMIX cameras, enabling non-linear editing without transcoding using the CFexpress Type B card. DCI4K, FHD ProRes 422 HQ and ProRes 422 will be supported with a future firmware update.
The LUMIX GH6 is capable of 4:2:2 10-bit Cinema 4K 60p internal recording and simultaneous output over HDMI. Since it is HDMI 2.1 compliant, it will support Cinema 4K 120p HDMI video output with a future firmware update. Moreover, Cinema 4K 120p RAW output to Atomos Ninja V+ monitor recorder over HDMI 2.0, is under development, which also will be available with a future firmware update.
Colour
Further to extending the dynamic range and colour range, the LUMIX GH6 contains V-Log/V-Gamut capture. V-Log renders a very flat image while maintaining all the colour information within the image to allow more options during post-production. The Live MOS sensor of the LUMIX GH6 achieves V-Gamut, a wide colour gamut representing the GH6's optimum colour space that is wider than BT.2020. V-Log has log curve characteristics similar to negative film, and V-Gamut delivers a colour space even larger than film.
The LUMIX GH6 shares the colorimetry of the VariCam line of cinema cameras and uses their V-LOG picture profile and wider V-Gamut. For monitoring your work with looks, the GH6 includes the V709 LUT, with Rec.709 standard in the camera by default. The V709LUT can be output over HDMI or to the camera's monitor, or both. It is possible to install custom LUTs into the GH6 and access them from the V-Log View Assist menu. The GH6 can support LUTs in their .vlt format for Varicam and EVA1 users, and the .cube format for users of other camera systems.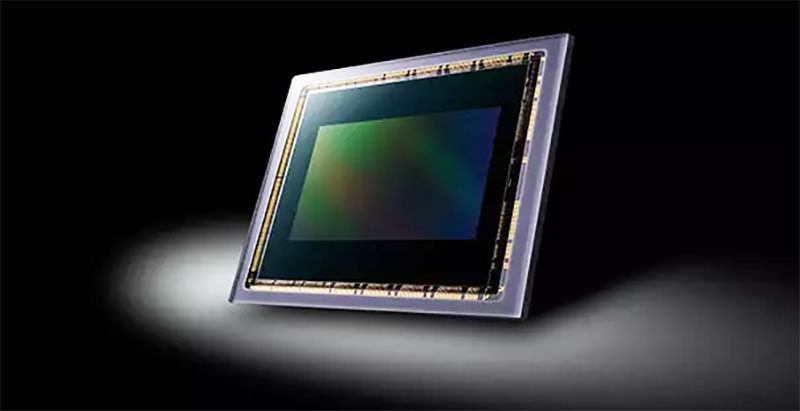 Stabilisation
For handheld shooting, Dual I.S.2 allows 7.5 stops of image stabilisation. The LUMIX GH6 has adopted a new high-precision 5-axis gyro sensor with a new algorithm. In High-Resolution mode, eight consecutive images are automatically shot while shifting the sensor using the Body I.S. mechanism and synthesised into a 100-megapixel equivalent (11552 x 8672-pixel) image that reproduces precise details to be saved as RAW and JPEG images. This ability makes handheld ultra-telephoto shooting possible, as well.
The 5-axis Dual I.S. 2 also works for video recording, including 4K video to record natural, comfortable footage that is easy on the eyes. It applies compensation according to the type of movement – that is, panning, tilting or hand-shake – and also compensates for camera movement even when an interchangeable lens without OIS is used.
In-Camera Settings
In Photo Style are a variety of settings including different Cinelike gamma presets. Cinelike D2 and Cinelike V2 have similar gamma setting characteristics for film production. Video assist functions such as Waveform Monitor, Zebra Pattern, Luminance Spot Meter, Frame Marker, Anamorphic Desqueeze Display, Red REC Frame Indicator and Tally lamps are available. The new Safety Zone Marker feature on the LUMIX GH6 shows a guide of 95%, 90% or 80% recording area, to secure a safety zone for composition and subtitles. In Color Temperature Setting, the kelvin values can now be displayed on the recording screen.
By using both an XLR microphone connected via the XLR Microphone Adaptor DMW-XLR1 on Ch1 or Ch2, and the built-in microphone on Ch3 or Ch4, users can record 48/96kHz 24-bit high-res audio. Users can combine several types of external microphones that fit particular recording situations, incorporating ambient sound. The channel to use for the headphone can be switched during video recording. For the external microphone, a Φ3.5mm stereo jack is included.
4K 60p Time Lapse videos can also be produced inside the camera. An exposure levelling function automatically adjusts exposure to prevent large changes in brightness between adjacent frames.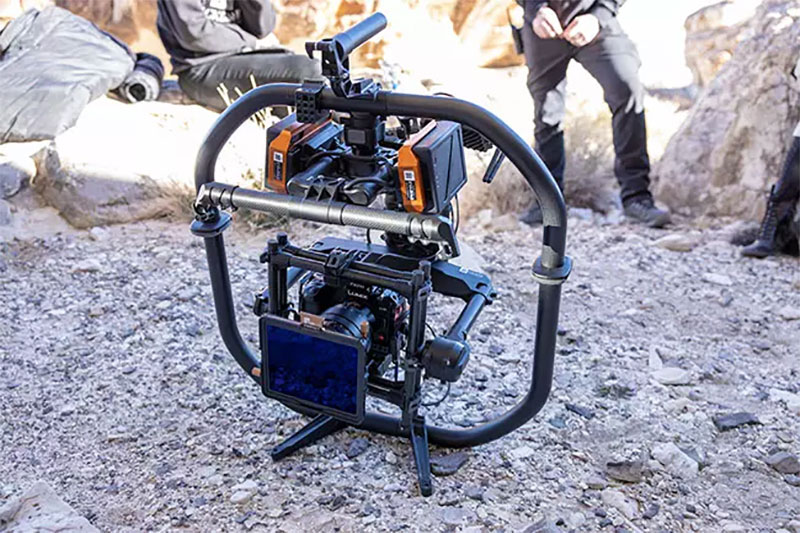 Focus and Monitoring
The new 25.2-megapixel Sensor and Venus Engine have also led to better auto focus performance. In particular, higher speed signal processing and an improved AF algorithm have upgraded the subject detection performance.
The LUMIX GH6 has several practical options for manual focusing, differentiating linear and non-linear settings through movement of the focus ring, and the ring's sensitivity can be selected to enable an intended focus operation. MF Assist, which enables the focus point to be enlarged, is available for shooting stills and video recording.
It has a 3.0-inch touch-control monitor in 3:2 aspect ratio with 1,840K-dot high resolution. With free-angle movement, the monitor doesn't interfere with other gear, even when both the HDMI cable and USB cable are connected, by adjusting the tilt/rotation angle of the monitor. The 3,680K-dot OLED Live View Finder has a magnification ratio of approx. 1.52x / 0.76x, equivalent to a 35mm camera.
A lineup of 30 Micro Four Thirds lenses is available for the Panasonic LUMIX G Series. Among these, the LEICA DG VARIO-SUMMILUX 10-25mm / F1.7 ASPH and the LEICA DG VARIO-SUMMILUX 25-50mm / F1.7 ASPH zoom lenses feature full-range F1.7 large apertures, as well as other single focal length F1.7 or F2.8 lenses. Also, the LUMIX GH6 records the name and focal length of analogue lenses such as anamorphic or other old lenses, automatically setting up the camera's in-body image stabilizer when those lenses are used.
Professional Features and Connectivity
The settings of a LUMIX GH6 camera can be copied and transmitted wirelessly to other GH6 cameras for multi-camera set-ups. The LUMIX Sync application for iOS/Android devices allows remote control of the camera using a smartphone or a tablet via wireless connection. As well as wireless control via a Remote Shutter DMW-RS2, application software LUMIX Tether enables tethered shooting via USB. Users can control the camera by connecting it to a PC via USB, and displaying the images on a large PC screen while shooting.
Both Wi-Fi 5 GHz and 2.4 GHz are effective on the camera. While the 2.4 GHz band has a longer range and better penetration, 5GHz is less congested and supports higher speeds, establishing a more secure, stable connection with smartphones, tablets and other devices on location for smoother remote control. Compatibility with Bluetooth 5.0 enables constant connection with devices, with minimum power consumption.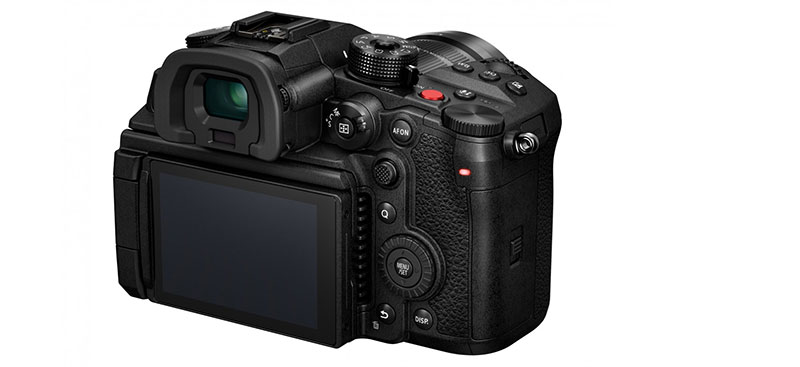 A HDMI Type A connection is supplied for the camera terminal. The LUMIX GH6 supports USB 3.2 Gen 2 for high-speed writing and readout. The 2200mAh battery can be recharged either via AC or USB. The LUMIX GH6 is compatible with Time Code IN/OUT synchronization through the flash synchro terminal and bundled BNC converter cable with BNC cable. This makes it easier to edit footage shot with multiple cameras on NLE software. USB host capability will be added with a future firmware update, making it possible to write data directly to SSD.
Overheating is a fatal obstacle to continuous video recording, especially as the resolution and the frame rates increase. The LUMIX GH6 can achieve unlimited video recording time in Cinema 4K 60p 4:2:2 10-bit by using a forced-cooling mechanism, and allows video recording of VFR/HFR, ProRes and high-resolution footage exceeding 4K for an extended time.
The LUMIX GH6 is built with double card slots for relay or simultaneous backup recording. The CFexpress card (Type B) supports internal recording of high bitrate video at 800Mbps or more including 5.7K 30p ProRes 422 HQ and C4K 60p ALL-I. The SD Memory Card UHS II V90 supports internal recording of video at 600Mbps or less.
The GH6 exterior is composed of a magnesium alloy full die-cast front / rear frame, splash-resistant, dust-resistant and freeze-resistant down to -10° C and can withstand heavy field use. The shutter unit is durable for about 200,000 cycles. The Rec button is located on both the top and front of the camera. business.panasonic.com.au/professional-camera