Panasonic S Series Gains LUMIX S1H for Cinema, plus New LEICA Zoom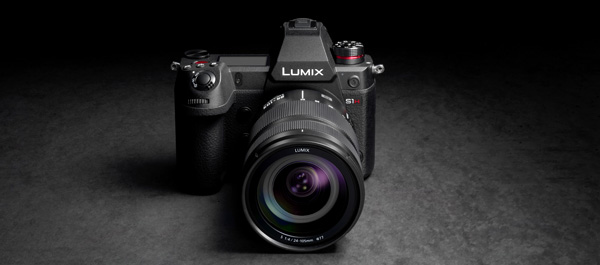 The Panasonic LUMIX S1H is a new Digital Single Lens Mirrorless camera with a full-frame image sensor and is among the first digital cameras capable of video recording at 6K/24p in 3:2 aspect ratio, and 5.9K/30p in 16:9 aspect ratio. It is also one of the first full-frame digital interchangeable lens system cameras able to capture 10-bit 60p video at UHD or cinema 4K resolution.
The LUMIX S1H shoots professional-level video quality but keeps the mobility of a compact, lightweight mirrorless camera. A prototype was exhibited at the Cine Gear Expo 2019 at Paramount Studios in Los Angeles, 30 May to 2 June.
New Panasonic S Series Camera for Cinema
The LUMIX S1H is the third model in Panasonic's LUMIX S Series of full-frame Digital Single Lens Mirrorless cameras – the S1R, the S1 and this new S1H. The S1R was developed for high-resolution shooting, the LUMIX S1 is a hybrid stills and video camera and now the LUMIX S1H is developed especially for film production. The camera will be available after mid-2019. Local pricing will be announced closer to the release date.
LUMIX S1H's ability to shoot in 6K results in higher-quality 4K output, and the ability to crop, pan or stabilise shots in post- production while maintaining 4K resolution. As well as high resolution, high-bitrate recording, it accommodates a range of different recording formats including 4:3 Anamorphic mode.
The camera uses the V-Log/V-Gamut with a wide dynamic range of 14+ stops aligned to the dynamic range of the Panasonic Cinema VariCam, precisely capturing scenes from dark to bright areas. Subtle gradations such as skin tones are also accurately reproduced. Designed for consistent colour management, the S1H's recorded footage is compatible with V-Log footage recorded by VariCam, or V-Log L footage recorded by the LUMIX GH5/GH5S, making it easier to cut the video together in post.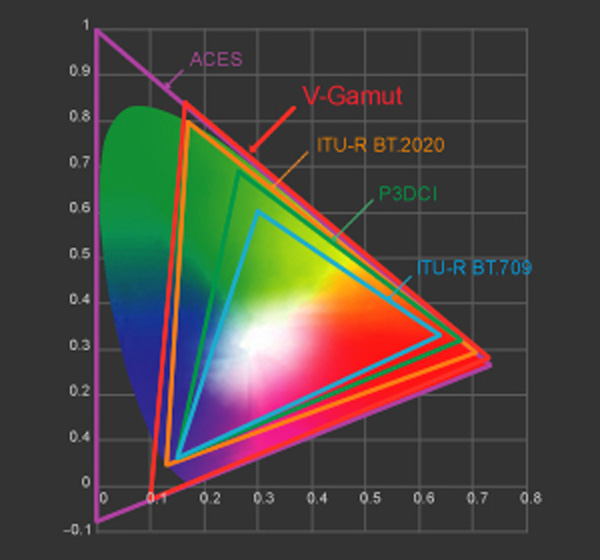 Panasonic V-Log/V-Gamut
Panasonic has focused on heat management in the S1H to support non-stop video in each of its recording modes. This especially suits situations where the DP has little control over the shooting subject such as documentaries, interviews and events.
Other news about the S Series includes a new Software Upgrade Key (DMW-SFU2) for the LUMIX S1 model. This paid-for software program allows users to access the 14+ stops of V-Log recording, and record 4:2:2 10-bit 4K MOV 30p/25p video internally. It also supports 4:2:2 10-bit 4K 60p/50p HDMI output and includes various other upgrades that improve ease of use and audio functions.
LEICA Standard Zoom with Constant F1.7 Aperture
Panasonic will soon release the LEICA DG VARIO-SUMMILUX 10-25mm / F1.7 ASPH, or H-X1025, a new G Series interchangeable lens that has a constant F1.7 aperture, covering the wide to standard zoom range. This range makes it the equivalent of five prime lenses in one, and gives users the option to quickly move from an ultra-wide to a medium focal length without changing lenses.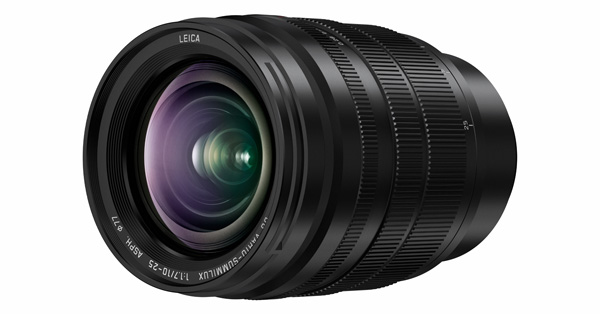 The result is the advantage of a prime lens' fast aperture in low light, combined with the versatility of a zoom lens. The new lens will be available by August.
A special focus clutch mechanism has been added that switches instantly between Auto and Manual focus, and allows more accurate manual focusing. This helps video shooters achieve consistent, repeatable focus moves.
The LEICA H-X1025 has a large F1.7 aperture across its 20-50mm (35mm camera equivalent) zoom range and a clickless aperture ring that gives smooth, seamless aperture control. The build is rugged and splash-resistant with a durable metal mount, and is freeze-proof down to -10° C.
The lens system comprises 17 elements in 12 groups with three aspherical lenses and four ED (Extra-low Dispersion) lenses that suppress axial and magnification chromatic aberration, plus spherical aberration and distortion. The use of aspherical lenses in this lens system design results in a compact, lightweight lens with top optical performance. The filter diameter of the lens is 77mm, and it has a nine-blade circular aperture diaphragm.
The LEICA 10-25mm lens is compatible with the LUMIX G sensor drive at 240fps to take advantage of the precise high-speed auto focus. The inner focus drive system gives silent operation, and the stepless aperture ring and micro-step drive system in the aperture control section allow the camera to catch up to brightness changes smoothly, without jumping, when zooming or panning.
New Teleconverters for LUMIX S Series Telephoto Zooms
New 1.4x and 2x teleconverters for LUMIX S Series telephoto zoom lenses will soon be available as well, the DMW-STC14 and DMW-STC20. They can be attached to the LUMIX S PRO 70-200mm F4 O.I.S. (S- R70200), converting it to a super telephoto lens with an extended zoom range of maximum 400mm and high-speed, high-precision AF.
A teleconverter is a secondary lens mounted between a camera and its primary lens, which enlarges the central part of an image captured by the main lens. They effectively increase the focal length of a given lens, but also decrease the intensity of light that reaches the sensor by a relative factor and decrease the resolution - so they may not suit all applications.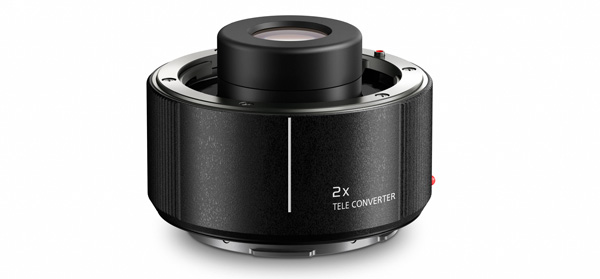 Both teleconverters are also compatible with the upcoming 70-200mm / F2.8 S Series lens, to be introduced later in 2019. The DMW-STC14 is built with seven lenses including two UHR (Ultra High Refractive Index Lens) lenses in four groups, and the DMW-STC20 has eight lenses including two UHR lenses in four groups. The teleconverters are sealed to maintain the lens' integrity. The new teleconverters will be available by mid-2019.
Panasonic Cinematic Expertise
Since the 1990s, when Panasonic first began developing video recording equipment and functionality for digital cinema, the company has produced a number of innovations including 24p video recording, slow motion video using a variable frame rate, and the wide dynamic range and colour space of the V-Log/V-Gamut colour transform.
Panasonic has been working with filmmakers for over the last 25 years to design and develop several different cinema cameras. The LUMIX GH1 launched in 2009 as an early Digital Single Lens Mirrorless camera capable of full-HD AVCHD video recording. The LUMIX GH4 launched five years later in 2014, capable of 4K video recording, and in 2017, the LUMIX GH5 was released with 4K/60p, 4:2:2 10- bit 4K/30p recording . The LUMIX GH5 is is now recognised for high performance, mobility and versatility in film production. pro-av.panasonic.net