Panasonic Studio Cameras Go Wireless with IMT Vislink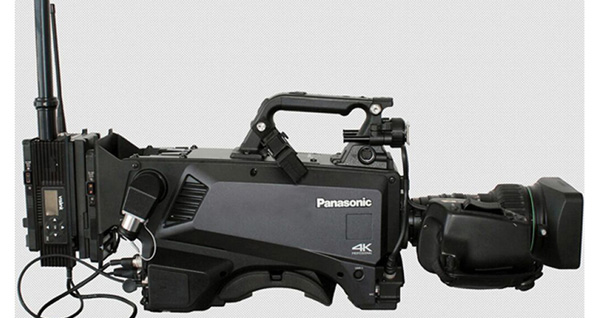 xG Technology, developer of IMT Vislink live video communications systems, and Panasonic have formed a partnership that integrates IMT Vislink's external wireless system into the Panasonic studio camera range, resulting in a workflow that encompasses video capture, transmission and receiving for various broadcast applications. The main goal is a smooth workflow for live wireless broadcast.
Panasonic's AK-UC4000 will also receive a software upgrade in September 2018, that will make 4K output possible via one of the 12G-SDI outputs from the camera head. When combined with the IMT Vislink HCAM transmitter, the AK-UC3000, AK-HC5000 and AK-UC4000 will all transmit full-HD wireless video, and the UC3000 and UC4000 will support 4K transmission.
The HCAM HEVC 4K UHD wireless transmitters are made for such applications as ENG and sports broadcasts. They can be mounted to broadcast, ENG and prosumer cameras and come with standard video interfaces.
The HCAM has interchangeable, dual SFP modules supporting a number of HD-SDI over IP interfaces that will make them useful into the near future – including quad 3G, 6G and 12G standards with SDI, HDMI, Fibre Optic and SMPTE 2022-6. It can be controlled through Wi-Fi and Bluetooth via a dedicated Android and iOS application.
IMT Vislink is now shipping its external wireless systems for the AK-UC3000 and AK-UC4000, currently based on the existing HCAM transceiver unit which supports HD and UHD on a switchable basis. www.vislink.com