Peter Beeh Takes to the Sky with Sony F5s for New Year's Blast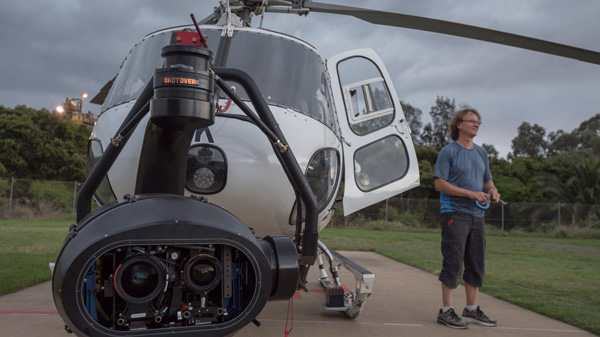 Aerial cinematographer Peter Beeh shot the 2017 New Year's Eve fireworks celebration in Sydney from above the harbour for the ABC, and was responsible for the big picture aerial component of the network's annual New Year's broadcast. The footage he and his crew produced reached an audience estimated at approximately one billion people around the world.
Peter Beeh's footage was fed live to outlets worldwide. He remarked, "Because Sydney is one of the first major cities to reach midnight, it's a big deal each year and huge numbers of people see our fireworks presentation across traditional broadcast and online media. The wide, overhead shots of Sydney Harbour, the Harbour Bridge, the Opera House and the city itself play a key role and we had to make sure the cameras created the desired impact."
He used the Shotover K1 aerial camera system because, designed for 3D shoots with maximum payload of 110kg and a 360° field of view, it can carry two camera and lens packages within the one gimbal. He said, "I specialise in aerial capture for broadcast, commercials and features. Because a lot of expense is involved in operating a stabilised camera system from a helicopter, using a dual camera setup on the Sydney NYE shoot made it possible to deliver a much wider variety of shot options for a relatively small extra cost."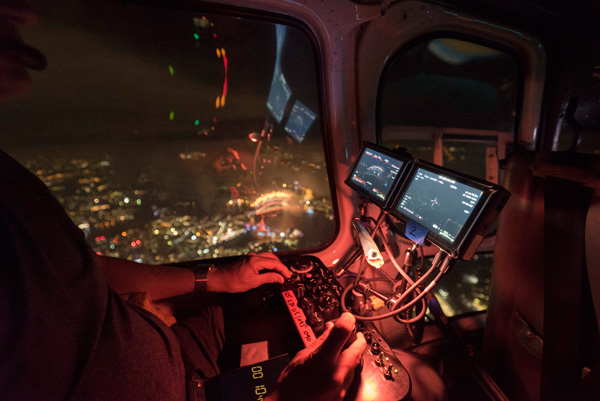 The K1 is built with 6-axis gyro stabilisation and look-down functionality. Shotover gimbals are built up to order with camera and lens combinations to suit the customer. "Using this rig, it is possible to configure a variety of multiple camera setups for different purposes," said Peter. "For Sydney NYE we configured the system with two Sony F5 cameras, one fitted with a wide to mid-range zoom lens, the other fitted with an ultra wide-to-wide zoom. With this setup we were able to capture a much greater variety of shots from the one gimbal, and both a wider and a tighter image simultaneously from the one stabilised head using the one aircraft.
The size of the camera body was especially useful on this project, of course, because they needed to fit two completely independent camera packages into the one gimbal. The compact size of the F5 and its relatively cubic form factor - 130 x 190 mm - made fitting both cameras with associated gear into a tight space easier. The weight per camera before adding lenses or accessories is 2.2kg.
Low light was a primary challenge the crew had to overcome to make the shoot show off the spectacular nature of a firework display. "Owing to their Super 35mm sized sensor the F5's perform well in low light," Peter said. "Every year I test different cameras for low light performance. Although the F5 and F55 sensors are a few years old now I still haven't found a camera that produces a better live HDSDI feed in low light.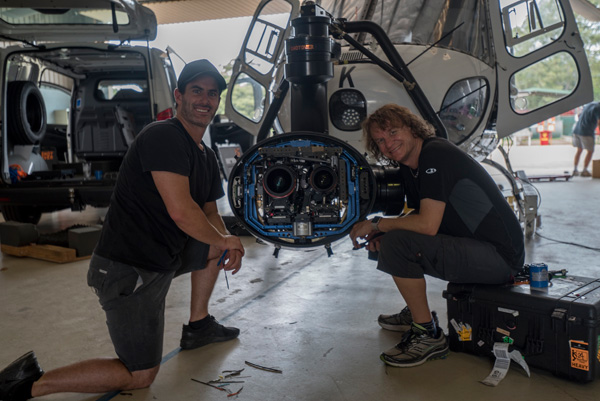 "Apart from the sensors, my crew and I chose the F5s mainly because they integrate well into a live broadcast workflow and can be controlled through a camera control unit - a critical factor. Sony has made wiring design fairly straightforward when connecting multiple Sony RM-B170 remote controllers to the cameras themselves. Generally this is not a complex process, but we needed to be able to pass all camera control information through a single slip ring, and because the RMB remotes require just four wires per camera, it wasn't difficult to accomplish." pro.sony.com.au