LUMIX DC-GH5 Records 4K 50/60 fps and 6K Photo 18MP Burst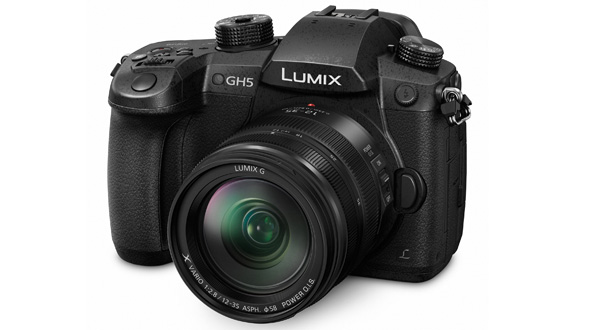 The new Panasonic LUMIX DC-GH5 records 4K 10-bit 4:2:2 25/30p video to SD cards, shoots 4K quality video at 50/60 fps and has 6K Photo functionality that records a burst of 18 megapixel still images continuously at 30fps with no buffer limit. The camera is built with a 20-megapixel sensor and 5-Axis Dual internal stabilisation, dual SD card slots and Bluetooth and Wi-fi connectivity. Typical applications are wedding and event videography, documentary shoots and filmmaking.

The DC-GH5's 10bit 4:2:2 video recording in 4K resolution captures over 1 billion colours aiming to produce cinematic, subtle gradation and enough colour information to allow greater editing flexibility in post-production. The ability to capture this level of quality directly to SD cards instead of an external recorder keeps the weight and cost of kit lower, and is more portable.

The DC-GH5 can also capture 4K video at 50/60 fps, improving the look of motion to suit documentary, news and slow motion applications. For productions that need higher frame rates for cinematic slow motion, the DC-GH5 can record at up to 180 fps in full-HD.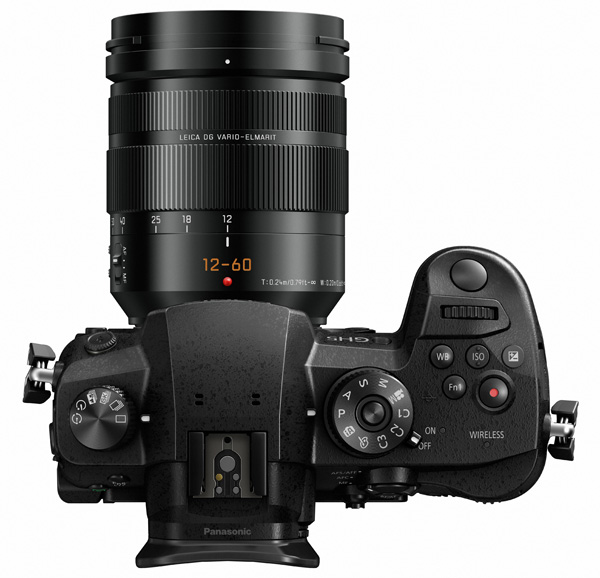 The DC-GH5's 20-megapixel sensor has the Low Pass Filter removed, allowing more detail to reach the sensor, and a new Venus Engine processor, which also helps increase detail and dynamic range. Multipixel luminance generation prevents false colours in pixels at the edges of images. Three-dimensional colour control balances hue, saturation and brightness to improve colour reproduction from dark to light. Multi-process Noise Reduction identifies noise and preserves detail, supporting low-light shooting at ISO 25600.
The Digital Live MOS sensor's signal readout speed is 1.7x faster than the GH4, and the Venus Engine processes the signals 1.3x faster. As a result, the DC-GH5 can capture stills and video at high quality while using the full sensor area, also in 4K 50/60p and 6K Photo modes [see below], and maintains the lens' full angle of view.

Panasonic's Dual IS 2 system combines 5-axis internal stabilisation with the optical image stabilisation built into certain lenses. Depending on the lens, this can result in up to 5 stops of image stabilisation, including at telephoto focal lengths. Potential advantages of Dual IS include using slower shutter speeds and ISO values while maintaining sharpness, more stable performance when shooting handheld, and less dependence on tripods or Steadicam rigs.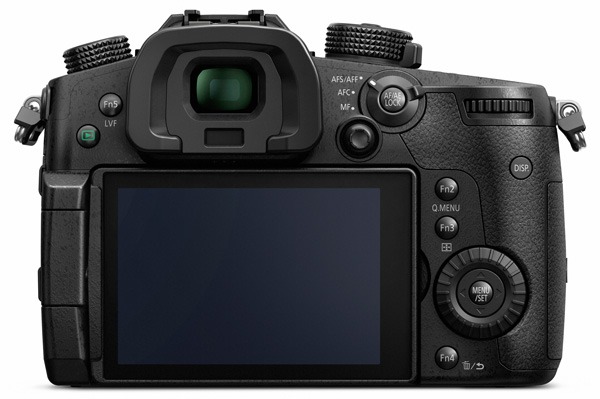 While Panasonic's existing 4K Photo function made it possible to select a high resolution still photo from a video clip, the new 6K Photo now in the GH5 extends the functionality to record a burst of 18 megapixel still images continuously at 30fps with no buffer limit. The original 4K Photo now has twice the frame rate, capturing 60fps in 8-megapixel resolution. In 6K/4K Photo, three modes can be selected depending on the situation - 6K/4K Burst, 6K/4K Burst (Start/Stop) and 6K/4K Pre-burst.
On the Camera
The DC-GH5 has a magnesium alloy weather sealed construction that withstands splashes, dust and freezing temperatures. Heat dissipation characteristics prevent overheating on longer shoots, also with stabilisation activated and using the higher quality 4K video modes.

The camera comes with large capacity batteries, and when used with the optional battery grip it is possible to double the battery life. The Dual SD UHS-II Card slots allow you to record simultaneously to both cards, or back up data to the second SD Card slot. The Allocation Recording mode automatically allocates data to the designated SD Memory Card according to the type of content – RAW, JPEG, 6K/4K PHOTO, or video.

The DC-GH5 includes a 3.6 million-dot OLED viewfinder with of 0.76x magnification, bright enough for outdoor use and supported by a 3.2-inch articulated touch screen monitor with 1.6 million-dot resolution. For those working in the field who need to control operations remotely, share with other devices and transfer their data rapidly, the camera has one HDMI output, a Bluetooth 4.2 Low Energy connection and secure 5GHz Wi-Fi (IEEE- 802.11ac).
Optional Accessories and Functionality
Some optional accessories and functionality are also available. Using the DC-GH5 with the XLR microphone adaptor, DMW-XLR1, adds two XLR inputs suitable for broadcast-grade microphones. The adaptor is powered by the DC-GH5 battery and audio is transferred cable-free to the video file on the SD Card. This interface unit supports 48 volt phantom power, as power-supply to condenser microphones, and includes independent pads, low cut filters and gain control on each channel. The XLR1 also has a hot shoe mount on top to mount a microphone, wireless microphone receiver or a video light.

The battery grip mentioned above makes the camera easier to hold onto and holds a second battery. Exposure, ISO and White Balance buttons are included alongside front and rear dials, replicating the main camera controls including the joystick to help when shooting vertically.

By buying the V-Log L video recording software upgrade, the DC-GH5 becomes V-Log compatible. You can then capture footage with the same flat colour profile found in Panasonic's Varicam broadcast camera, increasing your options in post-production with characteristics similar to Cineon, Kodak's file format for film digitisation. This profile extends the dynamic range to over 12 stops of latitude supporting detailed colour grading when used in conjunction with 4K 10-bit 4:2:2 mode.
Format and Focus Specialties
MOV, MP4, AVCHD Progressive and AVCHD formats are available at various frame rates, and there is no recording time limit for both full-HD and 4K video. Professionals can switch recording frequencies between 59.94Hz / 50.00Hz / 24.00Hz. Variable frame rate recording with overcranking and undercranking for quick motion is now available in 4K and full-HD. Time lapse video can also be produced in-camera, with pre-set Focus Transition between different subjects. As well as 'Cinelike D' and 'Cinelike V' gamma settings, the DC-GH5 has 709-like gamma and knee control for HDTV compatibility.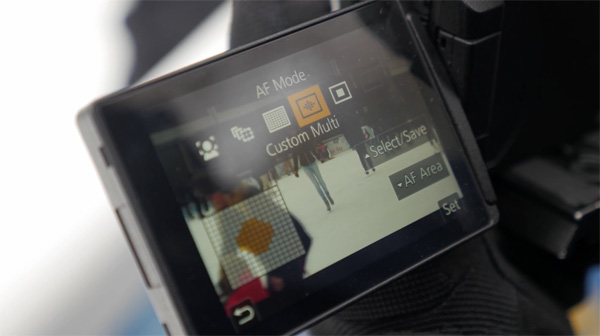 Other practical items are waveform monitor display, SMPTE-compliant Time in Rec Run or Free Run to synchronise multiple video footage or sound sources in post-production workflow, selectable luminance levels and colour bars of various standards.

Development of the AF system with Depth From Defocus has continued, improving performance when tracking moving subjects. The speed of the sensor drive during auto focusing is 480 fps, twice as fast as the GH4. The focus areas generally have been increased from 49 to 225. Users can create a group of 225 focus areas and move or change it in size according to the composition. Panasonic also includes face/eye recognition, tracking AF, 1-area AF and pinpoint AF.

All focusing operations can be controlled with the new joystick located on the thumb position, so the user does not have to take their eye off of the subject. The GH5 is equipped with AF Custom Settings, including AF Sensitivity, AF Area Switching Sensitivity and Moving Object Prediction Level, with four presets.

The LUMIX DC-GH5 will be available in April 2017. The accessory battery grip and XLR microphone adaptor will also be available from April. Later in 2017, the camera will be compatible with 400-Mbps 4:2:2 10-bit All-Intra video recording in 4K 30p/25p/24p and full-HD. At that time, Panasonic will also add high-resolution video recording in Anamorphic mode, the 4K Hybrid Gamma Profile compatible with 4K HDR television, and USB tethering. www.panasonic.com.au