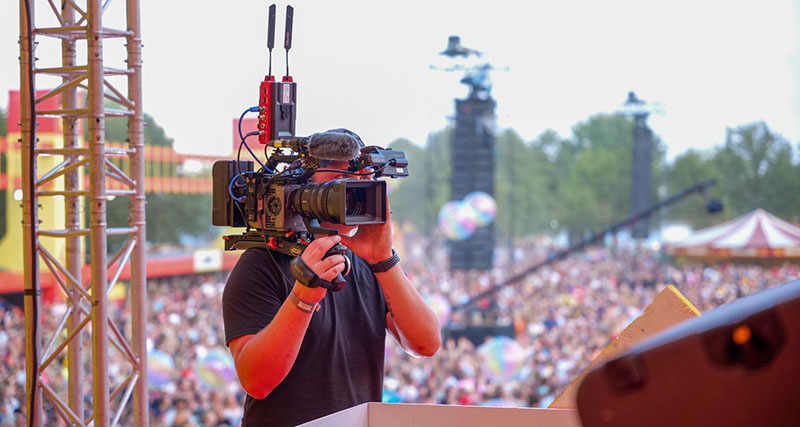 At Broadcast Asia, 7 to 9 June 2023 at Singapore Expo, Magna Systems & Engineering will be demonstrating new IP production and cloud-based systems, software and hardware. Over the past year, companies Magna represents have devoted development effort to topics dominating the broadcast and production industries ranging from IP core infrastructure, production and secure video and data distribution; to cloud systems, streaming and production; to monitoring along the streaming video delivery chain.
IP Infrastructure and Production
Magna will be demonstrating systems from arkona, a developer of tools for live broadcast production, in particular the BLADE//runner software suite of live production apps.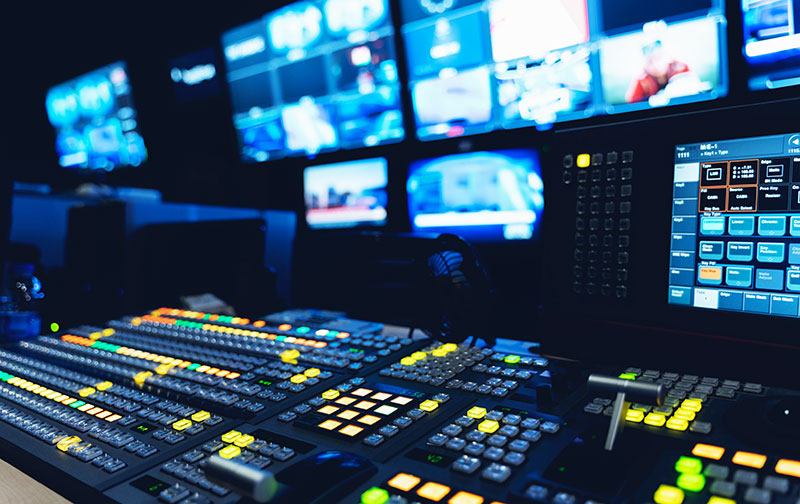 Agile and scalable, the BLADE//runner suite serves as a flexible, modular core infrastructure with tools including audio/video routing, compression, processing and visualisation. It supports open standards and, with an API 1st approach, is highly flexible regarding user-specific workflows. It is also controllable through the NMOS IS-04/-05 registration, discovery and connection standards.
The latest BLADE//runner 2.2 adds JPEG-XS compression to arkona's Programmable Acceleration Card (PAC), the AT300. This update makes the BLADE//runner ecosystem more suitable for customers who need low latency, high quality compression. As well as JPEG-XS, the new JXS app can also handle ST2110-20/30/40 and 2022-6 uncompressed routing and processing.
arkona has also been developing live production infrastructure for tier-1 projects. Called Manifold Cloud, this new service is an on-demand configurable pool of shared resources allocated within a private cloud environment. Manifold Cloud is supplied entirely in software that runs on off-the-shelf FPGA accelerators.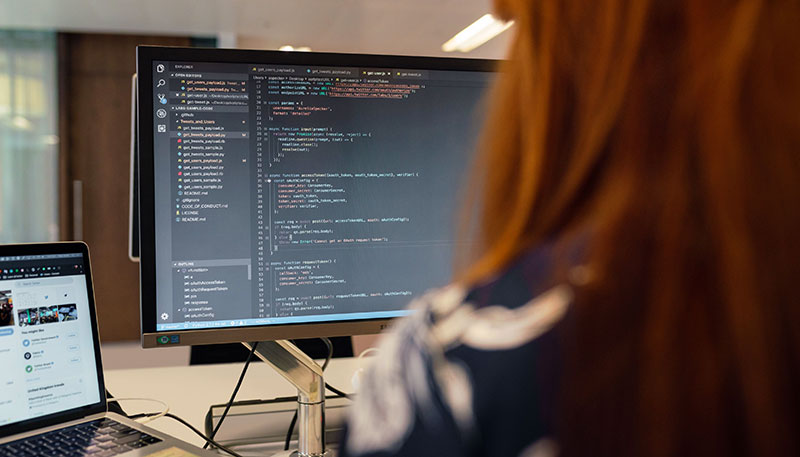 arkona BLADE//runner
All these features make it easier for Tier-1 clients, which have heavier demands for live sports, entertainment and news productions, to start using cloud infrastructure and taking advantage of its scalability, resiliency, quick deployment and central control.
The capacity and performance of Manifold Cloud scales linearly depending on how much compute is allocated. The ability to use standard FPGA accelerators means users can access the fast development cycles of chip and server manufacturers but still keep their CAPEX low.
Supporting the fast-growing world of IP production, Magna will demonstrate the use of Cerebrum and Neuron from EVS. They will show how to use Cerebrum to control, configure and monitor workflows in various production environments. The one application has a series of interfaces that are customisable for all these operations, and is adaptable for SDI and IP-based set-ups. Also highly scalable, the system is prepared for further evolution and development in the future.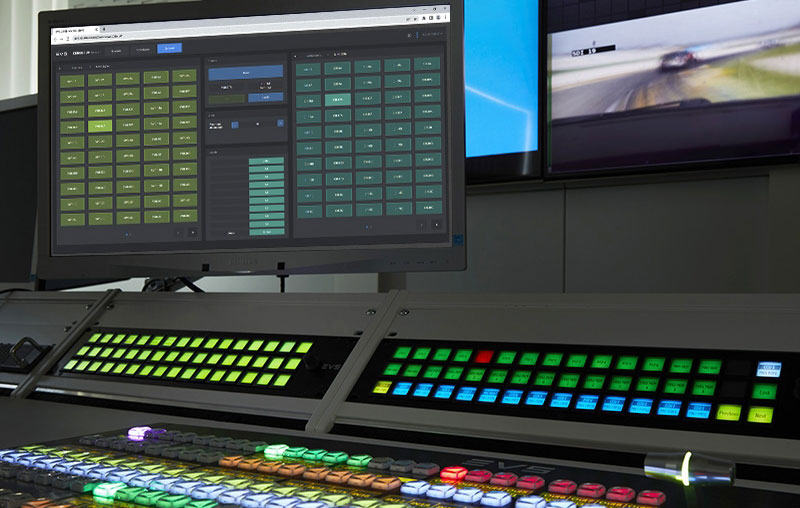 EVS Cerebrum
Functioning as modular glue for IP infrastructures, Neuron is capable of the audio and video processing still required in the IP world. It runs in a compact, high-density configuration on an FPGA, carrying out bridging, embedding/de-embedding, synchronisation, HDR-SDR-HDR, up/down/cross conversion, multiviewing and other tasks. In this way it helps bridge the gap between SDI and most types of IP media streams.
From Nevion, VideoIPath software-defined networking is a convergent media orchestration platform that combines network orchestration and broadcast control. It simplifies orchestration by controlling the complete media network and orchestrating the services running on it, and meanwhile optimises the use of resources, including bandwidth, equipment or functionality.
The TAG Video Systems MCM 9000 is an all-software IP multiviewer and monitoring system supporting multiple video formats, including compressed, uncompressed and OTT on one platform. With a centrally controlled and managed architecture, the software automatically scans networks, detects services and is configured via drag and drop gestures, resulting in a customisable visual mosaic viewable from anywhere, including mobile devices.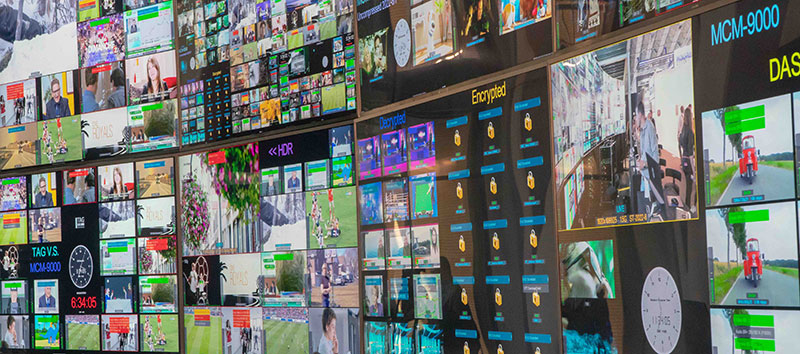 TAG MCM 9000
Uncompressed SMPTE 2110 10 output is implemented to improve image quality within the mosaic. Outputs from the monitored services include data overlays that serve as real-time error detection tools and alerts.
Capable of receiving large quantities of uncompressed sources and displaying them on the same screen, the MCM 9000 helps users to limit the number of monitors and interface devices they purchase. It is flexible enough to adapt to changing demands without buying a new product, and since the software and licenses remain the same when hardware is replaced, costs are amortised over the product's lifespan.
As well as wide format, standards and cloud support, the multiviewer features TAG's Media Control System MCS allowing it to scale across very large deployments and make large quantities of data available. By integrating their media monitoring with open-source software, Dev Ops tools and AI / ML, organisations can gain deep insight and knowledge about the performance of their operations.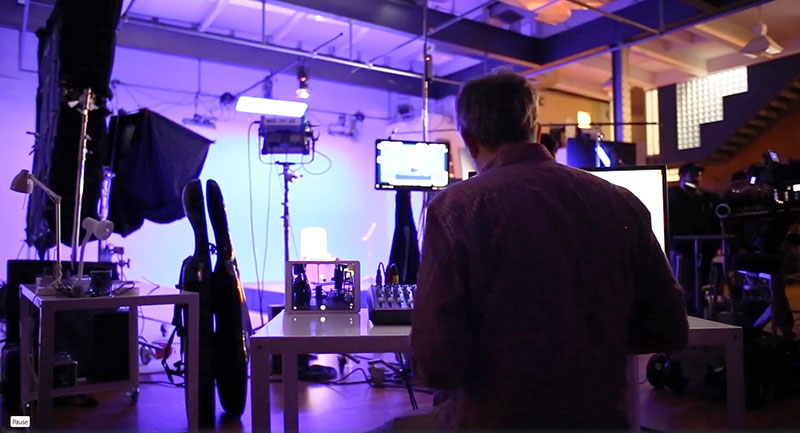 IP Secure Video and Data Distribution
Caton Technology aims to make the transport of broadcast-quality video and large files faster and more secure over IP networks.
Although grassroots content creators equipped with phone cameras now have a chance to compete with major entertainment companies, viewers still expect a consistently high quality media experience. To attract and keep viewers in terms of better distribution and delivery, broadcasters need systems that are cost-effective, secure, easy to manage and capable of delivering HD and UHD video to screens globally.
Caton Transport Protocols (CTP) for IP transmission emphasise stability, quality and security for video, media and other data transmissions. With over 30 in-built algorithms, CTP develops machine and deep learning approaches that work to smooth and mitigate network challenges and combine with their patented dynamic error corrections to recover from data loss.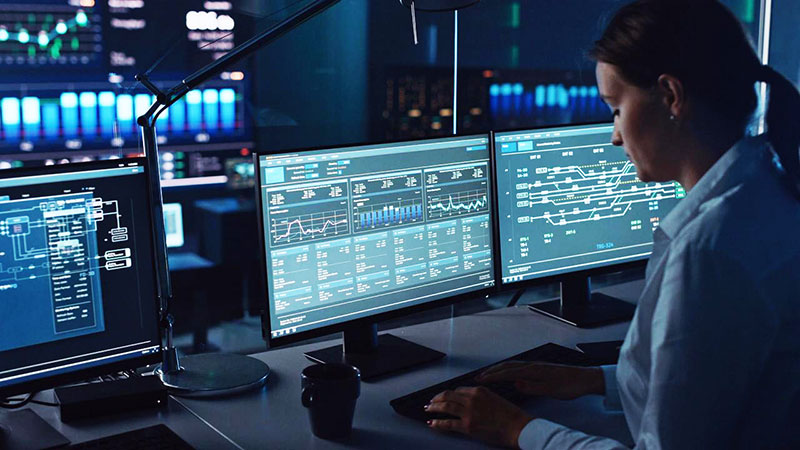 Providius BMG
The Providius Broadcast Media Guard (BMG) Media Stream Analysis acquires, decodes and analyses a wide variety of uncompressed and compressed IP media flows, concurrently across multiple high-capacity IP interfaces. Media analysis is critical to the measurement and monitoring of the quality and integrity of IP media, and to making sure that the delivered content is of high quality, free of errors or disruptions. Use cases for BMG software span engineering, operations and system integration.
Cloud Streaming and Production
Synamedia Quortex Play makes targeted, just-in-time live streaming possible from the cloud, efficiently and at scale. Users can operate hundreds of streams from a central location, manage teams, access the API and operate remotely with Synamedia's web interface.
Quortex Play scales as demands change and runs on a full Pay As You Go model – costs are calculated from actual usage. The user can create new live streams very quickly and only pay for those that are successful.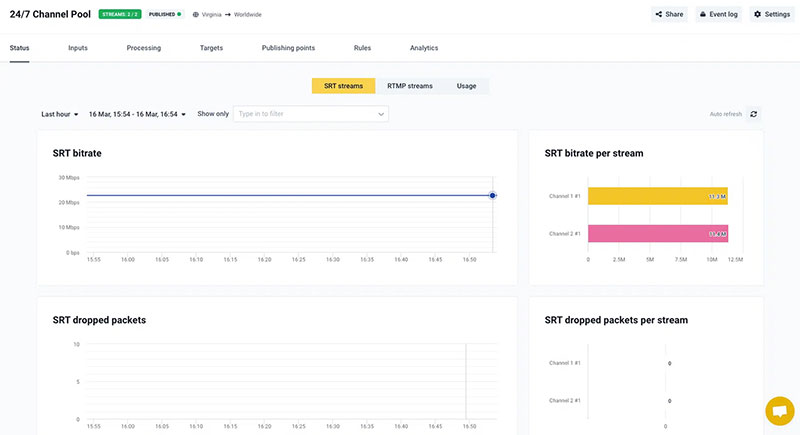 Synamedia Quortex Play
Owing to Synamedia's delivery network, users can access sources and viewers around the world at low latency. Streams can be ingested from any location, and the workflow will be deployed as close as possible to viewers, allowing control over Quality of Experience.
For example, users can contextualise the video experience by defining regions and devices to target, and determine what subscribers can watch by setting work schedules. The platform is API-centric so that all aspects of the workflow may be automated, and once a channel is launched, it can be reconfigured on the fly. Users can gather analytics as well, schedule shutdowns and retrieve billing information.
The Actionable Analytics gathers data from which Quortex Play identifies relevant details for troubleshooting streams or measuring the success of a service. It's also possible to filter or sort by country, user or device and fine tune the service accordingly.
Demos of Chyron LIVE will show how to cut and mix live sources from anywhere with an internet connection using a cloud-native live video production platform. Through an ordinary web-browser, users can access the Chyron LIVE platform, adjust audio levels across all feeds, play out PRIME-quality graphic packages, create unlimited multimedia playlists and produce live replays with telestration.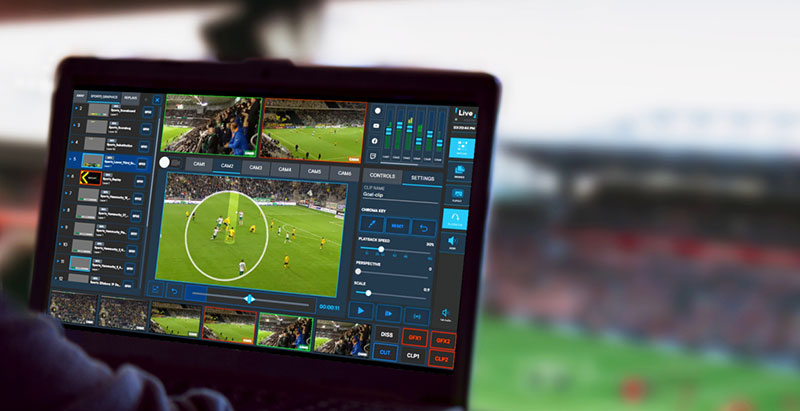 Chyron LIVE
Chyron PRIME Platform's production switcher, real-time motion graphics, clip playout and audio mixer modules become available in this web-accessible production environment. Users can cut and dissolve between video sources, overlay Chyron-grade CG graphics, play back clip packages, and adjust audio levels.
The true magic of a top-tier sports production happens in replay. With Chyron LIVE, you can comb through your camera footage, clip off a replay clip, add dynamic telestration elements to highlight the crucial elements of the play, and add it to a playlist for highlight reel playout.
Chyron LIVE's interface simplifies all elements into a point-and-click or touch interface for operators. For fast-paced shows involving collaboration with a remote crew, each Chyron LIVE instance will maintain a real-time state across multiple connected users. The LIVE 1.3 update includes a Matchpad module with a control panel for playout of a multi-layered soccer graphics package.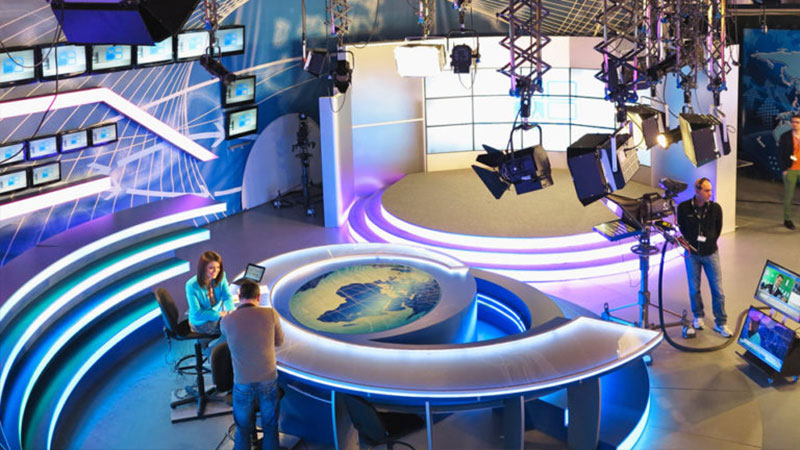 Streaming Media
The ABonAir AB4000 system supports HD and 4K wireless video links for broadcast and cinema productions. A dual-purpose system, it can be reconfigured from a transmitting mode to a receiving mode. It uses a H.265 CODEC optimised for wireless applications in order to maintain broadcast-level picture quality.
In ABonAir's bi-directional radio systems, the receiver acknowledges each pixel as a way of establishing steady, robust, uninterrupted, accurate video links between the transmitter and receiver.
Features such as full HDR support, tally light, CCU and PTZ, lens control (L-bus), loop through and integrated intercom using the same RF channel, give the AB4000 system its professional edge, with a coverage range of over 300m and three mount options – Hot Shoe, Gold Mount and V-Lock.
The AB4000 is designed mainly for live productions and monitoring of movie and commercial productions. It works well in closed sports arenas and small to medium-sized open arenas, OB, DSNG and DENG vans for news, studios including reality show productions, live stadium concerts and street events, and live broadcasts from Houses of Worship.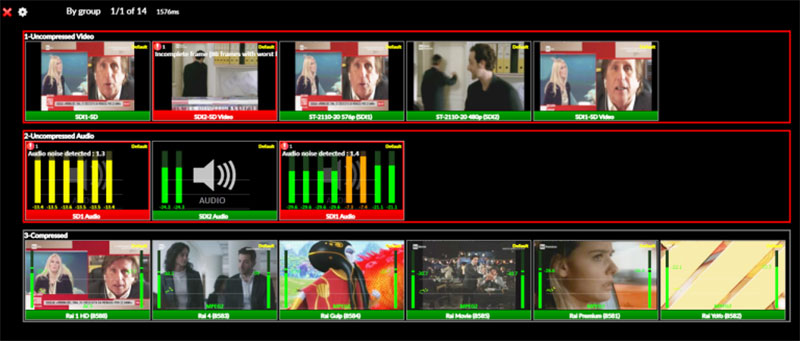 Enensys StreamProbe
The Enensys StreamProbe continuously monitors an organisation's media delivery chain, and presents users with a centralised overview of the service availability and video quality at each stage of the media processing and delivery flow.
It is built for TV service providers and network operators – from linear broadcast TV to satellite TV, OTT and VOD – to transport contribution and distribution and service platform providers, who want to better control their end-user quality of experience, and at the same time optimise their OPEX.
Understanding the delivery chain is complex, involving different stakeholders beginning with the content's creation, the distribution head-ends for processing and packaging, and the actual delivery to the end consumers. Therefore, ensuring an end-to-end service quality literally means deploying a monitoring system on these strategic delivery points – the source, the contractual handover points for SLA responsibility, the complex video processing stages, down to delivery.
The objective is to prevent and detect issues before the customer is affected. StreamProbe optimises your maintenance operation by quickly troubleshooting and identifying the source of problems, and generates quality reports to prove your SLA commitments.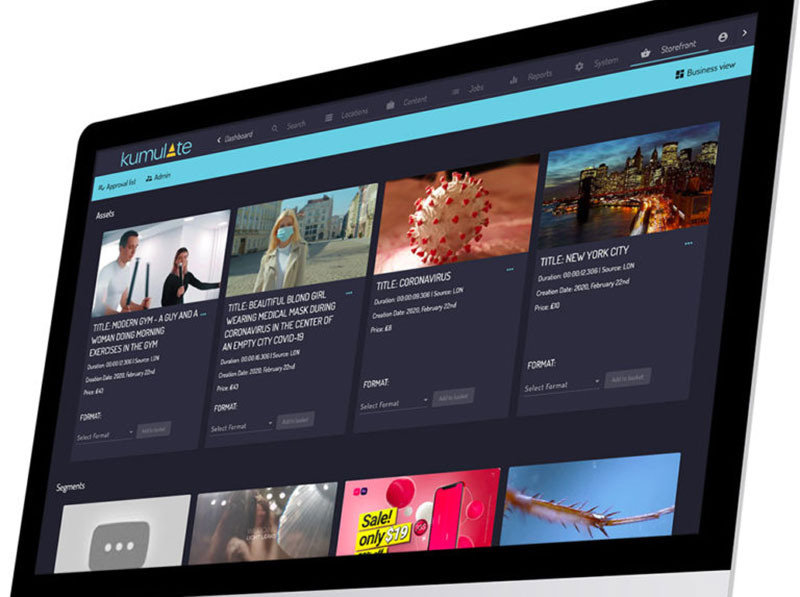 Telestream Kumulate
Telestream's presence at the show focusses on content management. Magna will demo Telestream DIVA and Kumulate. DIVA Content Management manages the full asset lifecycle, adapting reliably to different storage environments and thereby enabling teams to adapt to new systems as well. An organisation can use it to manage all of its digital content across broadcast, production and archive operations, and across multiple locations.
A useful feature is Scalable Access, which uploads media into a content repository accessible from multiple applications and devices across network, and integrates with standard media platforms. Also, Content Protection & Preservation includes automated features for verifying content and activity-log monitoring, and access via Virtual Private Networks (VPN).
Kumulate Video Storage Management helps content creators extract value from assets by making them discoverable when and where they are needed, in the right format. That ability contributes to lower video storage costs. Because the extreme expansion in video creation and video viewership is putting pressure on the existing means of storing content, Kumulate focuses on simple, cost-effective management of assets, freeing organisations to focus on creating content and improving business.
Personalised demonstrations at the show can be booked - visit www.magnasys.tv