Iraqi commercial broadcaster, Al Sharqiya Group, has implemented a new playout system at its London facility, wanting to simplify its master control workflows, operate more cost effectively and have more options to expand and change the system as its business evolves.
Al Sharqiya, whose name means The Eastern One, broadcasts two channels. One focusses on news, with studios in Baghdad and Erbil in Iraq, and in Amman, Jordan. The other carries a mix of programming including drama and entertainment, alongside hourly news bulletins. The broadcaster's main production centres are also in Baghdad, Erbil and Amman as well as in Dubai and London. The channels are well received in Iraq and have a wide following among nationals around the world.
Its West London master control room (MCR) handles the playout and distribution for Al Sharqiya News. "Setting technical considerations aside, the really important question in a master control environment is about how easy is it to use the system – that is number one," said Ahmed Bin-Afif, CTO of Al Sharqiya Group. "The ease of use, the flexibility, the ease of manipulating the content – those are major advantages for a news team."
Ready for Change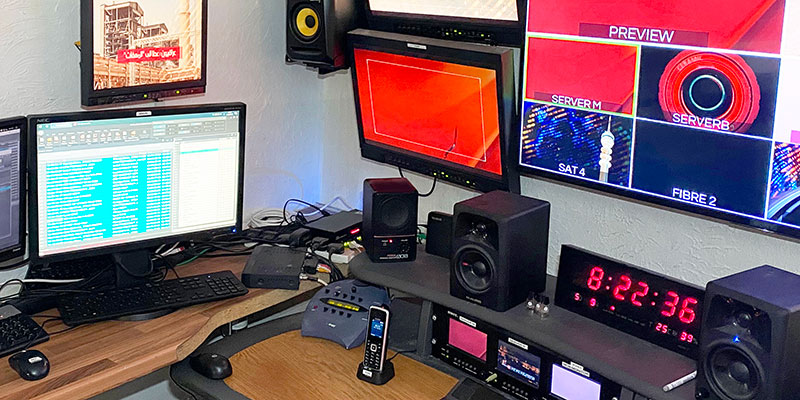 Al Sharqiya MCR facility
Those were also major factors when upgrading the playout in London, where a Versio playout system from Imagine Communications has now been on air since May 2022. "Versio also gives us a solid foundation for the future as it is easy to add channels, to complete our transition to SMPTE ST 2110 and to move to UHD when our audience demands it," Ahmed said.
"Another factor is the need to consider the cloud for our operations, because of the collaborations we have between our bases in Iraq, across the Middle East and London, and because of our growing archive. In fact, Al Sharqiya Group is launching a new OTT service called 1001 at the beginning of 2023 and Imagine is a large part of that plan."
These ambitions and the growing customer base at Al Sharqiya Group led to the demand for flexible playout facilities, as they need to switch between live studios and recorded output, and editing and inserting news items into the rundown. Typically, five or six studios will be supplying the content at any time for Al Sharqiya News. Under its former playout infrastructure, organising all the material called for a large number of operational and technical staff.
Web-based UI, Modular Playout
Since the London MCR was originally built around Imagine Nexio servers, when the discussion to move to a more sophisticated automation platform began, Versio was the first playout system they considered. Its switching, server and graphics functionality are handled from one piece of hardware, which can be controlled from any location over a secure internet link.

Ahmed Bin-Afif, CTO, Al Sharqiya Group
The Versio system has two main components. Optimised for the cloud, Versio Automation is a schedule-execution engine that drives playout by assigning resources to perform precisely timed tasks. Versio Automation also serves as the control interface allowing users to coordinate the management of the channel components. Through its web-based UI, Versio Automation supports dispersed operations with clip management, vertical channel workspaces and horizontal timelines.
Its full integration with Versio Modular Playout workflow tools means that assets can be prepared, QC'd and aired on time. As Imagine's channel origination software, Versio modular playout builds media workflows based on microservices, ranging from ingest and media asset management to playout, master control and graphics.
Agile and Resilient
Entirely software-based, the Versio platform can afford the agility needed to launch new channels and services, trial new revenue ideas and control costs. Furthermore, from s single playout system content can be generated for broadcast, OTT, linear, nonlinear, mobile or other type of platform. It also makes it fairly simple to build highly resilient architectures. For Al Sharqiya, a 1+1 redundancy set-up was implemented, but Versio Automation has redundancy options including N+M and multisite playout.
Versio Master Control Panel
Zaid Wattar of WAVE Media Solutions, the systems integrator on the Al Sharqiya Group upgrade project, said, "In a traditional playout centre, you might need multiple operators, but with Versio playout, a single operator can drive the system and that operator can be located anywhere in the world. Even though the playout facilities are in London, they can be operated from Erbil or Dubai, so the UK staff do not need to work overnight or make early starts. This simplicity and flexibility is what attracted Al Sharqiya Group to the Imagine Versio platform."
The engineering teams at Al Sharqiya Group completed the Versio system design and installation in collaboration with engineers from Wave Media Solutions and Imagine Communications. www.imaginecommunications.com