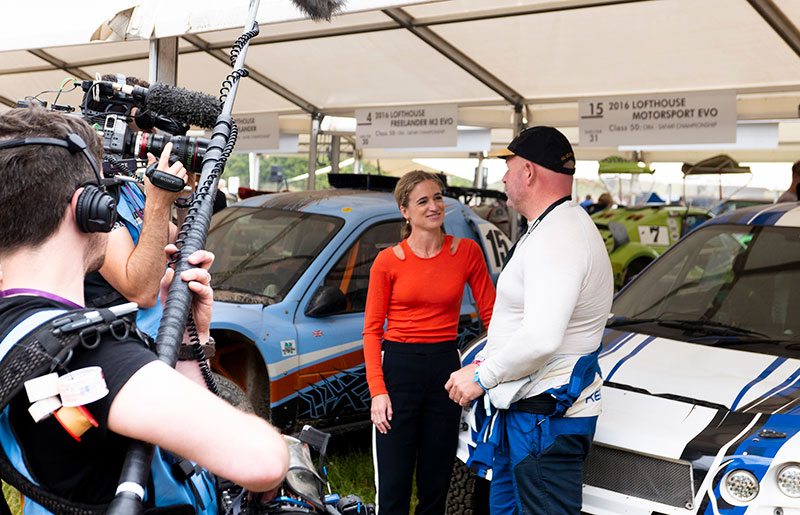 The 2022 Festival of Speed returned to the Goodwood Estate in June, taking place as the third event in the annual series of live broadcasts from the famous location in the Sussex countryside. Festival of Speed is hosted by The Duke of Richmond, and keeps its distinctive style and format by running a hill climb, a rally stage and a drift event instead of traditional motorsport track events. The theme for 2022 was innovation, demonstrated with a record-breaking electric race car that impressed fans on the hill climb.
The festival organisers hired Gravity Media to supply more than 40 hours of live content across the four days, including dedicated live coverage for ITV. The event followed the recent announcement of Gravity Media's five-year deal to supply end-to-end broadcast production services for the Goodwood Season of motorsport. This year is the first time that a broadcaster has delivered a live ITV show from Goodwood – previously, the action had always been produced as a highlights show. Gravity Media ensured that two shows were broadcast across the Saturday and Sunday of the festival, plus numerous features and extras delivered throughout the four days.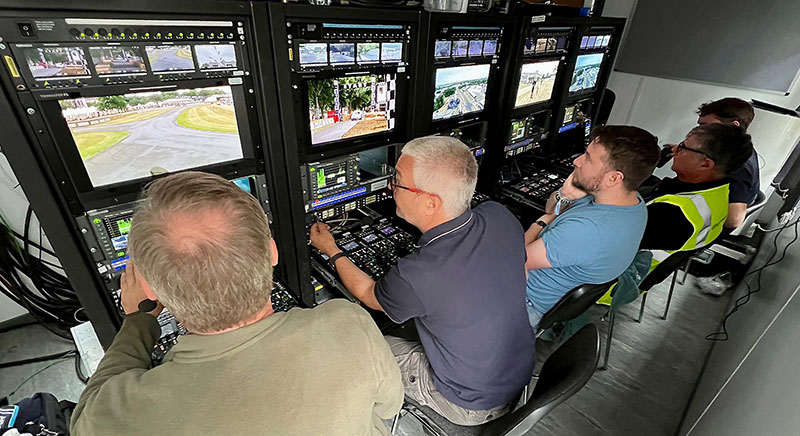 The live production was carried out as a separate operation to their world feed, from a self-contained control room. The two-hour Sunday show was then televised on Sky Sports F1 channel. World feeds for international partners, dedicated digital production, exclusive partner content and a fully-crafted highlights show for ITV and international fans were also created. The turnkey project package included full design and rebrand of the onscreen graphics.
Digital Content Strategy
It was important that the turnkey operation contributed to Goodwood's digital content strategy and project management across all events and partner activities. An underlying goal for the festival was supporting Goodwood's in-house digital team as they aimed to increase the scope and reach of content they were sharing across their platforms, as well as supporting their partners with additional content. Throughout The festivities, Gravity Media supplied hundreds of bespoke clips for digital applications and partners every day.
Combining editorial expertise from across the motorsport industry from some of the UK's best known producers, with their own wide-ranging technical skill, Gravity delivered end-to-end production services for the event from technical operation, kit and expertise, through to the production team and talent. All together, about 180 crew were working across multiple control rooms from two TV compounds.
For the Fans – Live from the Driver's Seat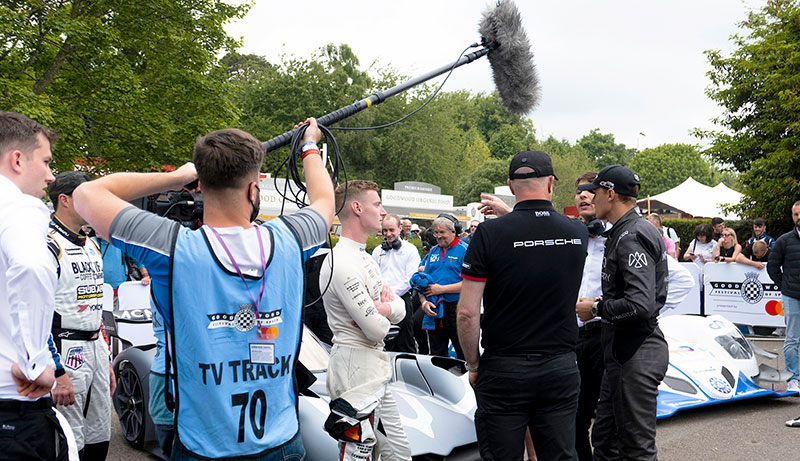 The team used almost 30 cameras including eight of Gravity Media's speciality live, on-board camera systems, which were rigged across several of the hillclimb competition vehicles, bringing the audience close to the action. The on-board cameras were positioned facing the drivers, guaranteeing an ideal POV shot recording the driver's reactions as they reached extreme speeds ascending the hill climb. In some cars fitted with a second camera, a different angle was captured outside of the car as well. Gravity also recorded on-board audio commentary from Bruno Senna and other famous drivers as they competed.
Hillclimbs are unusual in that the cars don't compete simultaneously. Each takes the run up the hill, one after the other. What made that race format somewhat complex to handle was the varying designs of the vehicles – the cars had to be rigged in specific ways. Each rig could take up to two hours to configure, and was a careful operation.
However, Gravity's onboard cameras were utilised across different cars. They would be removed after a run, and rigged onto another car of editorial choice. That flexibility is due to the ability to fit the on-board camera systems to multiple cars simultaneously, and then remotely control which car or cars are actually transmitting their pictures.
It means the crew can pre-rig a number of cars with onboard cameras and then remotely enable them when their car's turn comes to race. That works very well for an event like the Goodwood Hillclimb, as there is no need to wait for one car to finish its run before they can de-rig and re-deploy the kit in another car – covering many more cars than would otherwise be possible.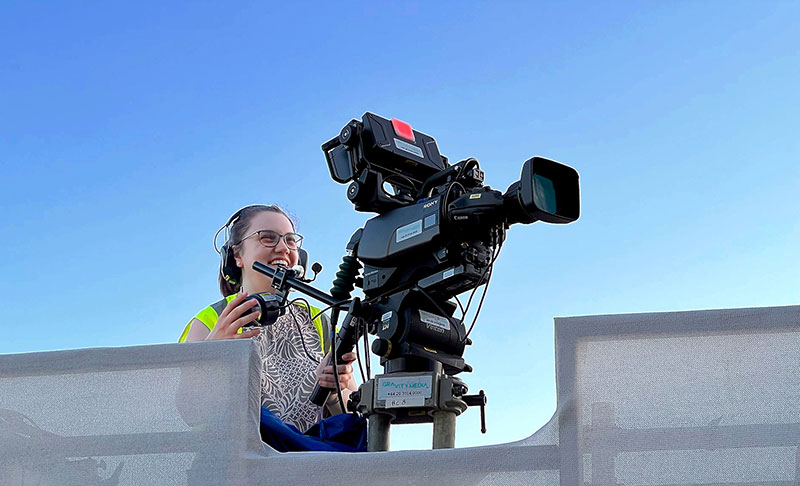 Robotic Camera Prototypes
Peter Sarginson, Gravity Media Lead Digital Design Engineer, worked on the deployment of the Speciality Camera systems, including four fully robotic cameras set up in locations that gave audiences exciting angles and points of view. "We had a prototype mini zoom-focus-iris camera on the rally circuit which connects to a robotic head using just a single cable interface and is something we are trialling currently. The heads are commercially available and are probably the best performing heads in their class in terms of speed, payload and smoothness," he said.
"We had four of these deployed at Goodwood, all in positions that returned very exciting shots but were deemed too dangerous for a human camera operator to occupy. Instead, each head was controlled by an operator sitting at a joystick panel in the production room with optical fibres carrying the head control data out to the field."
Small and Powerful
Gravity also embedded a number of their mini cameras discretely on the track-facing side of the hay bales. Called 'flip / flop' cameras, these afforded shots of the cars flying past at high speeds in close proximity. Again, these were locations where conventional cameras would simply not have been allowed on safety grounds.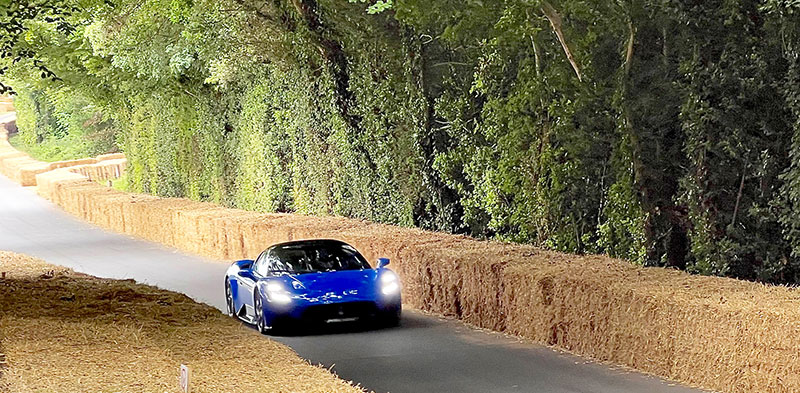 Peter said, "These mini cameras, capable of capturing high quality, full HD images, had originally been developed as net cameras for tennis tournaments. They are based on a commercially available mini camera but we extensively customise them by re-engineering the chassis and adding our own electronics.
"The resulting camera is extremely rugged, outputs excellent full HD picture quality, is fully remote-rackable and is connected via the same single, thin cable that the robotic prototype uses. It is nearly invisible when threaded through a tennis net but also makes the camera very easy to deploy in other locations and applications – such as embedded in the hay bales at the side of the track at Goodwood." www.gravitymedia.com