PHABRIX now includes a new Dolby E decoding and metadata analysis option in the most recent release V4.6 of its Qx and QxL Series rasterizers. The PHQXO-DOLBY option allows users to decode Dolby E or ED2 Dolby Atmos audio streams used regularly in Live Broadcast applications and obtain a clear view of Dolby E metadata.
The new update brings several other advantages to customers working with Dolby E or ED2 audio streams. The main one is a Dolby E decoder and metadata analyzer that is used to check the correct timing of Dolby E packets in the audio signal of an SDI or ST 2022-6 broadcast chain. Presenting a clear and accessible view of Dolby E metadata, the option also makes it possible to monitor Dolby audio from any of the SDI/2022-6 embedded audio, 2110-30 / -31 audio flows or AES inputs.
PHQXO-DOLBY also enables metering and monitoring of the decoded audio, as well as an ability to separately measure the loudness of a 5.1 or stereo 2.0 decoded program. A new 'Dolby view mode' is added for the Audio Meter window, which displays the eight channels of decoded Dolby E audio together with a configurable stereo 2.0 downmix, while the Dolby program metadata facilitates automatic identification and configuration of the meter channels.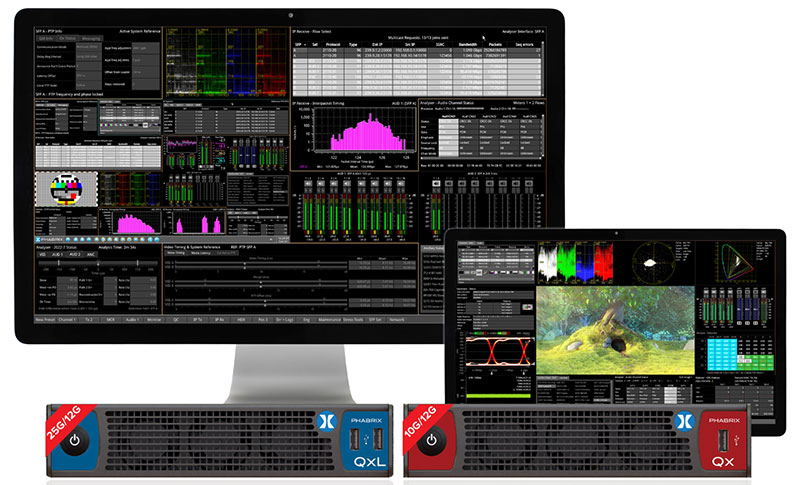 Qx Series
A status display of parameters presents Dolby E source, line positioning, dialogue level and downmix program source. Decoded audio may be routed to the AES Outputs for external monitoring.
Further to this, users can take advantage of built-in Cyclic Redundancy Check (CRC) error reporting, which performs a real-time check on the creation and transfer of the Dolby E stream through the broadcast network. For SDI and 2022-6 interfaces, a live update of Dolby E line timing is shown. Colour-coding of the line number label indicates when the line number is within the ideal range (white), within the acceptable range (yellow) or outside the acceptable range (red).
Phillip Adams, CEO, PHABRIX said, "Our Qx and QxL products are characterised by refinements and additions, and that continues with this latest release geared towards broadcasters working with Dolby E or ED2 audio streams. With the V4.6 release they now have access to many different decoding, metering and monitoring capabilities that will make sure their Dolby audio workflows can be managed and processed more easily and efficiently." www.phabrix.com