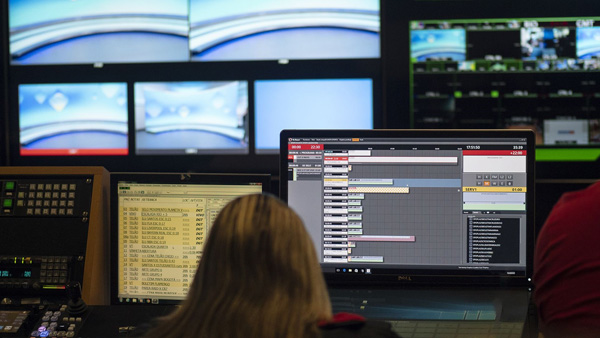 Vizrt Viz Mosart 5 studio automation software for video production can now be used by teams producing recorded content, as well as live programming, helping to reduce the need for editing in post-production.
Viz Mosart was originally developed to integrate with a newsroom's NRCS and production hardware so that the team can define the components and timing of a live show in advance. The show can then be produced and delivered to air, with live talent and a director, while making fewer mistakes and handling more complex elements, camera switching and interactivity. Broadcast shows can be templated for consistency, while still allowing last minute changes to be made to rundowns.
The same automated principles can be applied to recorded shows, although the output has still required spending time on editorial in post-production before broadcast. Therefore, Viz Mosart 5 has a new feature called Story Recorder that removes much of the need for editing. Instead, a recorded show with multiple retakes can now be made ready to air in a short time, while the staff members, cast and resources are together and prepared for production.
Viz Mosart Story Recorder brings the software's advantages for live production from studio automation over to recorded shows. Producers now have the ability when recording a live-to-tape show to pause, revisit an element or previous point, and re-record to rectify a mistake or otherwise improve the show.
Producers can reshoot show segments, while Viz Mosart automatically resets studio devices and elements to their appropriate states ready for the retake - from graphics to robotic camera positions, lighting and talent. Once the retake has been completed, Story Recorder automatically stitches together the correct show segments, reducing the editing time required per show by a large margin by taking care of the basic cuts and clean-up, and leaving only the fine-tuning for the team.
The advantages of Story Recorder are story continuity, consistency and speed. Viz Mosart, part of the Vizrt Studio Automation tools, supports smooth, uninterrupted production of scripted and ad-lib content for live and pre-recorded shows. Version 5.0 of Viz Mosart gives studio operators a straightforward UI, keyboard tools, direct access to sources and media, and reusable automation templates. Viz Mosart makes sure content is produced in an efficient, automated way, balancing quantity of output with consistency of quality from show to show. www.vizrt.com