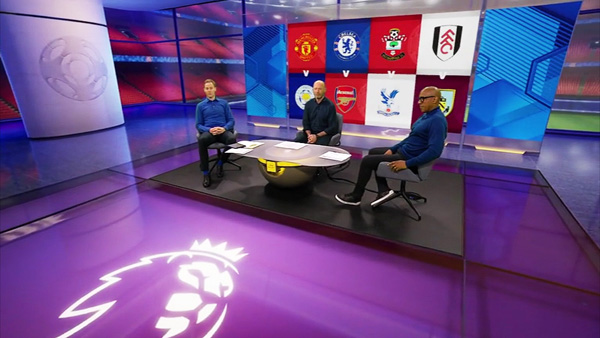 Early in 2021, Creative Director and Head of Graphics for Sport John Murphy and a team at the BBC converted a small studio space available at Media City in Salford, UK, into a green screen space for BBC Sport. With virtual design and rendering equipment and software, they now have a studio with five different presenting positions, ready and able to produce various types of sports output.
The studio uses Viz Engine 4 from Vizrt, which integrates an Unreal Engine 4 render pipeline and Vizrt's Fusion Keyer, combined with set designs sourced from BK Design and Lightwell. Viz Engine is a compositing, real-time 3D rendering and video playout software platform, used to render animated 3D scenes using different rendering pipelines. In BBC Sport's case Unreal Engine 4, which gives assets a photoreal finish, is directly integrated for graphics rendering and control from Viz Engine.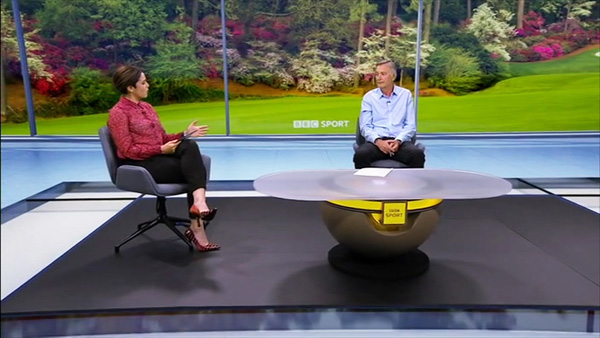 Viz Engine's platform architecture means other control software and plug-ins can be integrated, as well as different camera tracking systems. BBC Sport uses the Mo-Sys StarTracker 6-axis optical tracking system. Their artists are also able to import assets from Autodesk Maya and 3ds Max, Maxon Cinema4D and Adobe After Effects.
Graphics System Launch
In April 2021, BBC Sport launched its new graphics system to support their broadcasts of the many sports tournaments and productions held over the course of the 2021 sports seasons. Productions include selected Match of The Day programs, Euros 2020 and the Summer Olympic Games. Audiences viewed dynamic graphics accompanying sporting analytics, highlights during the shows and other news and information presented as visual stories for fans.
In Viz Engine, BBC Sport can adapt and render a line-up of designs in real-time for their studio environment, and also record and play out multiple channels of video and audio to match production requirements. The artists can build up complex scenes by using assets, designs and artwork from existing scenes, inside other scenes, without having to run conversion processes.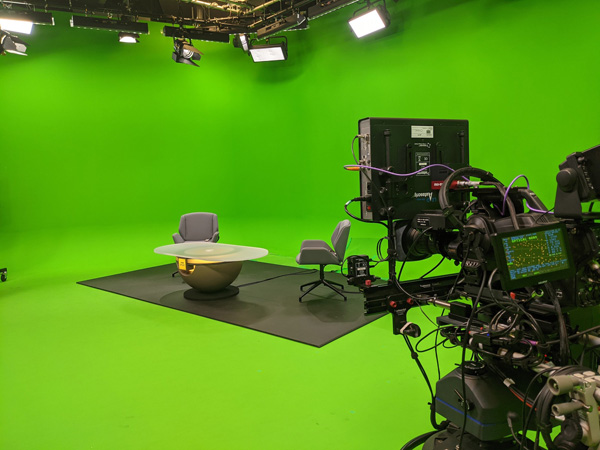 When displaying content, Viz Engine supports the simultaneous display of 16 graphics channels, plus Fusion for 2D and 3D text rendering, in a single output layer, either as 2D DVE channels or as textures on 3D objects. Clips can also be played out back-to-back with transitions into 16 clip channels, and during acquisition multi-channel ingest and loop recording is available.
Flexible Compositing
CTO for Vizrt Gerhard Lang said, "For us, the BBC set stands out both in terms of looks and functionality. With the hybrid Unreal 4 / Viz Engine 4 studio, we were able to solve many challenges for the BBC. The studio sets out an accessible workflow that allows operators to change content and continuously supply viewers with meaningful information throughout the show."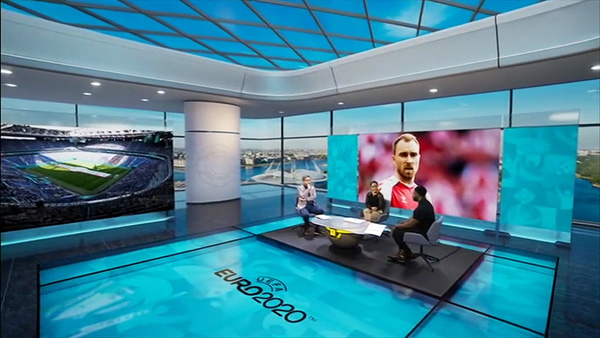 Unreal Engine 4 is used as an extra render-blade within the Vizrt workflow. The integration allows an artist to use the render capabilities of the Unreal Render Engine and composite the results directly in Viz Engine for playout. The Unreal integration introduces surfaces from and to the Viz Engine by using shared memory – that is, various media assets can be brought into Unreal Engine, and surfaces rendered by Unreal can be captured and brought back into Viz Engine.
Those workflows contribute to Virtual Set productions, supporting multiple inputs and physically based rendering, with the Fusion Keyer to enhance the engagement and realism of compositions. Users also have access to Unreal's Cine Camera Actor, a specialised POV tool that adds camera settings found in physical cameras as post processing effects. www.vizrt.com