Digita, a Finnish communication networks specialist, has built a new IP media network for the FM and Internet radio services of Finland's national broadcaster Yle. The IP network replaces Yle's existing network that was based on older broadcast systems.
The objective of the project was to put journalists and production staff in control of their content, enabling them to collaborate freely across Finnish regions and distribute their programs on air to any regions themselves. That more agile style of working hasn't been possible before, and was expected to enhance listeners' experience.
Agile Network
The key to delivering on that objective was a modern IP media network for contribution and primary distribution that could be controlled in a straightforward way from any location. The network needed to connect approximately 50 national and regional studios, with six main switching centres and 47 transmitter sites. This network also had to be extremely resilient because it serves as an integral part of Finland's countrywide Emergency Alarm System (EAS).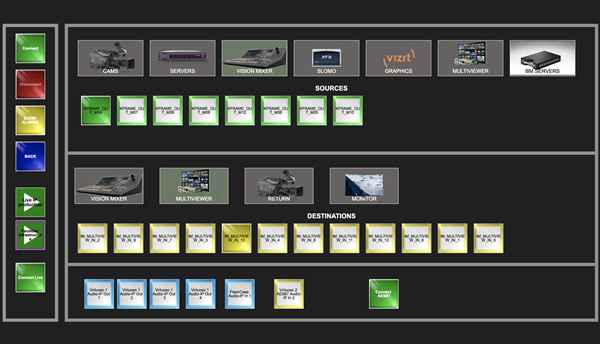 Broadcast workflow control in VideoIPath.

To overcome the travel restrictions imposed by the COVID-19 pandemic, Digita and Nevion worked remotely, together with Yle, to create the new IP media network, which went live in January 2021. With a clear common goal, the work went well. The system is built mainly on the Nevion's software-defined media node, Virtuoso and its orchestration and SDN control software, VideoIPath.
Stream Transport and Network Control
Virtuoso handles the transport adaption of audio streams over IP following SMPTE ST 2110-30 specifications for audio transport based on AES67. It includes full protection for SMPTE ST 2110 streams via SMPTE ST 2022-7, the standard for seamless protection which, as it is packet-based, doesn't require frame sync. Virtuoso also carries out audio processing capabilities, including IP facility clean switching and mixing feeds from various studios.
Virtuoso actually addresses a huge number of tasks, available to users as standards-based virtualised media functions in software. Digita can add any others as they are needed.
VideoIPath controls the network end-to-end, including the LAN/WAN interconnections between Digita and wider Yle networks. Important in this case, the production team can set up contribution links between locations on their own, in a scheduled manner or on-the-fly. The connectivity, media-flows and processing can be tested graphically, without involving the physical aspects of the network. At production time, the pre-configured workflow can be recalled in a single step.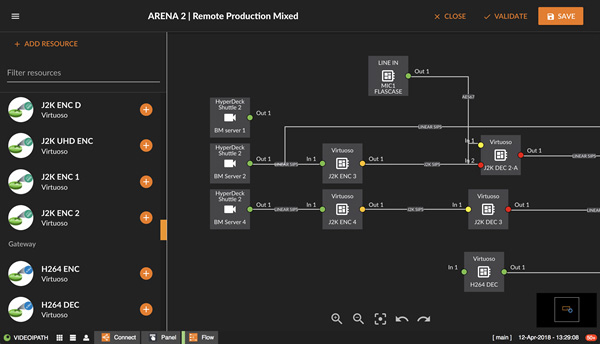 Workflow planning
Custom User Interface
In order to put the Yle production team in control, a custom user interface to VideoIPath was developed that largely replaces traditional broadcast controllers and simplifies production workflows, making the creation of localised content much easier. VideoIPath carries out the users' requests by controlling the network and audio switching in multiple Virtuoso media servers simultaneously.
VideoIPath handles the several layers of redundancy needed in the network as well, increasing its reliability. Its monitoring and fault recovery capabilities include graphical alarm management, root cause detection, historical logs and network-to-service correlation.
Hans Hasselbach, CCO at Nevion said, "This project has been really interesting for us on many levels. It has given us the opportunity to deploy Virtuoso's most advanced audio capabilities, as well as use VideoIPath to improve the way Yle produces radio programs. The system is handling their existing production workflows and, ideally, enhancing them. Our consultative services were also a substantial element, before and during the project, to align the system delivered with customer expectations." nevion.com