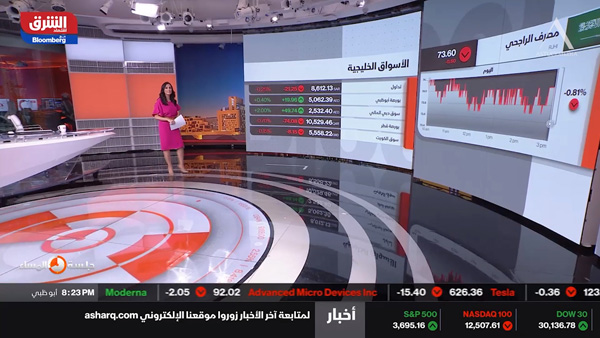 Asharq News, a new multiplatform economic and political news service, broadcasts 24/7 news coverage across the Arab world and beyond, with a focus on regional and global economic affairs. The company maintains central offices at the Dubai International Financial Centre (DIFC) and Washington, DC, and produces from studios in Cairo and Abu Dhabi.
Wanting to create an immersive news experience for viewers, the visual design of the channel incorporates dynamic, data-driven graphics. Astucemedia is responsible for the news channel's robust graphics infrastructure, one of the most modern in the Middle East.
The Astucemedia team worked between its offices in Dubai, Montreal and Europe to create a sophisticated brand identity for Asharq News in line with the channel's slogan 'Connecting the dots', including sonic branding.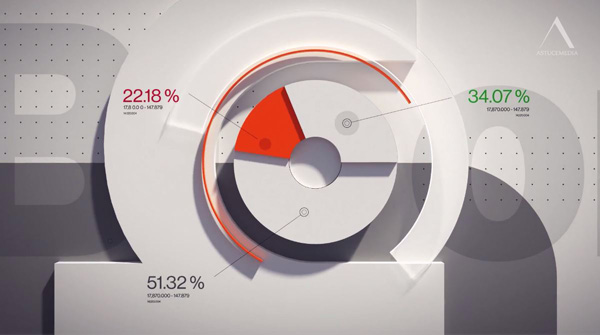 In collaboration with the client's creative and technical teams, Astucemedia's designers and engineers delivered graphics for augmented reality, touchscreen and videowalls, including the floor, as well as the large scale atrium inside the DIFC facility across four floors with 26 layers comprising 1,527 LED tiles.
Alongside financial graphics, Astucemedia's systems for Asharq News cover finance, weather, sports, social media and other news streams as well as the standard graphics elements, such as channel ident, menu boards and tickers. The company also developed a world conflict application, with which the presenter uses the touchscreen to illustrate various conflict scenarios, interactively in the studio, via augmented reality.
Real-time Bloomberg Data
Taking advantage of its relationship with Bloomberg, Astucemedia supplied Asharq News with a robust, centralised data platform that supports more than 40 stock markets around the world, and maintains over 10,000-plus security subscriptions for real-time updates. Alexandre Leclerc, CEO of Astucemedia, said, "The primary goal was to integrate real-time data into various shows while also being creative with data visualisation. The channel's partnership with Bloomberg is critical to this project; we had to be mindful of creating a new brand identity for Asharq News that can easily adapt to changing business requirements to display the Bloomberg data and content."
The data platform displays live quotes, intraday tick-by-tick and minute data for charting, including candlestick charts and heatmaps. The Tick-by-tick Data is the most detailed method of displaying a market's available trading information. Tick-by-tick shows every trade that occurs along with details about each one, for example, the exact time, direction, number of contracts that were traded and so on. Intraday indicates the highs and lows that the asset reached throughout the day. Minute data, the hardest to obtain, may be shown with candlestick charts and heatmaps.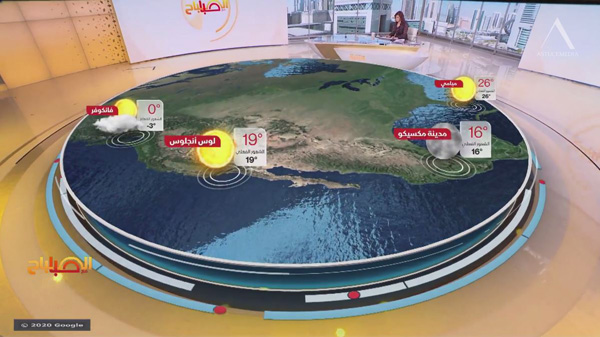 Systems that support real-time financial data are among Astucemedia's specialities. By deploying its financial data management platform at Asharq News, their team can now integrate real-time data streams from different sources into one workflow that simplifies the use of data-driven graphics in real-time graphics, web or mobile applications. The data is consolidated into the central platform and shared directly to the Vizrt graphics system.
Astucemedia Plugins for Vizrt
For all of Astucemedia's modules, a key component of the data platform is Astucemedia's Plugins for Vizrt, which are used to create the broadcast graphics themselves once data from the various providers is processed and ingested. The plugins help integrate live data, traditionally a challenging task, and set up and maintain regular workflows that are native to the Vizrt environment.
The plugin software includes tools for scene generation and reusable templates, and allow users complete control over graphics production. Through the Astucemedia-Vizrt shared memory, the newsroom staff can update and select finance, weather and news or social data using the Vizrt feed browser within their newsroom components.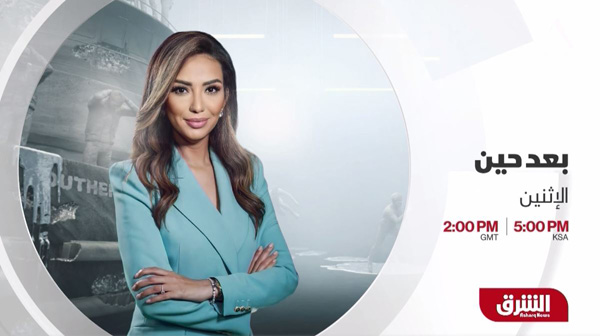 To incorporate the new branding into the Asharq news service shows and digital platform, the Astucemedia teams worked with Steven Cheak, director of brand, creative and digital at Asharq News. Steven remarked on the competitive nature of their market and noted that it was important for Asharq News to be able to stand out and differentiate itself. "Design was a big part of that objective when we embarked on this project, and Astucemedia was integral to the setup of Asharq News," he said.
"Before the pandemic, their design and support staff worked on site and later remotely to prepare for the launch, from design and integration of show templates, augmented reality and the ticker, to the animation of production elements." Astucemedia is continuing to supply Asharq News with round-the-clock support for the news channel's data infrastructure. www.astucemedia.com.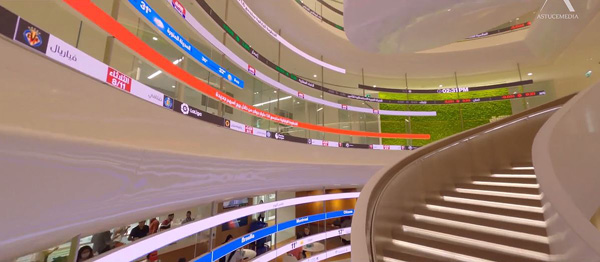 In the atrium inside the DIFC facility, graphics extend across four floors with 26 layers.