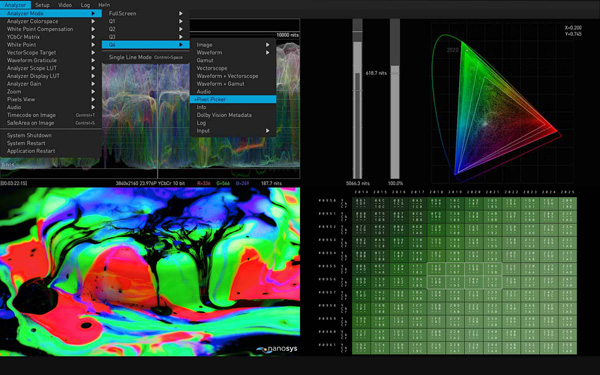 HDR Image Analyzer 12G Pixel Picker
4K HDR production can elevate the quality of content and help it stand out in a crowded marketplace, but it requires a workflow equipped to handle huge amounts of complex data. Since launching in 2016, 4K Garden has focused on systems that ease the challenges of working in 4K and now HDR. As the popularity of 4K HDR content has grown, so has demand for associated services.
4K Garden's clients include the top two 4K channels in China, supplied through national public broadcaster China Central Television (CCTV) and provincial broadcaster Guangdong TV Station, each of which broadcast a range of live 4K programming. Establishing a practical worklfow with reliable, quality 4K HDR outputs for all productions has meant finding the right equipment. Currently, 4K Garden uses the AJA FS-HDR real-time HDR/WCG converter, HDR Image Analyzer 12G, and the Ki Pro Ultra 12G recorder/player.
12G-SDI Advantage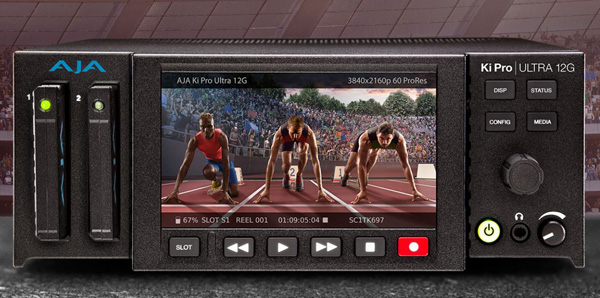 "For 4K and 8K production, working with 12G-SDI signals can decrease a lot of time, work and complexity when building out your workflow," said Lu Yu, CTO, 4K Garden. The 12G-SDI signal runs at about 12 Gigabits/second, a rate that meets the requirements of a UHD/4K transmission at 60 fps. Also, using only one 12G-SDI cable for 4K/UltraHD compared to four 3G-SDI cables is more secure and easier to troubleshoot when checking signals compared to 3G-SDI, especially 2SI mode, a method of encoding the UHD raster into four video streams.
"The 12G-SDI capabilities of Ki Pro Ultra 12G were one of the main reasons we decided to use it because the single cable decreases the chances for mistakes. Also, we can record continuously for a long time because it includes two slots for long recordings with Ki Protect support."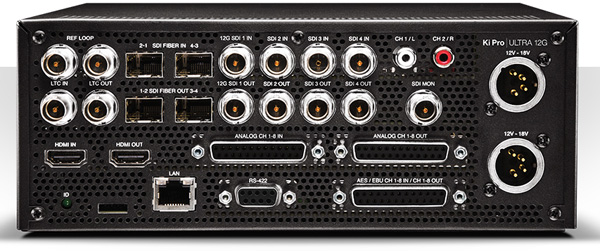 Ki Protect maintains data integrity if a media drive is accidentally removed or loses power during recording. Recording space is automatically pre-allocated on the media drive for video, audio and timecode when recording starts and the file header is then continuously updated every time new data is written. The only loss that should occur is the last few frames that were in transit to the media drive at the moment the operation was interrupted. Frames that are already recorded will be preserved and are recoverable
"The Ki Pro's connections are reliable, and alternatively we can record four HD channels simultaneously on a single unit. Since it also records to an SSD drive, getting material to the DIT is much more convenient and efficient," Lu Yu said
Live 4K HDR Content
When broadcasting 4K HDR content live, 4K Garden uses FS-HDR, most often in an OB truck that receives signals from a 4K HDR or HD SDR camera or recorder. The team then genlocks the signals with FS-HDR, which converts them to the appropriate gamma and colour space and syncs the audio. "As a signal processor, FS-HDR supports a wide range of standards and has the outputs we need. Its logic is easy to understand, and since it is compatible with different camera brands, we'll be able to use it for the downconversion process in the future," said Jia-Xing Ma, Broadcast Engineer, 4K Garden.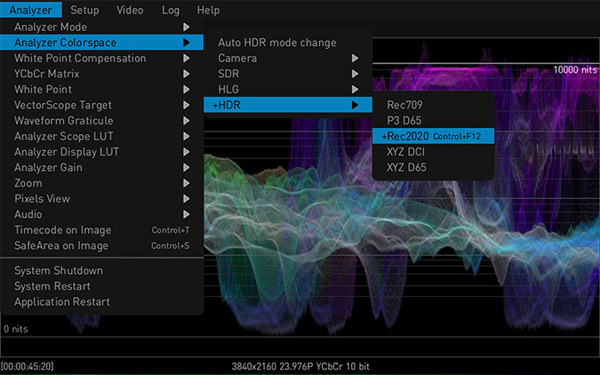 Each piece of 4K HDR content that 4K Garden helps to produce must be in the HLG format with BT.2020 colour space to meet standards set by the National Radio and Television Administration. For assurance that captured footage meets the required standards and that they have detailed data for HDR and downconverted outputs, the team uses AJA's HDR Image Analyzer 12G for quality control of HDR content in broadcast trucks, at colour correction stages and for 8K production signal monitoring.
4K Garden's Senior Technical Manager Liang-Hong Zheng said, "Productions require different levels of brightness – some have rich colours, but they can't push over the limit. The accuracy of HDR Image Analyzer 12G means we can closely monitor the process, and make sure the footage matches the necessary levels by using the Pixel Picker – hovering the mouse across the footage gives a read-out of the exact pixel Nit level, Hex or Decimal code values."
Preparing for a 4K HDR Future – Today
Along with designing and implementing production workflows, 4K Garden also runs training to support new technical talent. Partnering with schools and industry professionals, the company promotes education and understanding of 4K and HDR systems and informs students on best production practices.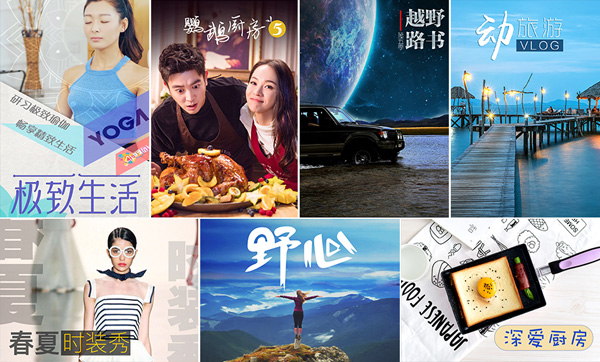 Lifestyle content from 4K Garden
"4K/UltraHD is now the delivery standard for channels across China and though not yet a requirement, a number of stations are also supporting HDR to help set their content apart. At the same time, HDR techniques are still in development, so we decided to launch this educational program for our customers who are just starting out in HDR," said Lu Yu.
"The AJA FS-HDR, Ki Pro Ultra 12G and HDR Image Analyzer 12G contribute to the program because they are straightforward for students to operate, configure and control, are compatible with the emerging range of HDR formats and deliver high quality results." www.aja.com