Aximmetry Launches Virtual Studio Software for Unreal Engine Users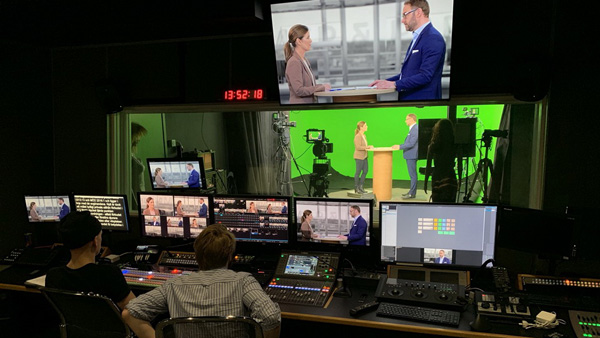 Aximmetry DE is new virtual studio rendering and creation software for Unreal Engine users. Aximmetry virtual studio and 3D graphics software for broadcast and entertainment runs on single PC systems, accessing the performance of modern video cards. It has a flexible node-based programming interface, and can be controlled in real time. Aximmetry DE is the new UE4 rendering engine embedded into Aximmetry's interface.
Artists who create live graphics content in Unreal Editor are able to use their imagery directly in Aximmetry DE and take advantage of Aximmetry's functionality developed specifically for broadcast, including its effective keyer. The system accepts SDI input and output up to 4K from RGB and YUV camera sources, and is compatible with AR systems and elements. It can be scaled to operate multiple video cards or devices under one system, each assigned a different task.
The core of Aximmetry software is the company's proprietary 3D render engine, programmable through its node-based UI. On top of this core are the company's specialised applications targeting Studio, Stage and Show users, and Broadcast Graphics. The Aximmetry 3D graphics packages are comprehensive – buying separate modules and extensions for chroma keying, 2D graphics, virtual studios, video wall display, projections and so on is not necessary.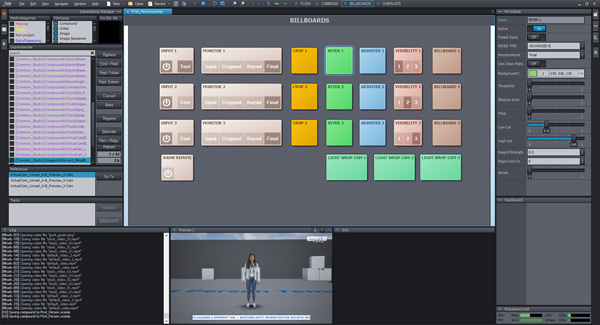 Forming an open system, the software integrates studio tracking devices and can receive depth information to combine real and virtual elements with realistic results. With a high level of interactivity, HDR, depth of field, shadows, reflections and refraction can be applied to scenes and effects, and adjusted in real time. On stage, the projected visuals, 2D or 3D, can be generated in real-time and interactively manipulated by the operator. Custom control interfaces can be created for specific presentations and video installations.
The new Aximmetry DE (dual engine) editions of the software, built with the new renderer supporting Unreal Engine, do not replace Aximmetry's SE (single engine) packages. The new editions are supplementary and designed for skilled UE4 users. The company will continue developing both Aximmetry SE and Aximmetry DE for broadcast virtual studio creation, in particular to make the most of modern graphics hardware – virtual studio interiors today can be rendered with impressive complexity and visual quality.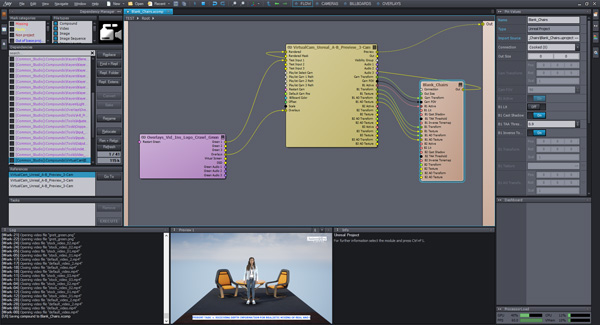 To use content created with Unreal Editor for live broadcast, users open and run UE4 scenes in Aximmetry. During production, Aximmetry sends all information – text, images or events – to the Unreal scene. The artist can then use the software's tools developed specifically for broadcast – keyer, channel branding tools, crawls, mixing and others.
The first release of Aximmetry DE includes Professional, Studio and Community editions. Broadcast and OnAir editions will be released during the course of 2020.
More About Aximmetry Keyer
Aximmetry integrates real and virtual environments through the accurate interaction of virtual lights and real world objects. Its built-in keyer can handle transparent objects, contact shadows and fine details such as hair. It can process broadcast quality 4K video in real-time in with GPU accelerated rendering, making efficient use of the available GPU power.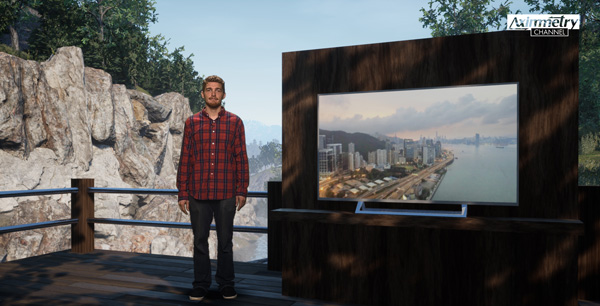 The artist can use the keyer for realistic contact shadows, while the software casts virtual shadows on the talent and combines these with the real shadows the talent generates him or herself. Aximmetry also has a light wrap effect that blurs the boundaries between the physical and virtual space, and handles typical edge errors especially well.
These tools mean customisable, cinematic composites can be achieved in real-time. Automatic colour correction includes spill suppression and, by using a Clean Plate, users can also compensate for uneven green screen backgrounds. aximmetry.com