Videe's OBX Gets Ready for Live Production Future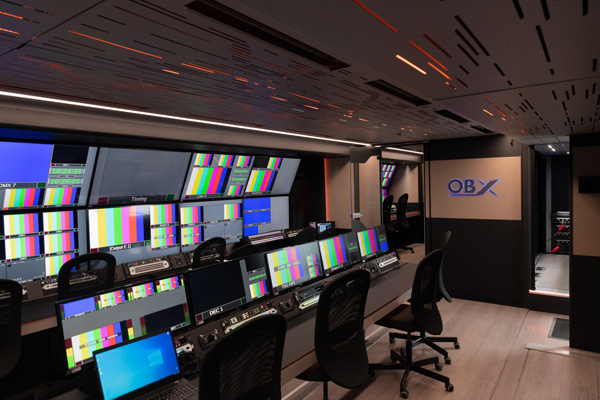 Videe in Italy have specialised in outside broadcast since 1988, and now work with some of Europe's top public and private production companies and broadcasters. When the company decided to build a new 4K HDR truck, OBX, in 2019, their years of experience spent monitoring the industry's technical and operational developments, were combined with inspiration from Videe's clients about what they required.
They needed the flexibility to produce in 4K and HDR Ultra HD, but they also needed familiar capabilities such as a large fleet of cameras, servers and other sources, a secondary production area, excellent sound mixing and many others.
"We also knew, from our long experience in the field, that working in an OB truck can be difficult and uncomfortable," said Paola Montanari, CEO & Founder of Videe. "You hear people say 'I don't like working in a truck', but that is less to do with what the technology allows and more about the experience, the comfort, the ability to get the best out of the team.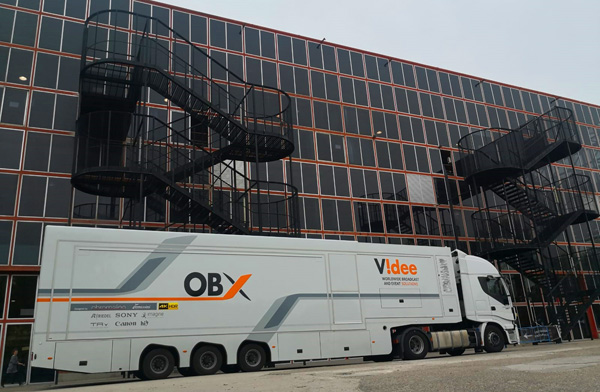 "Our top goals were to achieve very high technical standards and capabilities, but to start with a completely fresh layout and new ergonomics. We wanted a truck that would do whatever our client needs, where the crew would be happy working for even very long periods and where the artistic team could make the most of its creativity."
OBX Everywhere
OBX also had to be flexible. Videe may be best known for covering sport, including major football matches (Europa League and Champions League's semi-finals and finals, FIFA World Cup, UEFA European Championships), winter sports (FISU University Winter Games, FIS Alpine World Cup) and racing (F1 FIA and MotoGP).
But their crews also produce entertainment and music programmes (from the Film Master major event MSC Bellissima naming ceremony and Il Piccolo Violino Magico competition for young violin players) to major TV studio programs and Mad Cool, one of Europe's biggest music festivals held annually in Madrid.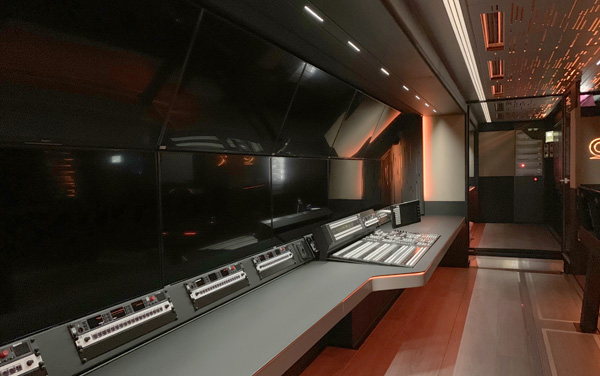 Since its launch in September 2019, OBX has supplied the broadcast production systems for major live events like Barcolana, among the world's biggest regattas, Ferrari Challenge, Lamborghini Super Trofeo's finals and the Cyclocross European Championship. "OBX also worked behind the scenes of the debate between the five main candidates to become Spain's next prime minister – undoubtedly the best way to inaugurate its presence in Spain," said Paola.
"We have a relatively large R&D in-house team working on operational and technical support. This team had a clear idea of what we needed to achieve, and so we could set out a detailed requirements specification. We then brought in Chromaline, one of Italy's most experienced, innovative video and audio engineering firms to help us decide on the specific hardware and software, materials and the layout of the truck, according to the desired outcomes for our project."
Finally, the two companies together engaged Tomassini Style, an Italian coach builder specialising in industry vehicles, to construct it.
Inside OBX
OBX is a triple-expanding trailer with two separate production areas that, on demand, can become a single, large working space. In all, It has 76sqm of working space, roughly the size of a city apartment.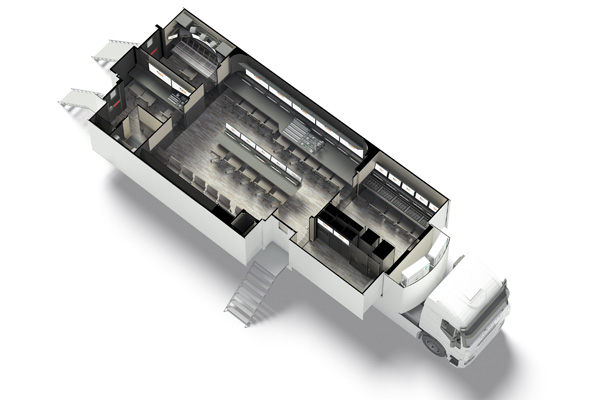 Chromaline's design keeps all the racks in the front part of the trailer, so the main body is one very wide space. This allows the director and support staff to work on one side, the production team in the middle, and replay operators on the other side, while everyone is able to communicate readily in a single, comfortable room.
At the back of the trailer, alongside the dedicated audio room, we have set aside an area for a second production control with its own sound suite and replays. But the partitions are readily moved – closed, they create a secure, self-contained area with its own dedicated entrance. Open, they afford a comfortable VIP viewing area for major productions and key clients.
Keeping it Cool
Chromaline designed a comprehensive air conditioning and heating system, capable of completely changing the air in the trailer every two hours and keeping humidity low. The intention is to keep the team cool in the blistering heat of a Sicilian summer or warm at the side of the piste in Val Gardena.
Making the crew as comfortable as possible means allowing them to sit where they need to. For example, some people like the vision mixer in the middle of the production desk, others at the end, allowing the director to sit in the middle. Chromaline designed a simple system that allows the Sony switcher to slide along the desk so that is will always be in the optimal position for the production and the associated crew.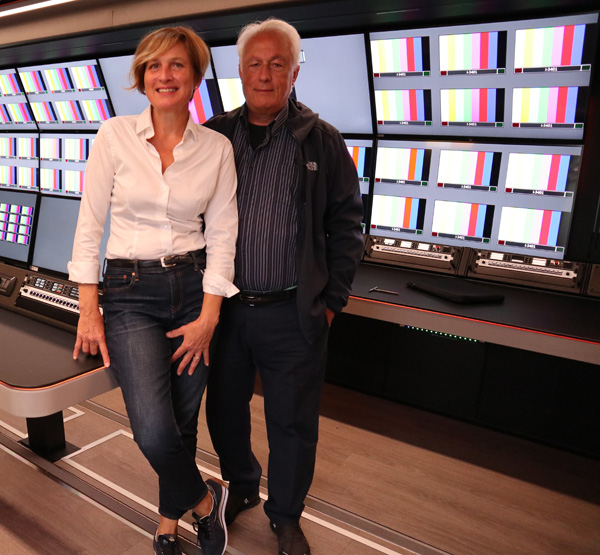 OBX_Paola Montanari, CEO & founder and Bruno Mercuri, president of Videe
As well as functional, the interior also has a distinct style. Chromaline has recessed all of the air circulation and working lighting into the walls rather than adding them later, and the interior design incorporates our OBX logo. To keep the look practical and functional as well as attractive required more than 11,000 drawings to be created before the build started.
Production Infrastructure
Paola said, "This openness and comfort is only possible because the equipment is cleverly designed to be compact. A good example is the monitoring infrastructure – the truck has 14 multiviewers and more than 400 video streams. What makes it work for us is that the processing to deliver this is embedded inside the router.
"We chose the Platinum IP3 router from Imagine Communications because with in its 28RU frame it can handle all the switching we need – 512 x 1024 video and 8000 x 8000 audio – but it also houses a lot of other functionality, including the multiviewers. That is a great example of smart systems meeting practical needs, not least through processing density."
It also gives the OBX design a level of future-proofing. The IP3 is designed to integrate SDI video and digital audio switching, plus integrated multiviewing and interfacing to IP, in a single frame. Today, OBX is primarily an SDI operation in a design for simple migration in the future, with core equipment that is SMPTE ST 2110-ready.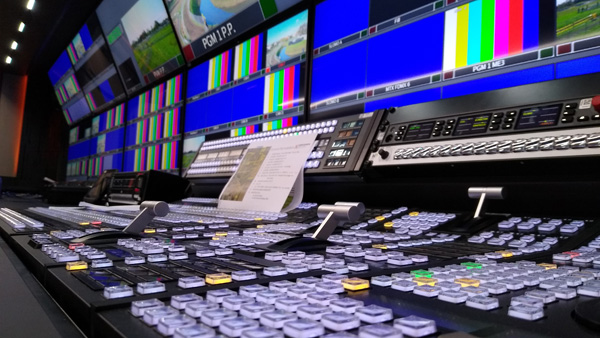 In this way, OBX is designed for an IP future. One of the tools that will allow more flexible connectivity and signal processing is the Selenio Network Processor (SNP) from Imagine Communications. Each SNP contains four separate, software-defined processing chains, each capable of managing and delivering real-time uncompressed Ultra HD. As a single rack unit device, the SNP supplies massive processing power in a compact footprint, vital for use in the truck.
Nicola dell'Asta, director of Chromaline, considers the flexibility of the SNP its most important asset. "You can use them for almost everything – even as stage boxes to patch all your cameras and microphones to,"he said. "SNP puts Imagine ahead of the game. Once the rest of the industry has caught up with IP registration, the SNP will completely change system design."
Camera Fleet
The combined equipment and design has resulted in an extremely flexible production unit. "The truck will not only be used for different sports and entertainment productions, we hope it will be used by production companies and broadcasters across Europe. We can support up to 30 cameras in Ultra HD," Paola said.
"We can also produce up to 16x slow motion in HD and 8x in 4K, using the Sony 4K HDC-4800 high frame rate camera and PWS-4500 server, which creates a multi-port server system for live sports slow-replay production. Cinema lenses are available for all the cameras, and they are approved for 4K Ultra HD use by Netflix.
"This has been a remarkable project for Videe. We had discussed our ideas with Chromaline, but we made our purchasing decisions at NAB in 2019, and by IBC, we were able to showcase the finished truck in the outside exhibit area — where it received more than 3000 visits and a lot of positive attention, including from some major sports organisations worldwide. www.videe.it