Leader Monitors Give Arena Television a HDR/SDR Edge for Live Production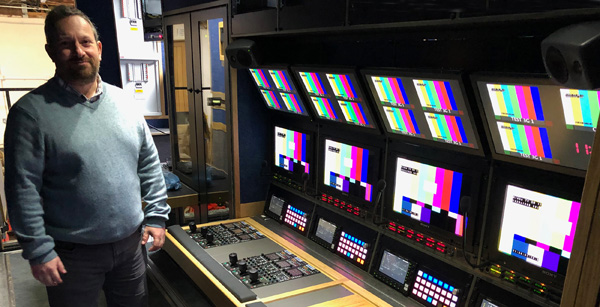 Arena Television Deputy Director of Operations Daf Rees in the OB17 camera control gallery.
Arena Television, an independent outside broadcast facilities provider, is operating a new HD vehicle, OB17, from Arena's Redhill Aerodrome headquarters in Surrey, a 16.5m long 32 tonne articulated vehicle with double full-length expanding sides.
Primarily working in HD-SDI SDR and HDR, with Quad HD as an option, OB17 incorporates an IP layer for certain functions to increase flexibility into the future. Quad HD gives a screen resolution of 2560x1440 pixels, quadruple the resolution of standard 720p HD at 1280x720 pixels – greater than 1080p HD (1920x1080), but not as high as 4K or UHD (3840x2160). Onboard, OB17 has a 240sqft production gallery, 16 camera channels, an 80-input Sony vision mixer, a Grass Valley hybrid router with 365 video inputs and 798 video outputs, a monitor wall with up to 180 configurable video preview windows, and a Calrec Artemis Beam audio console.
"OB17 is a HD-HDR/SDR truck built for live event assignments such as light entertainment," said Dafydd Rees, Deputy Director of Operations at Arena Television. "Its first job was for ITV's coverage of the Royal Variety Performance last November. HD-SDR is still the dominant production format but we are seeing a steady increase in demand for HD-HDR."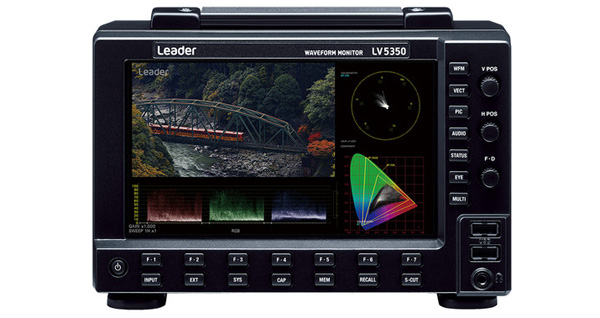 HDR/SDR Shading Suite
"We chose four Leader LV5350 waveform monitors for the shading suite because they support both standards. Their half rack width 3U form factor was also important to us. Having the Leader display directly below the main shading monitor it is more ergonomically efficient for shading than having to look away to a rasterized display on a separate screen. Our production crews find the LV5350 simple to use as it displays all the information they need clearly and quickly, assuring them when setting up hardware for a live event.
"OB17 is also equipped with a PHABRIX Qx rasterizer, which is used to analyse outgoing signal flow. The Leader and PHABRIX devices complement each other rather than overlap." The Qx rasterizer's tools are needed for rapid fault diagnosis, compliance monitoring and product development as well as transitioning to the newer video formats. It is designed for HD up to 12G-SDI, and IP ST 2110, 2022-7 and 2022-6 environments.
The LV5350 incorporates SDI measurement facilities required for HDR both in HD and 4K-UHD, which include engineering-related functionality such as test pattern generation, closed caption monitoring, high dynamic range measurement, focus assist, customisable screen layout and tally interface. It accommodates 4K/UHD operation and 12G-SDI interfaces, and displays a CIE colour chart that shows if content falls within the BT.709, BT.2020 or DCI P3 colour space.
Brightness and Chroma Key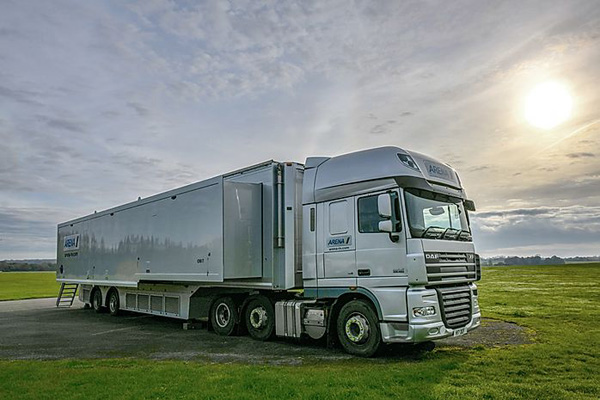 It also has Leader CINEZONE and CINELITE, which are useful tools for camera crews, editors and colourists. Neither of these capabilities are new, but interestingly they are now especially relevant because of new interest in HDR. CINEZONE overlays false colours on the image to indicate strong and weak areas of brightness when assessing the entire screen and confirming that the camera is reproducing as expected. Adjustable upper and lower limits add black and white overlays to indicate under and over exposed conditions without having to refer to the waveform monitor. Exposure issues may be hard to find on an ordinary picture monitor.
CINEZONE is useful for chroma key adjustments as well. In order to achieve the best chroma key results, the background brightness should be even, which is difficult to judge in the actual footage. CINEZONE can precisely confirm the values, allowing faster, more accurate lighting set-up.
Lighting Evaluation
Similar to a spot light meter on a film camera, CINELITE outputs on-picture measurements of video levels in percentage RGB, Y percentage and f-stop readings. This means users can review and evaluate the set after the camera has processed the image and review, in detail, the material that is actually being recorded. Final adjustments of lighting conditions, filtering and iris adjustments can be made using f-stop based evaluation techniques. This makes CINELITE useful for Scene Matching – a crew could change cameras or camera positions in a scene, for example, and verify whether their outputs are producing the same picture values as before. It also supports scientifically accurate communication with post-production and colour correction processing.
Sony SR Live Metadata packet display on Leader monitoring.
These capabilities mean CINELITE can support the Sony SR Live for HDR workflow allowing simultaneous HDR and SDR production. Video engineers can adjust both HDR and SDR images together in a regular HD SDR environment, so that the videograph can preserve the look of the project regardless of the format required for final distribution.
A focus detection algorithm enables the LV5350, and Leader's own equivalent LV7300 rasterizer, to sense edges across a very wide range of image contrast levels. The OB17 project was managed from conception to delivery by Arena's internal project team who sourced the equipment for the truck. The LV5350s were supplied through Sentinel Broadcast, sourced from Leader's UK distribution partner Thameside TV. www.leader.co.jp