NPC Media and Imagine Help Networks Migrate to IP Playout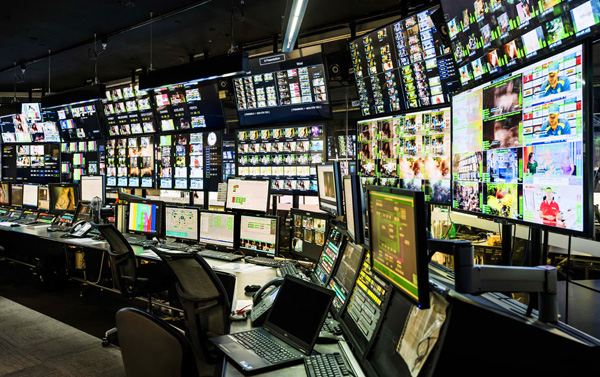 The National Playout Centre (NPC Media) in Sydney was first established by Nine Network 10 years ago, and now serves as the playout facilities for 106 free-to-air broadcast channels, operated by both the Seven and Nine networks. NPC Media is now carrying out an infrastructure upgrade at the centre.
"The main reason for expanding the platform is to be able to adapt faster and more accurately to changing market demands," said Chris Howe, General Manager, Commercial and Technology at NPC Media. "Our system is based on Imagine Communications' Versio playout and master control, which we use to manage the current baseband/SDI infrastructure now, and to begin our transition to software-defined, commercial off-the-shelf IP-based media services later on. We are anticipating that this change in the type of infrastructure will benefit NPC Media clients and, as a result, the viewing public."
Progressive Transformation
During the first phase of the expansion, NPC Media incorporated Seven's main broadcast operations into the facility, and the progressive transformation of the centre got underway, starting the migration from a single-station facility to an IP-based, multi-tenanted managed media services provider to the broadcast industry. Seven's channels went live from NPC Media on 21 August 2019.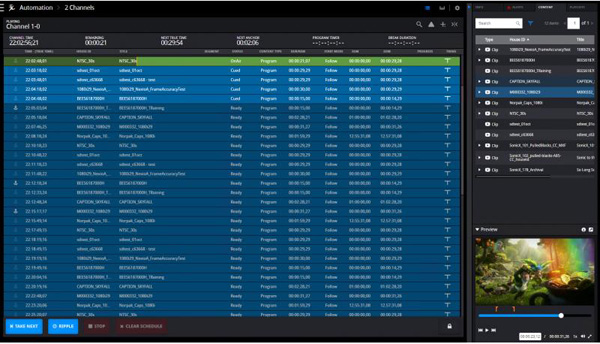 Versio playout automation
The next phase, taking place later this year, involves implementation of other broadcast channels belonging to Southern Cross Austereo, owner of Seven and Nine, into NPC. During this phase, the playout systems will be deployed across two sites – the main playout at NPC plus a back-up site located at Telstra Broadcast Services facility in Sydney for protection – to set up geographically separate redundancy for NPC Media and its customers. The centre facilitates direct redundancy switching in the main and backup network configuration.
Combined, these first two phases of the launch will support about 211 live terrestrial television channels managed by NPC Media, together with a further 392 multiplexed channels whose signals pass through the receiver to destinations without processing.
Playout Chain
To support their work, NPC Media will build a broadcast playout chain, from a common ingest platform through to software-based channel origination, based on Imagine Communications Versio modular playout software, D-Series playout automation and Nexio media servers and content management services associated with the centre's operations. Versio was first used at Nine Network to integrate NBN (National Broadband Network) Television's playout operations into the NPC in June 2018.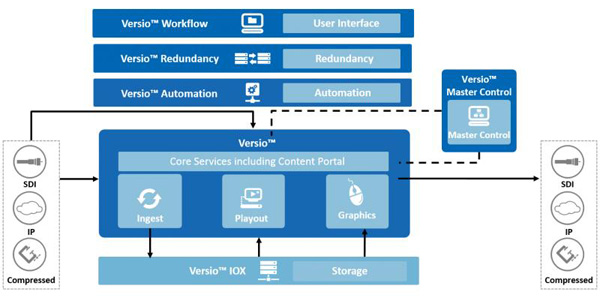 Versio Modular Playout
At that time, a complete IP system was supplied running under D-Series control and integrated directly into the centre's existing baseband system. As well as managing the NBN regional channels, Nine used the system to take on new advertising and revenue opportunities that were created by breaking into a new regional market in Northern New South Wales. In a similar way, introducing the new IP-based Versio platform progressively means NPC can transition customers more easily, meanwhile still allowing the day-to-day operations to run under D-Series automation.
Running as software instances on commercial off-the-shelf (COTS) hardware, Versio handles playout, master control and graphics in a single device with automated control. Versio is based on Imagine Communications' Zenium microservices platform, which can be used to closely integrate third-party products. For example, NPC Media is running Vizrt graphics on Versio to support its premium channels, while Versio Graphics are used for channels with less complex graphics requirements.
Storage and Redundancy
The new NPC implementation centres on Versio IOX NAS high-performance shared storage with Imagine's EPIC MV hybrid IP multiviewer. Versio IOX is powered by the EditShare EFS, a scale-out distributed parallel file system and storage software platform, useful in real-time and non real-time applications. EFS has multiple controller active-active pairs, which contribute their attached storage to a single namespace storage pool. As more controllers and storage are added, performance and capacity can be increased without adding volumes.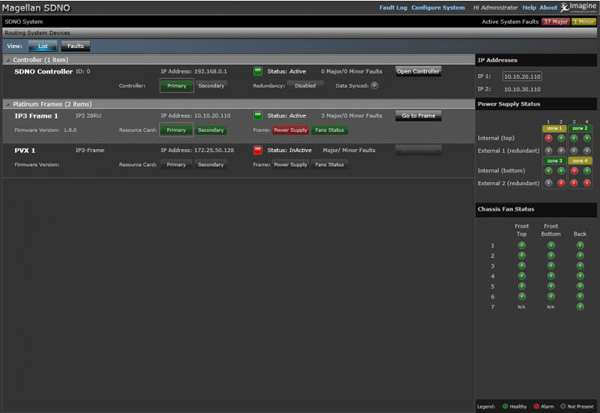 Magellan software-defined orchestration supports direct IP switching and connectivity
This storage system will be mirrored for redundancy. In fact, one-to-one, active-active redundancy is critical to operations at NPC. The active-active model uses a cluster of nodes, actively running the same services simultaneously with load balancing to distribute workloads across the nodes and prevent any single node from getting overloaded. The advantages are high availability, and faster response times and throughput.
Integration between baseband and IP systems is managed by the company's Magellan SDN Orchestrator, which supports direct IP switching and connectivity, whether through a baseband router or an IP switch. It also supports clean switching of compressed and uncompressed IP signals per SMPTE 2022 standards.
Third-Party Integrations
ATEME's TITAN transcoding software has been implemented to supply main-screen DTT and OTT channels in SD and HD. The TITAN transcoder outputs bandwidth-efficient content, giving NPC scope to develop their DTT end-user experiences and increase OTT customer reach. TITAN is IP-enabled using high density SMPTE 2022-6 inputs and, in NPC's case, includes TITAN Live video compression and TITAN Mux scalable stream processing, supplied with the ATEME Management System.
As a way of future-proofing the centre's infrastructure, TITAN supports multiple codecs and formats. As software, it takes advantage of ATEME's ongoing research into video quality, and evolves as new video standards appear.
Embrionix is another integration, a manufacturer specialising in SFP (small form factor pluggable) hardware such as IP media and processing gateways, and media extenders and converters that are important in a hybrid transition environment. Integrations were also made with Tektronix test and measurement equipment, and Mediaproxy software for continuous monitoring, analysis, multiviewing and capture of live video from broadcast and OTT sources. www.imaginecommunications.com