Vizrt Manages Adobe Creative Cloud Workflows for Broadcast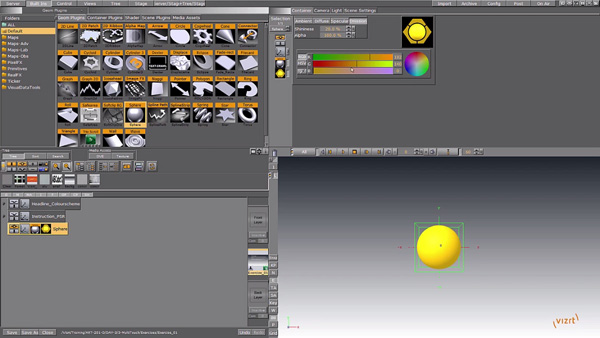 Using tools from Vizrt and Adobe, media companies can coordinate their graphics and video workflows from various departments and locations into an efficient production pipeline. All teams using both types of software have access to content that they can design, edit and revise continuously, so that when the final story goes to air or online, it is already updated with the most recent information and versions.
Design, Management and Playback
The key Vizrt components for these workflows include Viz Engine real-time 3D graphics engine and video playback server, Viz Artist 3D design software and the media asset management application, Viz One. Adobe Premiere Pro CC editors, for example, have a panel in the Premiere interface they can use to find media via the Viz One MAM. From the panel, assets are dropped directly onto the timeline. To shorten turnaround times further, the panel integrates Adobe Media Encoder CC and stores media in Viz One during the render process.
These tools may be applied to Vizrt's meta-graphics workflow, which stores graphics separately up to the time of playout. Instead of burning the graphics in and rendering a final version of the clip, the editor saves the graphics metadata alongside the clean, edited video to the MAM system. Finally, the newest version of the graphics are only added to the final clip at the moment they are sent to air or online.
This process makes an efficient workflow for editing with Adobe Premiere Pro CC before play-out with the Viz Engine, however, the main use of the Viz One panel is Premiere Pro CC project management. Editors can archive their project media and project files into Viz One, where projects can be browsed and previewed via either inside Premiere itself in the panel or via the Viz One web interface. Editors can move between workstations, retrieve archived projects and assets and bring offline projects online.
Flexible story design
Designers that use Vizrt's real-time 3D design application, Viz Artist, now have more options due to integrations with Adobe Photoshop CC and After Effects CC, and the fact that Viz Artist is now available free of charge. Viz Artist comprises a suite of tools and plugins for creating professional scenes and packages of templated graphics, and it comes with a dongle-free license structure and optional access to Viz University so that designers can learn the system online, at their own pace.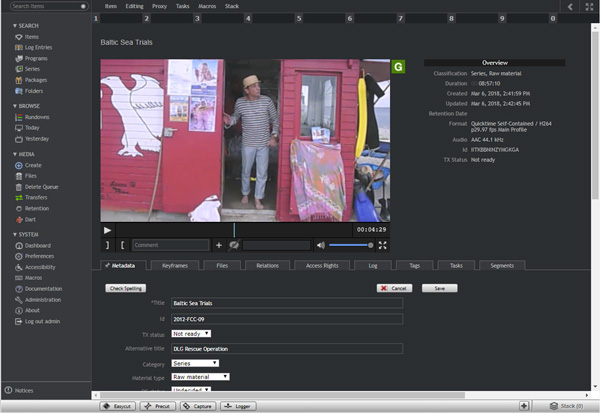 Viz Artist has a multi-layer composition import tool for importing Photoshop and After Effects compositions. The importer includes native support for nested compositions, auto-translation of shapes into Vizrt geometry, mask support, plus support for paragraph text layers. In the background, control text and control image plugins are assigned automatically, making very quick transitions from After Effects compositions to Viz Artist templates, ready to go on-air.
Bigger Pool
Vizrt's expectation is that this free edition of Viz Artist will lead to a bigger pool of versatile designers, allowing media companies to choose the ones that best fit their requirements and style. Businesses will also have the potential for a larger number of Viz Artist workstations internally, including on every Viz Engine, adding flexibility to workflows and the output from their design teams.
Educational institutions can also use Viz Artist to teach media design students on a system currently in use by major brands. Working together with Viz University, Viz Artist students can learn everything from the basics of scene building, to advanced data-driven graphics, augmented reality and virtual set design.
Viz One and Viz Engine mentioned above have recently been updated in ways that support editors, journalists and designers who work with broadcast graphics
Data Visualisation
Viz One v6.0 is a major release of Vizrt's media asset management system. The main updates are better visualisation and handling of stored media, Sony XAVC UHD support and new tools for users interested in migrating toward hybrid cloud infrastructures.
Media metadata can be stored and displayed with varying degrees of granularity in Viz One. On an Item page, a summary of standard media item metadata is always listed next to the video player and now, users can select for themselves the precise content of this overview. The end-user metadata form (.VDF file) editor is simpler and easier to use as well. Clearer thumbnail rendering of images that are alpha channel composites makes it easier to identify images that contain alpha layers.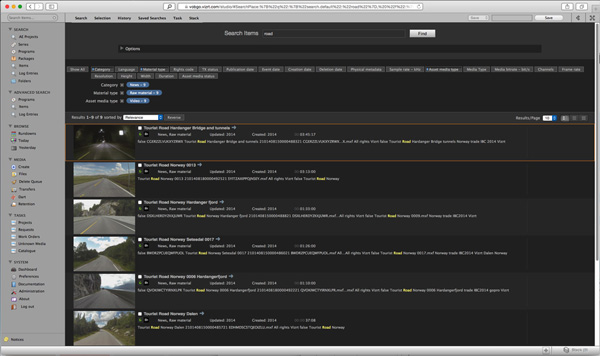 Similarly, users can now define their own Studio Rundown views, selecting preferred columns and metadata to suit the current programming or news show. Viz One Studio users can now define and apply keyboard-based macros to navigation, editing and logging tasks. Macros can be made available on the main Item page and tailored to specific item metadata, a convenient way to speed up video production.
Another characteristic of Viz One is unified media exchange, built in to simplify the exchange of assets across different departments and offices. Users could previously schedule transfer of copies of high-resolution media, monitor transfer progress and register a new asset with current metadata. Now in v6.0, a user can also transfer the low-res/keyframes along with the hi-res file so that recipients can start working on the remote asset from a local system.
Asset Security
Viz One now supports the use of 3rd party authentication systems that can pass an encoded JSON Web Token (JWT) to Viz One. The JSON Web Token open standard defines a compact, self-contained way to securely transmit information between parties. This enables customers to set up a secure public access to Viz One Studio and open remote access to content stored in Viz One more easily. This function, together with previous cloud tools such as AWS S3 support, also supports the use of Viz One in a hybrid cloud infrastructure. In subsequent releases, Viz One will gain further hybrid cloud functionality.
One of the most important uses of Viz One is to create smart reports when large amount of data is stored in the system. To improve efficiency in Viz One 6.0, changes have been made to optimise the way the MAM stores data sets, specifically the audit trail data, which can become particularly large in enterprise environments. It also uses a more intelligent selection of what is audited, instead of accumulating quantities of data with little logical value.
Viz One 6.0 supports the open source PostgreSQL 9.5 database by supplying all functionality required for running both a multi-server and redundant system. This alternative may may result in lower IT costs when compared with alternative database systems for enterprise Viz One 6.0 comes with.
Formats and Transcoding
Regarding formats, as of Viz One 6.0, all profiles of Sony XAVC are supported, enabling a complete UHD workflow including file import, proxy generation, editing, conform and partial restore. ProRes 4K support at 50p and 59.94p frame rates is now available as well, plus AVC-Intra 50 1080p25/29.97 and AVC-Intra 100 1080p25/29.97. An additional format support is SCC (closed caption) as an auxiliary file.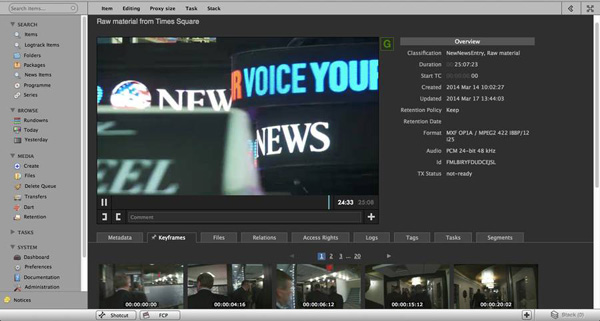 Coder, Vizrt's transcoder, was previously used for proxy generation of Apple ProRes but in this release, Coder now handles other formats such as XDCAM and DV formats. Employing Coder helps improve proxy quality, reliability of scene detection and efficiency of H.264 transcoding, and increases export flexibility by enabling rewrapping of MXF to MOV and exporting a copy of the source media as the same export job.
Node-Based Licensing
The new 3.10 version of the Viz Engine graphics engine and playback server can now be operated with a dongle-free node-based license, or a license from a license server. This is due to a new workflow designed for media companies to get their Vizrt systems licensed and on the air, faster and more easily than by using dongles.
New customers sign up using the new Vizrt licensing portal, acquire and activate licenses in a self-service manner. Vizrt customers with current support and with eligible software will be able to acquire licenses soon. The new license system allows single systems to be licensed individually or as part of a license server so that only the Viz Engines needed for a specific production are licensed.
Live Production
One of the options is a new multi-purpose license with tools and plugins needed to set up and start a live production immediately, plus a full version of Viz Artist design software. The extra functionality means the same Viz Engine can be used for several purposes, in particular giving a team more flexibility in terms of making last minute adjustments to scenes.
The new license system allows media companies to use virtual and cloud deployments for both Viz Engine and the Graphic Hub. The idea is that use of the license server, combined with virtualized environments, will create a future-proof system for live production. For now, the upgrade path for customers with an eligible Viz Engine includes software that can be operated either with the existing dongles or with the new dongle-free license. The user decides at the time of startup of Viz Engine. www.vizrt.com