AVIWEST's PRO3 HEVC Video Uplink Delivers for Live Remote Production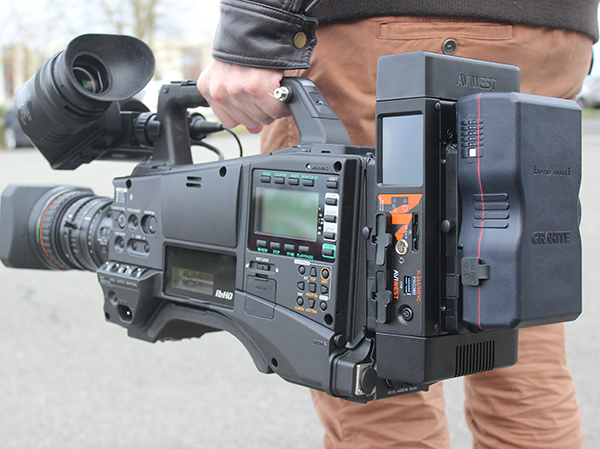 The new AVIWEST PRO3 Series portable video uplink system integrates a H.265/HEVC Advance encoder into a compact design to improve live remote video production and save data transfer costs by a significant margin when compared with other HEVC uplink systems now available.
PRO3 is the fourth generation of the company's portable video uplink device series. AVIWEST notes that, as broadcasters compete to deliver high-quality video content for live news and event coverage, data costs are rising. The PRO3 Series aims to measurably reduce the bitrates associated with broadcasting high-quality video in real time over bonded cellular and public internet.
Using the PRO3 Series, broadcasters and video producers can stream live HD interviews and events directly, and also store and forward recorded content, regardless of unpredictable and unmanaged network conditions. The video uplink package has a compact, robust design, accessed through a panel of interfaces and I/O functionality including SDI in and out, HDMI in and out and analoge audio in, making it useful for remote newsgathering, live multi-camera productions and sports. As a camera-mount or backpack alternative to satellite, the PRO3 can synchronously backhaul – that is, find the quickest wireless route at given time - multiple live feeds with precise genlock and lip sync for multicamera, remote and studio productions.
Up to 12 network connections are available on the PRO3 Series, including eight 3G/4G internal modems with high-efficiency custom antenna arrays plus a USB 3.0 port and built-in Wi-Fi modem, so that journalists can conduct live interviews and events while running HEVC Advance encoding. The encoder achieves low bitrates and low latency, lowering cellular data consumption without compromising on the video quality. Using the PRO3 Series, broadcasters have the option to record a high-quality video file and forward it progressively to the remote receiver while recording, saving a significant amount of time in the field.
Because the devices detect and bond together several IP network interfaces, users of the PRO3 Series can take advantage of each IP network in their immediate area as it becomes available. AVIWEST SafeStreams system, which accesses an intelligent IP-bonding stack and its own contribution network protocols, can make sure that live transmissions are delivered over internet networks with the minimum achievable delay, as low as 500 ms, allowing mobile journalists to stream high-quality videos from any location around the world.
An advantage of the PRO3 Series is its simplicity and ease of use. It uses a SIP (Session Initiation Protocol) over-IP intercom to simplify communications between the master control room in the broadcaster premises, and uses remote transmitter operators in the field. Video professionals can connect any of their mobile devices through to the PRO3 bonding connectivity, combining multiple IP networks, and take advantage of high-speed mobile connectivity. The PRO3 Series' simple interface allows live video broadcasts in just two taps on the touchscreen.
The PRO3 Series is on display at the 2018 NAB Show, 9-12 April in Las Vegas. www.aviwest.com