Mauritius Deploys Dalet MAM for Live Parliamentary Broadcasts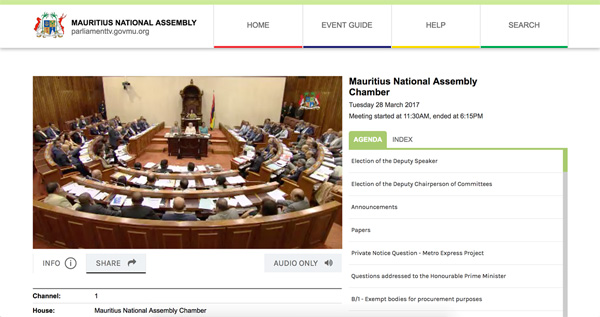 The Mauritius National Assembly reached a milestone in its democratic process on 15 December 2016 when it began live broadcasting of parliamentary proceedings. One of the National Assembly's core mission statement objectives was to bring Parliament to people and help the public understand their role and activities through information sharing.
The infrastructure to acquire, centralize, manage, produce and distribute official content to the public has been a substantial operation. It uses a Dalet Galaxy Media Asset Management platform to centralise media operations, including managing the recording and live broadcast of parliamentary sessions.
A further, on-going function is serving as the means for members to keep their constituents informed on decisions and related topics by publishing media online to the National Assembly's Vualto online video platform. The implementation is a joint venture between Dalet, Vualto, local partner Harel Mallac Technologies and South Africa broadcast specialist Zimele Broadcast.
In the new workflow, staff at the National Assembly enter the parliamentary order of business into Dalet's planning tools. Through the use of the Dalet API, these tools populate the Event Guide and Session Agenda on the Mauritius government website.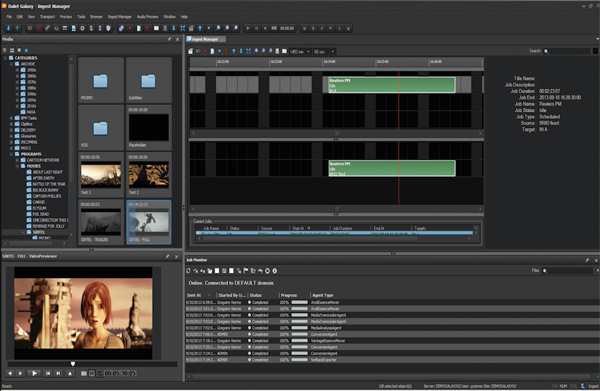 All cameras in the National Assembly's main Chamber record video automatically onto high-density Dalet Brio video servers. A live output is produced, incorporating Dalet Cube graphic overlays to identify each speaker, and simultaneously broadcast via Mauritius TV and streamed live via Unified Streaming servers onto the Vualto video platform.
The direct connection with the Vualto platform was a key integration achieved through Dalet Galaxy's open API. This connection allows members and the public to access recorded sessions and to publish tweets and Facebook posts, as well as connect to other social media platforms with direct links to the video index.
Within the Galaxy asset management workflow, the video is transferred automatically from the Brio servers to NetApp online storage and later to Xendata systems for archiving. Operators log content using Dalet Events Logger, which appears instantly on the website as a timestamped index against the live stream.
Later, via the Dalet web client WebSpace, other staff can use the log's search tags, select shots and create EDLs using Dalet OneCut for production of further content. Also, when there are no live sessions, Dalet OnAir can automate playout through the Brio server, again incorporating graphics generated from Cube. The system has capacity to also record and stream the two National Assembly committee rooms on the same workflow when required. www.dalet.com