Masstech's Disaster Recovery Platform Keeps Channels On-Air and Online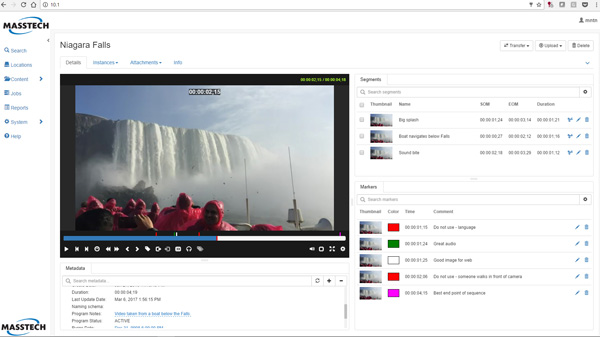 Masstech's new disaster recovery system for broadcast and media playout environments addresses some of the more recent challenges that broadcasters, programmers and multichannel video distributors face regarding file-based operations, viewer loyalty and the connected nature of the media industry. The new system aims to help protect revenues by minimising channel downtime and maintaining long-term viewer retention should primary playout operations be disrupted.

Its synchronized approach is based on an automated content replication and playout platform for secondary playout sites. The package includes Masstech MassStore software for communication and synchronization with the primary playout facility, an integrated automation and playout system, and terabytes of dedicated nearline storage to keep several days' worth of content available for playback.
The company launched their disaster recovery system at the 2017 NAB Show and has published a white paper on the subject titled 'Disaster Recovery for Playout Environments: Six Key Considerations for Implementing or Improving' available on the Masstech website. A video on the product is also posted here.
Earlier on, a typical disaster recovery system would depend on replays of generic, 'evergreen' content to keep channels on-air or online, but stations generally find this approach fails to meet obligations to their advertisers and content license holders or hold viewers' attention. The Masstech system, on the other hand, automatically synchronizes the updated program content, advertising spots and playlists from the primary playout facility, keeping the backup playout environment as current as possible.

As an option, MassStore's integrated transcoding engine can reduce the bit rates of media files in order to replicate programs and ads faster and more efficiently, even on bandwidth-constrained network links. Evergreen material can be automatically inserted into playlists as a last resort to replace content that wasn't yet transferred to the alternate site and, for news-producing channels, the system can automatically play an archive of the most recent news broadcast if an outage occurs during a live newscast.

Continuously active even when the station's primary signal is running normally, the Masstech recovery solution is ready to go to air immediately without a startup delay to avoid channel downtime. Meanwhile, a centralized management option makes it possible for broadcast groups to host an alternate control site for one or more stations. www.masstech.com