Macnica and Tektronix Partner to Support All-IP Broadcast Operations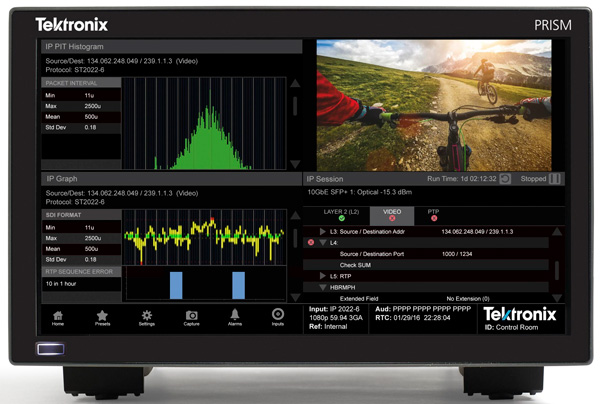 Macnica has formed a technology partnership with Tektronix. Through the global agreement, Tektronix has embedded Macnica's industry-leading video-over-IP technology into Prism, a new media analysis platform designed to ease broadcasters' transition from SDI-based to IP-based infrastructures.
"As the broadcast industry begins a phased and gradual migration to an all IP-infrastructure, there's strong demand for test and monitoring solutions that can help engineers manage hybrid facilities using both SDI and IP signals. That is the strategy behind Prism, which has ability to diagnose and correlate both signal types," said Charlie Dunn, general manager, video product line, Tektronix.
"We chose to partner with Macnica whose expertise in video delivery over IP networks will help us support customers facing these challenges. Through our agreement with Macnica, we were able to use their interoperability-tested systems to bring our product to market faster."
Macnica develops products and intellectual property that implement the ST2022 and ST2110 standards for moving live, HD video over standard IP networks. Macnica uses its video and high-speed networking expertise to support the broadcast, pro-AV and high-speed networking industries. As well as supporting all standards related to video over IP including SMPTE2022-1/2/5/6/7, Sony NMI, Sony LLVC, TR-03, Aspen, AES67, RFC4175, Macnica has integrated J2K and TICO compression and SMPTE2059-1/2synchronization.
Prism is among the first hybrid SDI/IP media analysis platforms, designed for environments such as master control rooms, production studios, OB vans and signal contribution/distribution centres. Prism supplies a diverse variety of IP statistics as well as video/audio quality and diagnostic information, which help engineers ensure the delivery of quality-of-service levels in a complex broadcast environment with both compressed and uncompressed SDI/IP video signals.
Tektronix has licensed Macnica's ST2022 intellectual property so that Prism can receive streaming media over Real-time Transport Protocol (RTP) IP traffic. Macnica's intellectual property is compliant with current and emerging standards for video transport over IP networks. Per the partnership, Macnica has supplied Tektronix with intellectual property, a simulation and test environment, and technical support. www.tektronix.com www.macnicatech.com