Live xr multicam broadcast
Broadcast Graphics - Virtual Sets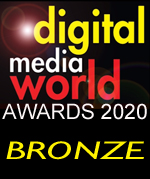 Recently the Big Picture team partnered with Fox Sports Australia to facilitate a Disguise xR workflow for the Dally M Awards, the format and delivery of which had to totally change due to COVID restrictions.
The Dally M Awards are the official annual player awards for the National Rugby League competition.
The project used Notch virtual set design software and three Stype Redspy tracked cameras operating through disguise media servers, programmed via grandMA with tally triggers signalling the camera and perspective changes on the high resolution LED wall.
The team also had a second studio where players were shot on green screen and composited into the virtual set where they and the host could interact live. External EVS server feeds and playback were also running to the virtual screen as further elements, along with a virtual leaderboard keeping a tally of the scores.
Stills of players would appear on the frontplate and tracked with the RedSpy on steadicam with real-time reflections on the studio floor.
Disguise have confirmed this is the first time a multi camera xR workflow has been used on a global live television broadcast, noting that previous uses had all been pre-recorded and handed to post production prior to broadcast.
It was a huge effort from the whole of Big Picture to execute this with short timelines and a pleasure to work with the whole Fox Sports team to execute the project.
Read more about the project here.