Matrox Monarch EDGE Series: 4K/Multi-HD Remote Production (REMI) Encoder and Decoder
IP Broadcast Solutions - Remote Production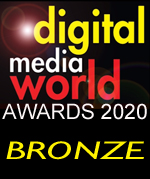 Coupled with the powerful Monarch EDGE decoder, the Monarch EDGE encoding device offers exceptional quality at the lowest latency while securely transporting your video feeds from the event to the centralized production facility. This compact, robust, and low-power remote production (REMI) encoder and decoder pair has made producing live, multi-camera events more affordable than ever by keeping talent in-house.
Key features
The Monarch EDGE encoder and decoder pair allows broadcasters to produce live, multi-camera events with increased operational efficiency, while minimizing on-site expenses by keeping talent and/or production crew in-studio.
Both the Monarch EDGE encoder and decoder devices offer flexible, future-proof video connectivity with 3G, 12G SDI, and ST 2110 over 25 GbE network connections. Each of the Monarch EDGE encoder's SDI inputs supports 16 channels of embedded audio. Eight of these channels can be included in each stream using MPEG-2 or SRT protocols. Delivering multi-lingual or multi-channel productions is easy with Monarch EDGE.
In live environments, high signal transport latencies are detrimental to remote production (REMI) quality. Audio and video may be hard to maintain, and return channels to the field are often too far behind the live action, hindering seamless staff interaction. With "glass-to-glass" latencies as low as 100ms between video input at encoder and video output at the decoder, Monarch EDGE achieves some of the lowest latencies on the market while using standard 1 GbE networks.
There are a variety of streaming protocols available to Monarch EDGE encoder and decoder users. On closed networks, MPEG-2 TS or RTSP streams can be selected for delivery. For cloud-based destinations, or when the network is congested, SRT may be more appropriate. SRT is a new open-source format that provides the reliability of RTMP, while reducing latency, for use on open networks. SRT streams can also be encrypted if security is a concern.
The Monarch EDGE encoder and decoder pair provides tally signals and talkback channels to facilitate bi-directional communication between on-site camera operators and in-studio personnel. These provisions on the device help reduce the amount of equipment required on site.
Monarch EDGE offers the ability to record SDI inputs while simultaneously streaming using the user's transport protocol of choice. Recordings can be saved to USB 3.0 attached storage or to local networks. Monarch EDGE makes sharing post-event recordings easier than ever with the ability to record to the popular H.264 codec with MOV and MP4 wrapper options. This Monarch EDGE feature allows for ISO recordings of SDI inputs, which can be used for post-event editing or serve as backup recordings.
The Monarch EDGE encoder and decoder pair was built with reliability in mind. LCD screens on the front of the appliances allow users to quickly access device status and configuration settings. A locking power connector safeguards against connection loss during production. Redundant Ethernet (1 GbE) ports allow users to control the device from one port while sending video from a second port. Users can opt to send the same streams from each port while taking completely separate network paths. Finally, Monarch EDGE's compact design ensures it can be installed in a fly-pack or with a second Monarch EDGE unit in a 1RU-rack space.
Monarch EDGE in action
With the ability to seamlessly execute both remote and cloud-based productions during different episodes, the Monarch EDGE has become Vizrt's go-to broadcast-quality encoding and decoding appliances for delivering low-latency, strikingly-realistic virtual interviews for its VizrTV online series.
Productions involving three participants follow a similar setup with an encoder required at each remote location. A single Monarch EDGE decoder and take up to four streams. In an example of a three-participant VizrTV production, Dr. Andrew Cross, President of Global Research and Development for the Vizrt Group, appeared on screen while being filmed in San Antonio, United States, alongside Lang and Black. The Monarch EDGE encoder was used to capture and encode the feed captured by the camera in the U.S. studio and transport it to the Monarch EDGE decoder in Austria. There, the device was also used to decode feeds coming from the other Monarch EDGE encoder in Norway. The end result was three individuals appearing side-by-side-by-side in a realistic virtual studio environment rendered by the Viz Engine 4.1. Despite participants being located in three separate cities across the globe, VizrTV was able to deliver a realistic live interview.
For VizrTV episodes featuring a one-on-one dialog between Black and Lang, cameras capturing each individual are stationed in separate studios in Bergen, Norway, and Vomp, Austria, respectively. During these productions, the Monarch EDGE encoder was housed in the Norway studio, while the Monarch EDGE decoder was located in the Austria studio. SDI cameras send HD video along with embedded audio to the Monarch EDGE encoder – which encoded at 6 Mbps and streamed in SRT – with delivery latencies that allow for a natural flow of conversation. The Monarch EDGE decoder received the stream, then output an HD-SDI feed with audio to the Viz Engine 4.1 system housed in the Austria studio. A second SDI camera in the studio sends SDI video with embedded audio to the same Viz Engine 4.1 system, which generates the final composition for delivery to a Viz Vectar switching system. This system provides cuts between clips and live and encoded program delivery to Vimeo, Facebook Live, and LinkedIn, as well as proxy feedback to Black for program monitoring on his laptop. Although the Monarch EDGE encoder and decoder pair does have an independent, bi-directional analog audio circuit available to users, Black and Lang opted to use Microsoft® Teams for their real-time audio communications during these broadcasts.
"We wanted the end result to be a seamless viewing experience for the people watching," said Gerhard Lang, Chief Technology Officer, Vizrt. "We didn't want the viewers to say, 'Wow, this is great technology.' Instead, we wanted seamless interaction with the video so viewers can focus on the story. We could not have accomplished that without the Monarch EDGE encoder and decoder."