disguise - xR
Broadcast Graphics - Virtual Sets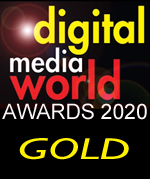 disguise's xR technology empowers the world's leading brands, artists and production houses to bring to life compelling visual experiences in virtual production. It allows designers to create immersive visual experiences using Augmented Reality (AR) and Mixed Reality (MR) that allow brands and artists to connect with remote audiences like never before.
Combining disguise's 3D visualisation-based software and high-performance robust hardware, the xR workflow seamlessly integrates an array of technologies including camera tracking and real-time content engines to extend a small studio space into an unlimited virtual world.
Orchestrating camera tracking and real-time content played off LED panels, disguise xR lets you deliver a virtual environment, which is visible both on screen and on set. xR then builds a workflow around a real-time 3D visualiser, making visualisation a constant part of the experience.
By using LED screens or projection surfaces in the space, xR allows presenters to be absorbed into the virtual environment where they can see the entire set and even objects added into it, giving directors the opportunity to capture raw emotion.
The screens within the space only need to be as large as the performance area. Virtual set extension places the actors in virtual environments larger than the space available, opening up worlds of opportunity; creating more compelling content to increase audience engagement. This allows designers to make better-informed creative decisions earlier in the process, and communicate ideas and final work in a clear, compelling manner. The workplace may be smaller, but the end result displays an endless space of limitless opportunities.
disguise xR is a result of two years of industry-wide collaboration and innovation. While its first application was born from a need to deliver a more interactive and engaging broadcast for the 2018 Winter Olympics from Eurosport, we have since worked hard to finesse our technology, with an official release aimed at the end of 2020.
However, the halt in production, broadcast and live events following the onset of the Covid-19 pandemic, led us to take immediate action to provide lifelines to our community and accelerate the release of our xR solution five months early. We engaged with our customers to take them through the transition, connecting with them at a deep level with free online education on xR.
Since xR's official launch in the summer of 2020, we have also launched our new rx render engine hosting platform and RenderStream video-over-IP protocol, supporting engine-agnostic rendering. We also launched our new vx 1 and vx 2 media servers, designed to lower the barrier of entry to xR. These tools are opening up wider access and more creative opportunities for users to tackle the growing wave of xR productions that are now becoming the norm.
The environment xR creates leads to massive time and cost savings. The integration of disguise's camera calibration feature allows for calibration of the camera and lens in a matter of minutes, rather than days. Pre-visualising camera shots, without having to build the stage first, enables better coordination between set and camera departments, and virtual environments can be created and iterated on the fly.
The capabilities of xR are utilised in ways far beyond initial blue sky thinking, powering nearly 100 groundbreaking productions in the past year, including Katy Perry's American Idol finale performance, SAP's 'Sapphire Now' virtual conference, the MTV 2020 Video Music Awards and the HP OMEN Esports Challenge.
xR brings visions into a reality, limited by only the confines of imagination.
See how xR is defining the new era of live production: https:/vimeo.com/434079944/7f43b83fe9