Emerald PE
IP Broadcast Solutions - Switching, routing, monitoring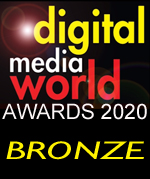 Emerald PE IP-based KVM extenders enable extension and matrix switching of pixel-perfect HD DVI video (up to 1920 x 1200 at 60Hz), transparent USB 2.0, and bidirectional analog audio — over a dedicated or existing IP network, or even the internet — between any number of users and computers, servers, or virtual machines.
Part of the award-winning Emerald Unified KVM family from Black Box, the IP-based KVM system features built-in system redundancy with dual network ports and can be deployed as a point-to-point KVM extender connecting the user to a remote computer or when scaled up, can serve as a managed KVM matrix switching system.
To watch a product demo video, visit the website here.
Emerald PE delivers every pixel of every video frame with lossless compression over distances up to 328 feet (100 meters) over CATx or up to 6.2 miles (10 kilometers) over SFP/fibre, eliminating distance limitations completely when deployed over an IP network or the internet. Dual network ports (RJ45 and SFP) ensure redundancy and support fast failover switching in the event that one connection goes down. Like other Emerald KVM solutions from Black Box, Emerald PE connects to virtual machines over RDP or RemoteFX without the need for additional transmitter units. Available in single- and dual-head models, Emerald PE receivers support single- and multi-monitor desks.
The Power over Ethernet (PoE) feature is new for Emerald PE devices. Added to enable powering through a copper network cable, this feature makes it easier and less time-consuming to install the devices, especially in higher-volume deployments. Both the KVM receiver and transmitter units can be powered over CATx cable to facilitate installations in the equipment room/data center and at the user's desk. Power comes from a PoE-capable network switch. When power is supplied by an alternate source, the PoE function can provide a redundant power supply in the event that the power adapter goes down.
The new Emerald PE PoE answers the need for flexible, reliable, easy-to-install KVM solutions. As more and more media organizations move toward IP and away from proprietary technologies, the Black Box Emerald Unified KVM family offers an array of solutions designed to simplify systems design, installation, and operation. Emerald PE PoE expands users' options by easing the burden of deployment and adding a redundant element in alternately powered applications.