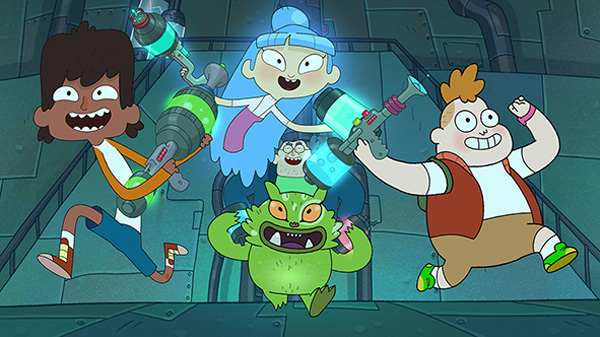 12field Animation in Melbourne specialises in creating long form 2D character animation, including children's TV series such as 'Little J & Big Cuz' for NITV and the ABC, and 'The Strange Chores' for the ABC.
Early last year, as work got underway on these two series, COVID-19 restrictions took effect calling for a change to offsite production overnight, running different pipelines and software across the two shows. The production team needed remote file sharing infrastructure, communication tools and the technical capacity to manage two large data flows.
Shortly before these events, at the time they were to start production on Season One of 'The Strange Chores', the production team had seized the opportunity to break away from their traditional Flash-Animate pipeline and investigate new software that would give their artists more features.

New Animation Pipeline
Studio Manager at 12field Animation, Kelly Lynagh, said, "We knew that 'Strange Chores' would need more options in the VFX department, but we were also looking for features that would allow us to tap into our background of traditional animation and achieve visuals that have an older feeling aesthetic. Our characters have a hand-drawn look and our animators often draw into their shots, while keeping firm control of the rigs, and our backgrounds are rich in detail and lighting."
12field chose ToonBoom Harmony for the new pipeline. The main consideration was the drawing tools. Both Animate and Harmony have vector drawing tools. Animate's vector tools are relatively simple to use, but Harmony's have more features and usually result in a more professional look. Harmony also has bitmap drawing and painting tools that digital painters may find are worth learning to give their animations a richer, more handmade look. Also, for traditional animators who draw on paper, Harmony has tools for scanning and cleaning up paper drawings.
Both Animate and Harmony have tools for rigging characters with bones to create animatable puppets. But again, while Animate's rigging may be easier to use, Harmony's rigging includes advanced deformers as well as regular rigid bones.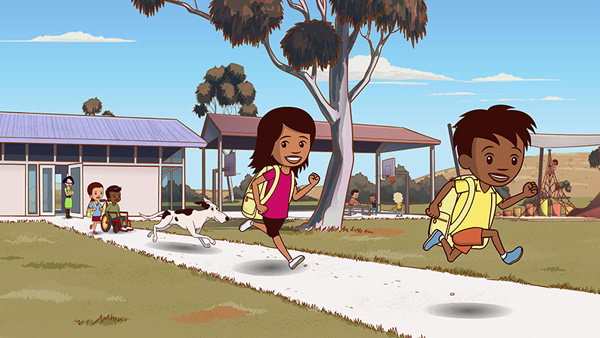 "Toon Boom Harmony answered all of our requirements for switching over for Season One. But because it had involved a steep learning curve, we were keen to have robust support when moving into the second season, which became even more crucial when we all went remote," Kelly said.
Leaping Out of the Comfort Zone
12field worked with supplier and systems integrator Digistor, also in Melbourne, to help them navigate this series of changes. In particular they needed advice on hardware that could better handle the system requirements of Harmony for the show's second season, and manage the rest of the software that they use regularly. "Our interest was in designing a system that protects our files in terms of security and retention, plus a transition from an onsite studio to essentially running a remote studio when COVID arrived. It was a huge leap out of our comfort zone," Kelly said.
Darren Godwin, Senior Sales Consultant at Digistor, said that 12field Animation's transformation was in fact straightforward, largely due to the fact that it is a 2D animation studio – file sizes are relatively small and don't require the major storage and rendering infrastructure that 3D studios need.
Kelly Lynagh, Director, 12field Animation
12field's typical workflow involves extensive artistic prep work, distributing that work remotely for artists to work on locally before returning it to the studio to be edited and mastered for broadcast. Darren said, "In this case, we supplied a Supermicro server with an in-built storage array, and ran multiple virtual machines (VMs) from the Harmony server. Remote artists would connect via VPN to pick up shots using Toon Boom's WebCC."
Harmony's Web Server
WebCC is a web server suite that allows a team to host their Harmony database on the Internet, so that freelancers and off-site contributors can work on a production from any location with Internet access. Users browse the Harmony database using a web browser, download scenes, work on the downloaded scenes locally using their copy of Harmony, then upload their changes back to the database.
Because it is web-based, WebCC users do not need to be directly connected to the Harmony server, or to have a Harmony Server license to use WebCC. They only need a web browser and a licensed copy of Harmony Stand Alone to work on the scenes they download. WebCC can also be used on machines that are connected to the Harmony database server, in which case scenes can be opened directly from WebCC in Harmony without having to download them first.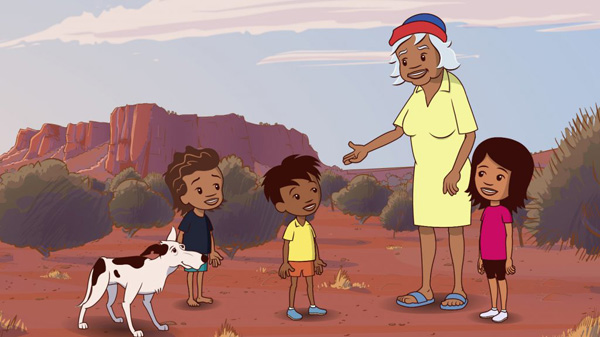 Darren said, "We also supplied IT services to set up their VPN security, using a Fortigate appliance as a firewall to air-gap the system. We had discussed using Teradici's PCoIP system so that remote artists could connect to their original systems in the studio. Furthermore, adopting this method would make bursting to a cloud environment easier for them later on. However, the decision was made to stick with the existing WebCC push/pull workflow which other Harmony studios that 12field had been working with had adopted."
Access, Stability and Backup
Kelly said, "The most important component is making sure all of our artists have access to the source materials they need at any time and that the work they create and provide comes back uncorrupted within a reasonable time frame. Technical problems can quickly mean we're behind on production, so stability is vitally important to ensure everything's moving forward as smoothly as possible. We are also on a Customer Assurance Plan with Digistor to ensure we have access to technical help whenever we need it."
12field worked with Digistor on a Veeam backup system, which was used to design a backup strategy that allows them to choose what to protect, the backup frequency to enable recovery and to make sure files are prepared for recovery. Veeam automates the testing and securing of backup data before files are stored. It also limits access to data backups and systems, uses encryption and tests the security of backup data after backup and before recovery. www.digistor.com.au