Shotgun Analyses and Visualises with Production Insights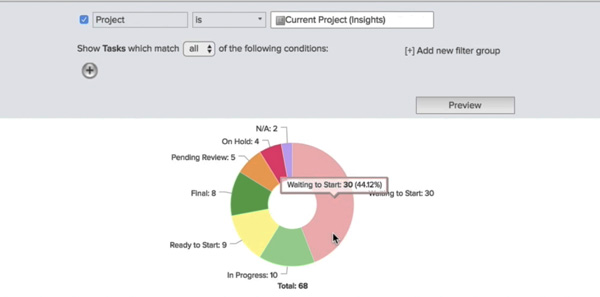 Shotgun 7.6 has a new set of analytics and reporting tools that production and studio managers can use to visualize the major production metrics, and closely monitor the progress of their projects.
Because of shorter timelines and tighter budgets on projects, and higher expectations from clients, studios need an efficient way to find business issues early on and adjust where and how resources are used during production, instead of in hindsight. Shotgun now has analysis and visualisation tools called Production Insights made for studio managers who want to avoid relying on manual reporting and instinctive reactions to problems when making decisions and monitoring operations. The tools display both high-level overviews of the health of projects and also closer views of the details that show where time and resources are used.
Kent Rausch, Associate VR Producer at Framestore said, "Shotgun's Production Insights help us work realtime software development and scrum-style methods for task organisation into our VFX pipeline. So far this workflow has improved the communication we've been able to achieve between our departments. The more data we can share across disciplines, the more predictably and efficiently we can work, and these new tools are a first step." Scrum-style methods are a part of agile project management, which follows a process framework that uses an iterative, incremental approach, so that teams can meet their task deadlines more easily.
Production Insights
Shotgun Analytics apply production data in Shotgun to optimisation of resource use, forward plan ahead for deadlines and budgets, and compile accurate bids for upcoming projects. For reporting, various pre-configured Presets can be dragged and dropped to build instant reports, with customization options.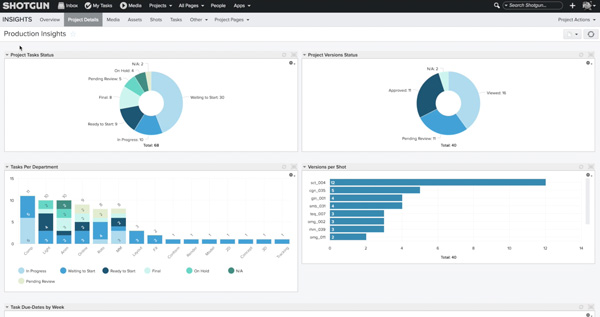 Data Visualization involves generating new graph types including pie charts, vertical bar charts and line charts to augement Shotgun's existing horizontal bar chart. Data Grouping displays the data as stacked or unstacked bar charts to visualize in greater detail.
Shotgun is accessed via monthly subscription. Visit www.shotgunsoftware.com/signup