Adobe's updates to the Substance 3D texture and material authoring software the company bought two years ago has resulted in a suite of tools that gives artists new ways to create and work with 3D scenes and assets. A further upgrade effort has been devoted to Premiere Pro's user experience, its accessibility to media and the export process for social media destinations.
Two years after acquiring the Substance 3D texturing applications, Adobe has re-packaged the software into a set of four Creative Cloud applications named the Substance 3D Collection, made for artists who want to work with 3D textures and materials.
Two of the applications are based on Substances' original software – Painter for applying customisable textures and materials to assets, and Designer for creating custom materials, textures and 3D models from scratch. A third application is Sampler, which is like Designer but has filters and tools for mixing elements to produce a texture or other material from photos.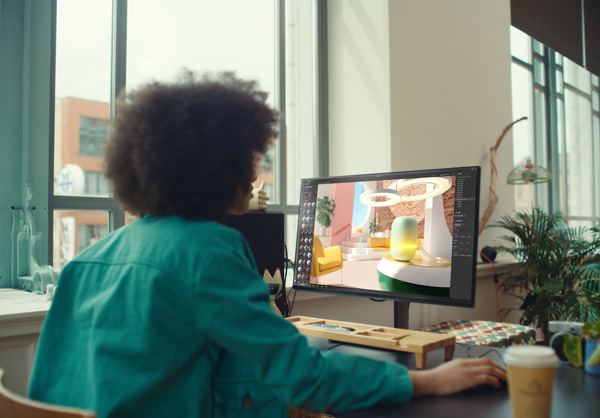 The fourth application in the Collection is Stager, essentially a version of Adobe Dimension that is designed for setting up 3D compositions using pre-made assets. You can see how different elements and ideas work together before committing to building project-specific models and materials.
3D Assembly
In Substance 3D Stager, you set up assets, materials, lights and cameras to build and assemble 3D scenes, with complex lighting and shadows. Because you refine and adjust the composition in real time, the tools may be useful for making creative decisions in context. Media, including images, web content and AR experiences, can then be exported and shared.
For efficiency and more realism, smart tools help users block out shapes, snap elements, apply physics to avoid collisions between models and generate lights. Stager comes with a set of models, materials and lights to start with. You can also access the Adobe assets included in the Substance 3D Collection plan or import elements from Painter, Designer and Sampler. Whenever you edit the images in Illustrator or Photoshop, the edits appear instantly in Stager as well.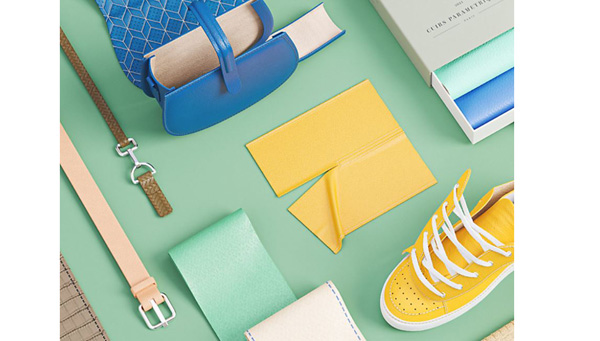 Users can light with physical 3D lights or the environment light editor, and switch between real-time rendering and interactive path tracing while maintaining the visual quality.
3D Texturing
Substance 3D Painter is the Collection's texturing tool for 3D assets and is already in use in games, movies, product design, fashion and architecture. It has Smart Materials that adjust to objects they are applied to to show surface detail or wear and tear, dynamic painting tools and mask presets that adapt to different shapes.
The viewport in Painter visualises all decisions and edits in real time and supports iteration on complex materials, including lighting and shadows. Models can be previewed in the viewport's path tracing mode, which creates realistic 3D global illumination. As a non-desctructive software, every action and stroke in Painter is recorded, and can be recomputed at any time. This means you can change the resolution of a scene without a loss in quality, modify existing paint strokes and so on.

As well as its own brushes, projection tools and particles, Painter supports Photoshop brush presets. Painter preserves material behaviours and properties when exporting to game engines and renderers. For imported models, UVs are automatic, and may be laid out over multiple tiles to maintain the resolution. For VFX artists, multiple-tile painting (UDIMs), Alembic, camera import, and Python scripting are supported.
3D Materials Authoring
Artists use Substance 3D Designer to author materials and generate patterns, image filters, environment lights or 3D models, each of which can output infinite variations. The resulting materials may be sent directly to Substance 3D Painter and Stager. Fairly standard software, like Painter, it is commonly used in many video game and visual effects material pipelines, and Substance parametric materials are supported in most 3D creation tools so that Designer will integrate into workflows.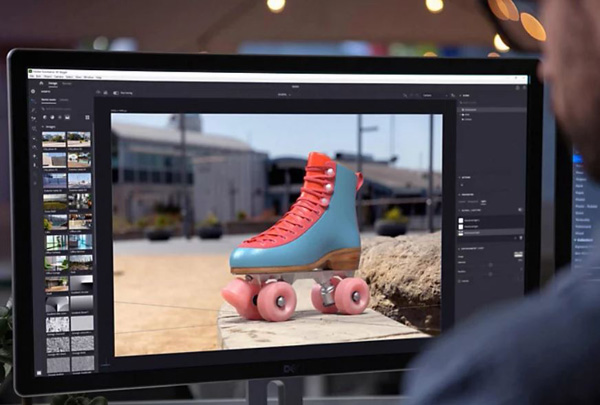 It has a node-based workflow, allowing the use of various approaches, and a node library for creating assets from scratch. Any step of the process can be modified later. Users can also build on and learn from the thousands of materials in Substance 3D Assets and Substance 3D Community Assets.
It is also possible to create 3D models in Designer, or combine existing elements like curves and kitbash models, and create parametric environment lights to use in other supported applications. With Designer's scripting API you can customise the software and use the Python scripting interface to create tools, utility graphs and plugins.
3D Photo Sampler
With Substance 3D Sampler, artists create photorealistic surfaces or HDR environments based on photographs, matching the original real surface and generating invisibly tileable materials. Different options combine materials, or use parametric filters that combine weathering and natural effects like moss, water or dirt with an existing material.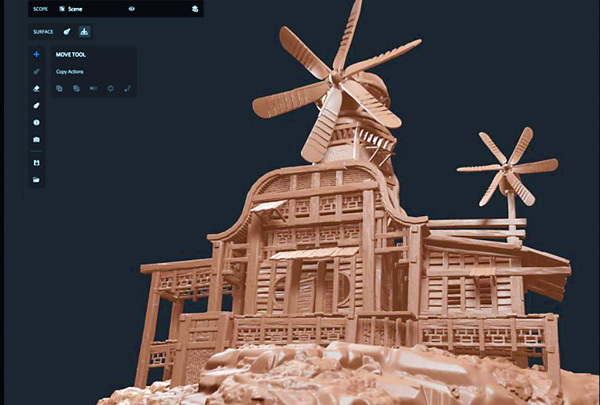 Substance 3D Modeller, now in private Beta.
Users build up a library, closely linked to the other Substance 3D and Adobe applications, of generators, filters and effects for experimentation – using generators and filters from Designer, compositing light environments for Stager, or sending materials and lights to Painter and Stager. 2D inputs can be edited directly in Photoshop.
Export presets are available for the major 3D applications. There are a number of useful features like Image to Material, which removes shadows and generates accurate albedo, roughness, normal and displacement maps, and a feature that creates HDR environment lights in real time from 360° images and allows you to enhance them with parametric effects.
Still to come is Substance 3D Modeler, now in private Beta, that interprets spatial input from the physical environment and allows you to sculpt models or entire scenes as if they were physical objects. Artists can use it to with assist concept art, sketching and prototyping, blocking out game levels and character or prop design.
Premiere Pro UX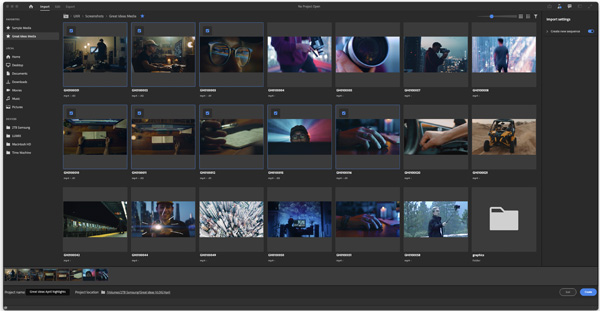 Import workflow
Adobe has made major changes to the Premiere Pro user experience, reflecting and reacting to the changes video has undergone recently in terms of new platforms, channels, formats, export options, cameras and inputs. The updates are also a response to new ways editors now use post production software. Import and export workflows and the header bar are now changed to help users output better quality content at speed, and optimise content for multiple social platforms.
Adobe says these updates have been a combined effort between their design and engineering teams. A new Import Mode for social video creators and editors focuses on faster, simpler access to content. Importing media through the finder or media browser has fewer settings, leaving a clear path for starting new projects.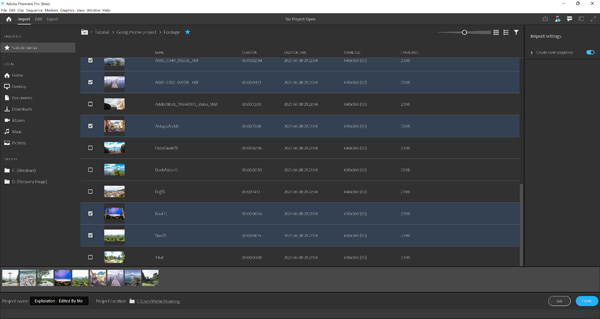 Premiere Pro import list view
The full editorial workflow allows editors to import media from multiple file paths, make favourite folders and other functionality coming to the public Beta, such as the ability to preview clips from separate essence files stored in camera folder structures. The data essence in the those files can be repurposed, with flexibility to create whatever output file is needed.
Header Bar
Premiere Pro has a new header bar that is meant to centralise navigation and connect the core phases of the editing process – import, edit and export – with the current project name displayed in the centre. In Edit mode, task-specific editing workspaces are accessible via a dropdown as well as Quick Export, System Compatibility Report, what's new in the latest build of the Beta and so on.
This new header bar will be a common design element across the Creative Cloud applications and is meant to help users orient themselves within different creative workflows. It makes importing, for example, more visual and focused on the media instead of project settings. You can now visit and select media from multiple locations, and use Import mode to create new projects, starting with the selected media itself, or to import media into an existing project. The workflow can be customised but the main goal is to move media onto the timeline faster.
Export – Focus on Destination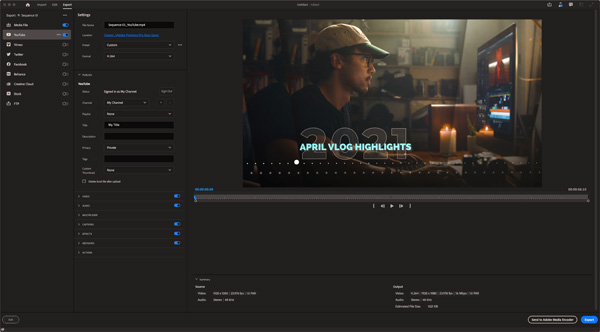 Export workflow
A universal challenge for video creation and editing today is delivering content optimised for multiple social platforms and delivery formats within quick turnaround schedules. Doing this in Premiere Pro has been complicated and hard to manage without knowing the preferred specifications of each destination. While typical Premiere Pro users create content destined for different outlets – including social media – not many know about the built-in social export feature.
Consequently, Premiere Pro's export process has moved from a format-first to a destination-first approach. The new Export Mode directly exports multiple files to a local drive and partly automates delivery of completed videos by focusing on the destination of the content. Users can target either a particular media format or the social media platform they want to publish to, use automatic settings to render, preview before publishing and directly upload their video.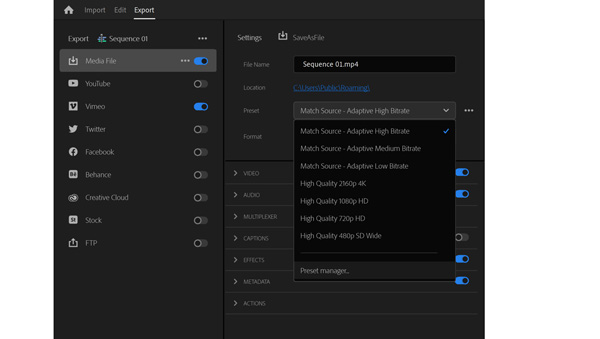 Export pre-sets
At this time, Adobe is working on a background rendering function that will allow users to continue editing while their videos are exporting. The combined process makes exporting videos to social platforms more efficient but does not compromise speed, flexibility or the editor's creative work.
Adobe's intention is to release the new tools and functionality in stages, starting with public Beta, to give users time to work with them and supply feedback. Moreover these changes are additive and do not replace the current workflows, but are the start of a new direction for Premiere Pro. More changes are expected before the end of 2021. www.adobe.com