Adobe Brings Speed, Agility and Intelligence to Creative Cloud 2019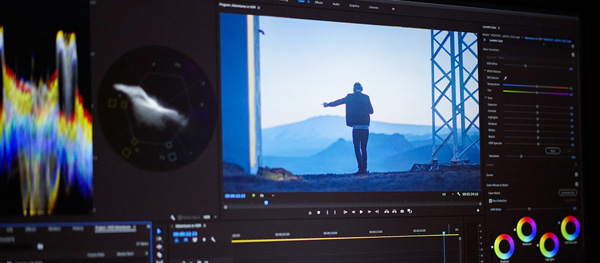 Adobe Premiere Pro 2019
Adobe has released major new updates to Creative Cloud software for 2019 including Photoshop, Premiere Pro, After Effects, Adobe XD and others. Adobe Aero, a new authoring tool for creating augmented reality projects, has now been launched as well.
New functionality powered by Sensei, Adobe's AI engine and machine learning was added to tools including Auto Reframe in Premiere Pro and Object Selection in Photoshop, and also to two of the new mobile applications, Auto Tone in Photoshop Camera and Live Brushes in Fresco.
Photoshop – Smarter Tools, More Control
Contributing to Photoshop on iPad, the biggest update to Photoshop is Cloud documents, Adobe's cloud-native files that users can open and edit in Photoshop and in any of Adobe's compatible apps, and also across devices using mobile applications. Cloud documents automatically save your most recent version, and you are always using a single file across all environments. Your offline version will also automatically sync when you reconnect to the Internet. For Photoshop on the desktop, working offline has not changed from previous versions.
Adobe Cloud documents
Object Selection is one of the new tools powered by Adobe Sensei. It simplifies the process of selecting a single object, multiple objects or parts of an object in an image. When you draw a rectangular region or lasso around an object, the Object Selection tool will automatically select the object inside the defined region, speeding up complex selections.
Regardless of the layer type, you can now proportionally transform multiple layers without having to press the Shift key. Proportional scaling is now the default transform behaviour for all layer types and objects. It is also possible now to convert a Smart Object back into its component layers without reversing throughall of the extra steps.
More controls for Document, Pixel Layer and Type Layer properties are now displayed in the Properties panel to save navigating through multiple panels and dialogues. Instead, the properties are shown contextually for the selected content. New Quick Actions also accelerate common tasks - for example, in one step, you can now remove the background, select a subject while in the pixel layer properties panel, or convert text layers into a frame or shape.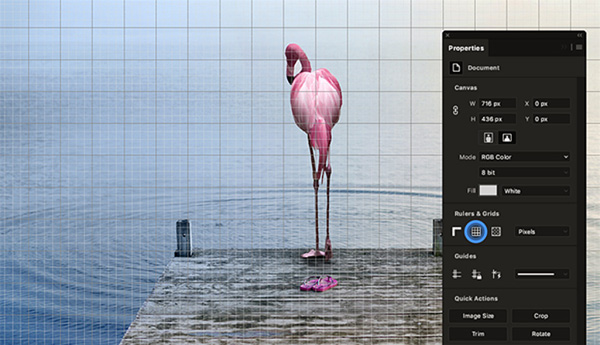 Photoshop Properties panel
Enhancements made to the Warp tool allow more control over creative warping in Photoshop. Add control points where you like, or divide the image with a highly customisable, editable grid, and then transform by individual nodes or a larger selection.
After Effects – Quicker Previews, EXR Import
This release of After Effects gives sharper and quicker preview playback due to threading improvements. The new GPU-accelerated display system core also helps achieve more detailed, real-time previews.
Artists can now import layered EXR files as compositions into After Effects to speed up compositing. Importing EXR files allows you to apply multiple effects to composition layers without going through a setup process first. You can work with each layer individually and apply effects to make the renders look more natural within the intended environment.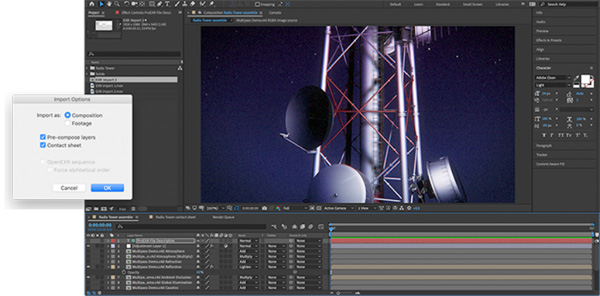 Working with layered EXR files in After Effects
Expressions can now be used to make global changes to text properties in a project, keeping the font, size and styling in sync across multiple text layers in After Effects and motion graphics templates. Properties of a single text layer can be referenced to apply changes throughout the composition.
Improvements have been made to the Expression Editor and Expression performance, and to ProRes decoding performance. Users should also see better playback when working with 10-bit H.265 HD/UHD and HEVC HD/UHD files.
The new release of After Effects includes an updated version of Maxon Cinema 4D Lite, based on the new Release 21. Cinema 4D Lite is used to create and import 3D content into After Effects projects. The Release 21 updates include the caps and bevel tools for creating more expressive extruded text and splines, and a new denoising filter to improve looks and reduce render times.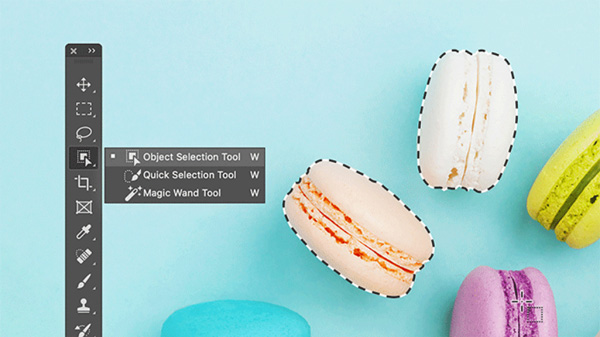 Photoshop complex Object Selection
Premiere Pro – AI Automation and Better Graphics
Premiere Pro editors can now automate the tasks required to prepare content for different social media and mobile viewing platforms, to keep the action in the frame. Instead of manually cropping and keyframing footage, Auto Reframe uses the Adobe Sensei AI engine to analyse the video and automate the process, reframing the images for square, vertical and cinematic 16:9, or cropping and zooming into high-resolution footage. Auto Reframe can be applied as an effect to individual clips or to entire sequences. Graphics and other edits are maintained within the new aspect ratio.
Among Premiere's graphics and text updates, motion graphics templates created in After Effects can now include drop-down menus, which makes the workflow simpler in Premiere Pro, and the Essential Graphics panel has more ways for editors to manipulate text. Due to new settings, users can also export HDR content with HDR10 metadata to make sure the data is properly taken advantage of on HDR-enabled displays.
Adobe XD – Coediting and Component States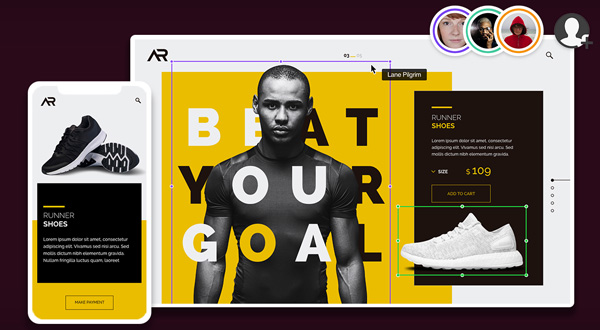 XD Coediting
Live coediting and document history have been added to Adobe XD. Coediting, available as a beta function, means that a group of designers can work together in XD in real time designing and iterating in the same cloud document at the same time while the coediting function operates in the background without affecting performance. Instead of waiting for updates and then working separately, teammates can design together in a central source of truth without duplicating work or retaining redundant documents.
With this release, Cloud documents automatically save your work as you proceed (see above), and you can view a document's history to follow its evolution over time. You may open previous versions of a document and copy elements to the current version, or save out a previous version and continue working from there. Other tools help you keep track of important stages of development.
XD user interface components now have component states, which means they can support multiple variations of a single UI element representing different types of user interactions, like an active and inactive tab, or when users tap on a button. Creating multiple components for those different states will be unnecessary. Related to component states are hover triggers, invoked whenever a user hovers the cursor over an element. Defining a hover state automatically calls up the necessary interactions to respond to the user.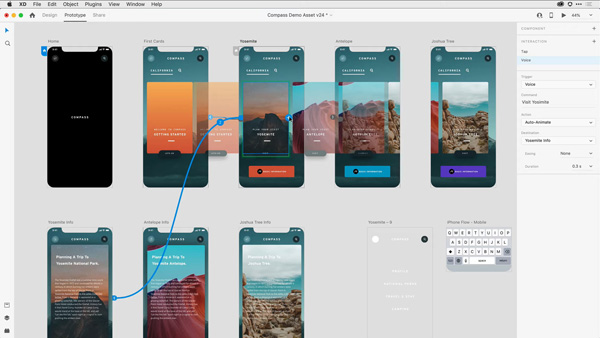 XD Multiple Interactions
As XD supports more user inputs, interaction designers can prototype interactive experiences without having to write any code. Prototype interactions often vary based on a user's input, such as tapping or dragging on an object. Until now, two different inputs has meant duplicating artboards but this release allows you to define multiple interactions on a single object based on different triggers.
Aero Augmented Reality
Adobe Aero has now been released, an application used to design and share augmented reality experiences in an immersive, three-dimensional environment from assets created in familiar tools like Photoshop and Dimension. If you want to use AR to pitch concepts and prototypes, you can build a scene by bringing in 3D models and 2D assets from Photoshop, Illustrator, Adobe Dimension, Substance or third-party software, and then place the scene directly in front of clients as an AR project. Aero automatically optimises assets for AR.
Once the project is anchored to the physical space, objects can be re-positioned and re-sized, and users can add interactivity and customise behaviour so that the experience unfolds as required. Triggers, animation pathways and depth can be controlled as well. Adobe machine learning is able to imitate real-world lighting on objects, which is critical to making digital objects blend into real scenes, making lighting models or manual rendering unnecessary. Adobe Aero is available as a free iOS app.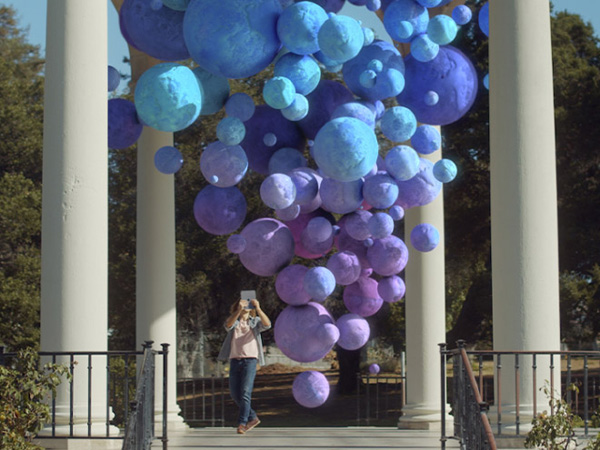 Adobe says they are also working on the integration of the 3D material and texture design software Substance, acquired recently, into the Adobe applications. More details are expected in 2020.
Cloud-based Libraries
A general enhancement to Adobe's huge software suite is Creative Cloud Libraries, which make the core design assets for a brand or group of projects available to team members located anywhere. They serve as a place to collect and organise images, colours, text styles and other elements created in the Creative Cloud desktop and mobile apps so that users can reuse and modify the assets across projects, devices, other Creative Cloud apps and artists.
All Creative Cloud Libraries work is done from a dedicated panel. The design assets may be organised into multiple Libraries as required, for example, based on brands, projects, types of assets or favourites to reused to establish a signature style.
Creative Cloud applications that support Libraries include Photoshop, Illusrator, InDesign, After Effects, Premiere Pro, XD and several others including many of the mobile apps. Because all of the assets used in XD have to be made in other software and imported, Libraries are now fully integrated with XD - assets created in other applications can be used directly in XD. Now Libraries can also be accessed in Microsoft Word and PowerPoint to allow external colleagues to help build on-brand documentation and presentations with up-to-date assets. www.adobe.com