Adobe Updates CC Desktop Software for Video and Motion Graphics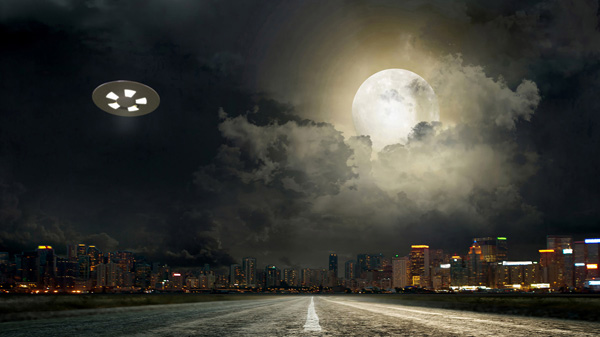 Adobe released news of more updates to Creative Cloud applications from the Adobe Max 2016 conference, first week of November, mainly to After Effects, Premiere Pro and the Experience Design Beta, Adobe XD. Adobe has also introduced a completely new design application still in development, a set of 3D tools for graphic designers called Project Felix, and another real-time collaboration and sharing service, this time specifically for video editing named Team Projects.
Hosted in the cloud, Team Projects is for editors and motion graphics artists who work simultaneously in shared sequences and compositions, and has functions such as infinite-level version control and conflict resolution. It supports hand-offs, for example, by letting the user decide when to share work with the rest of the team, and automatically merging changes, creating multiple project versions if necessary to address conflicts.
To do this, the Team Projects service assesses the user's private view of the project, verifies that no conflicts exist with work others in the group have shared, and delivers those changes to the service as a new version, available to the group. Versions are a permanent way to maintain the history of the project.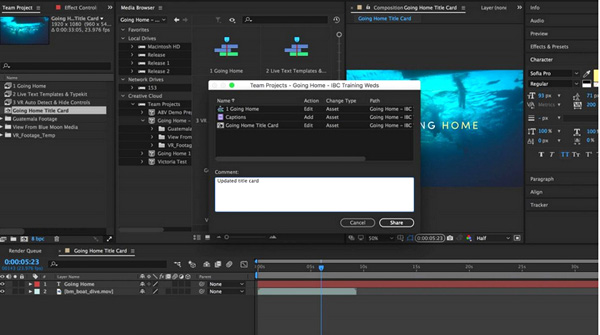 These tools are integrated directly into the CC 2017 versions of Adobe Premiere Pro CC, After Effects CC, and Adobe Prelude CC, and don't need extra hardware.
After Effects CC
Adobe says that After Effects CC 2017 14.0, available now, focuses on collaboration and workflows, ranging from Team Projects to more GPU-accelerated effects such as Glow and Hue/Saturation, and working with extruded 3D text and shapes in the timeline. Live Text Templates have a new workflow that promotes sharing between After Effects CC and Premiere Pro CC. Due to changes to the playback performance, most video footage can now play back from disk in real-time before effects are applied, without waiting for it to cache.
Installing After Effects will install Character Animator CC (Beta), which can also be downloaded separately through Creative Cloud. Its most recent changes are in the performance, shareable puppet files and character behaviours. Also, scenes from Character Animator can now be imported via a live connection into After Effects and Premiere Pro.
Rendering
Development of the Maxon CINEMA 4D composition renderer in After Effects, the CINEWARE 3.1 plug-in, continues, now making it possible to create extruded 3D text and motion graphics more quickly by rendering directly in the timeline, without GPU hardware, and using an ordinary slider to control the quality settings. The new version also improves OpenGL rendering.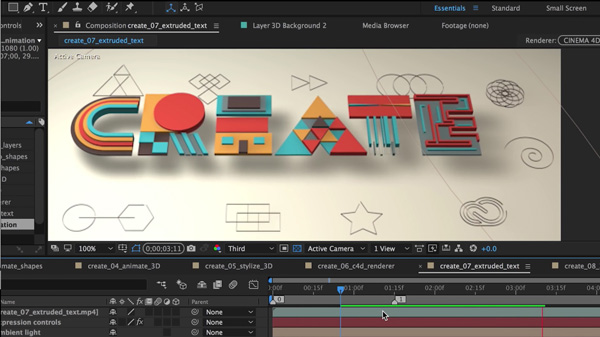 Should you choose to render your work to a file, you can now automatically use the date and time as part of the file name or file path. An update in Media Encoder CC 2017 allows you to render the alpha channel of any source, including After Effects compositions, as a grayscale image.
Workflow
The Live Text Templates workflow permits sharing live text template compositions between After Effects CC 2017 and Premiere Pro CC 2017 as a single, packaged file holding all of the assets required for that composition. Syncing fonts with TypeKit is more automatic now because projects that require a font that is not locally installed, can now automatically add that font to the user's Creative Cloud account and sync it to the computer as usual using TypeKit.
A special setting will now load a template project into After Effects when the New Project command is chosen. This can help keep a studio in sync by storing the master version of the template in a shared CC Files folder.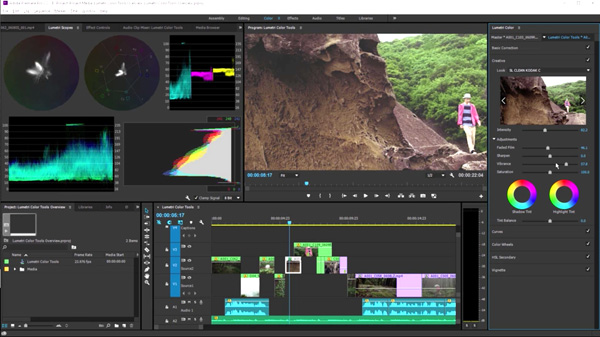 Scripting can be used as a way to access and control more tools, including composition markers, the Queue in AME command and use of GPU acceleration. Users can now set the duration of composition and layer markers interactively, and a new command, Freeze On Last Frame, automates the enabling of Time Remapping, to freeze a layer until the end of a composition.
Increased native format support now allows Avid DNxHD and DNxHR QuickTime files to be exported without installing the Avid codecs package. RED camera raw file decoding now supports RED Helium sensor footage, and RED footage can now also be processed using the GPU.
Premiere Pro CC and Media Encoder CC
The new versions of Premiere Pro CC and Media Encoder CC increase support for creating and editing open and closed captions, and have better colour pickers in the Lumetri Color Panel with HDR10 support. Media Encoder now has clip stitching, and Premiere Pro CC has a dedicated panel and workflow for publishing to social media.
Camera media ingest is more efficient, and support for native QT DNxHD / DNxHR on Windows has been added. New audio effects also result in higher quality sound processing and improved fidelity from Adobe Audition. Like After Effects, Typekit fonts now sync automatically in Premiere Pro when working with Live Text templates for motion titles and lower thirds and with After Effects projects across Creative Cloud.
The new Lumetri Color tools include an improved colour picker when working with HSL secondaries - a new HSL Secondary section in the Lumetri Color panel has precise tools to isolate a colour or luma key and apply a secondary colour correction to it. Premiere Pro also supports HDR10 metadata for editing and delivering HDR10 video, plus expanded support for colour space metadata, allowing more precision.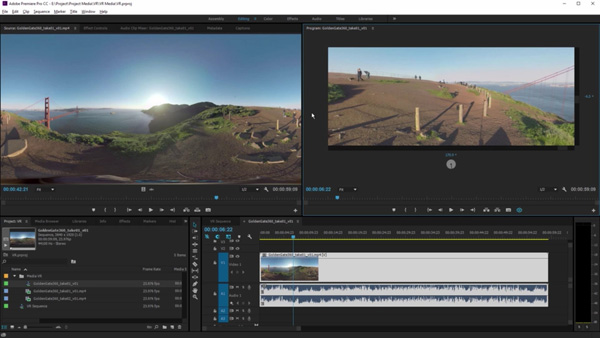 VR Workflow
A Virtual Reality workflow was introduced earlier this year through which users can work with stitched equi-rectangular video to show field-of-view so they can replicate viewing experiences while editing content. Now, a real-time GPU-accelerated offset effect corrects the panned position of a clip by adjusting just the X offset, but if you need to correct roll or tilt, third-party tools are still needed. Native QuickTime DNxHR/HD codec support now means you can create VR media files that play back more efficiently than H.264 – although at the expense of increased storage and bandwidth. It also allows you to export VR media files that exceed H.264 resolution limitations. Some services, including Facebook, already support DNxHR when publishing.
In the VR Video menu is a new head-mounted display tracker. If compatible plug-ins are installed and active, such as the Mettle CC 2017-compatible SkyBox VR Player, this menu item is enabled. When toggled on, the VR Video viewer will automatically follow the HMD viewer's position.
Auto-aware VR detects whether media is monoscopic, stereoscopic over/under or stereoscopic left/right and automatically applies preferences for the correct viewing environment. But you do have to make sure that your project contains the expected VR-specific properties. Some older projects do not which means you must add them manually. Premiere Pro also exports correctly tagged VR files so that VR-capable video players, such as YouTube, can play the media.
Tools
The Live Text Templates now bring motion graphics designed in After Effects into video content in Premiere Pro, and you can edit text within those graphics without having to work directly inside After Effects. One of the goals for this change is greater consistency in branded content such as tutorial videos, web series and broadcast graphics. A common application is manipulation of text layers in branded graphics content like lower-thirds, directly inside the Effect Control Panel.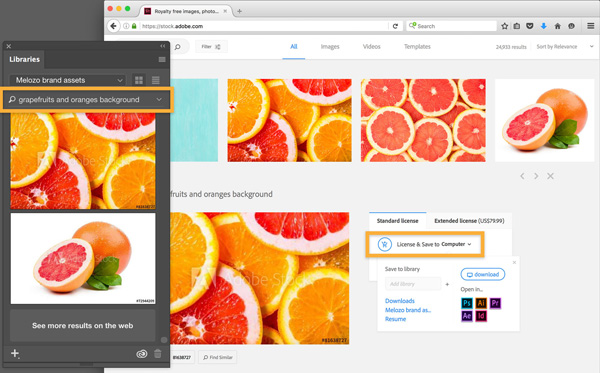 Applying the new creative looking, editable captions and subtitles in Premiere Pro is useful in silent auto-play video previews to attract more interest, as well as accommodating different languages or hearing impaired viewers. The captions workflow has tools for fine-tuning captions.
Social
Adobe is especially keen to promote their new Social Publishing workflow panel, currently in beta, for publishing videos from Premiere Pro to social media. The panel includes cross-platform social publishing and performance tracking, recommendations to achieve peak performance, and the ability to save custom keyword sets and upload custom thumbnails, to save time.
Adobe Experience Design CC
Still in Beta, Adobe Experience Design CC is software built for prototyping and sharing website and mobile app designs as they are created and developed. Following this release, Adobe XD is ready for regular use on macOS through the introduction of new core functionality including layers, symbols and ways to comment on shared prototypes.
video.
Layers
Layers are added to make it easier to navigate between artboards and to work with the elements that are on each artboard. An adaptation of the Layers functions in Illustrator and Photoshop, Layers are customized for the UX design workflow by involving only the elements the user is looking for to keep XD interface uncluttered.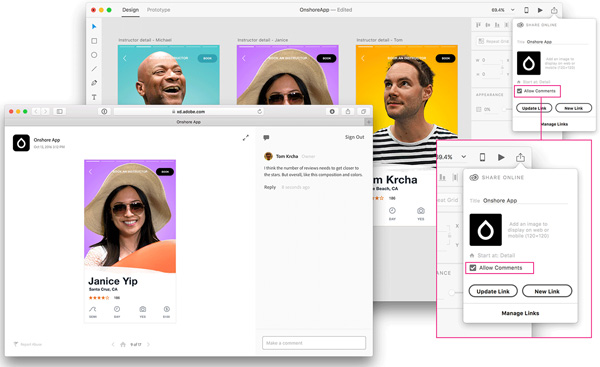 A Layers panel, triggered with a new icon in the application window, displays all of the artboards in your document. Then, once you navigate to the artboard you need, XD automatically pans and zooms in to it and contextually displays only the selected layers. From there you can work with groups and reorder, rename, show/hide, export, make symbols and lock/unlock layers.
Symbols are objects that you can reuse throughout your design. They all change simultaneously when you change a single instance. Editing is done directly on the canvas without entering an isolation mode. Changes are instantly propagated to all other instances, across all artboards. XD has a Symbol library to view all Symbols in your document, and to create a new instance of a Symbol by dragging it from the library onto the canvas.
Share
Commenting on Shared Prototypes is an extension of the ability to create and share prototypes with stakeholders and other designers. By enabling commenting on prototypes the user can receive fast, specific feedback on designs. If you then make changes in the authoring environment and update the link, your web-based prototype automatically updates to reflect the feedback you've received. Anyone you send the link to can sign in to create comments. The Creative Cloud desktop app notifies you when someone leaves a new comment.
Commenting is related to the Adobe XD companion apps for iPhones, iPads and Android phones released in September 2016. By connecting a mobile device to your computer with a USB cable, you can preview your XD design, test your interactions and make changes in real-time. In this way you can see and feel a design before committing to development. https://www.adobe.com