Adobe XD Follows the Path to UX Design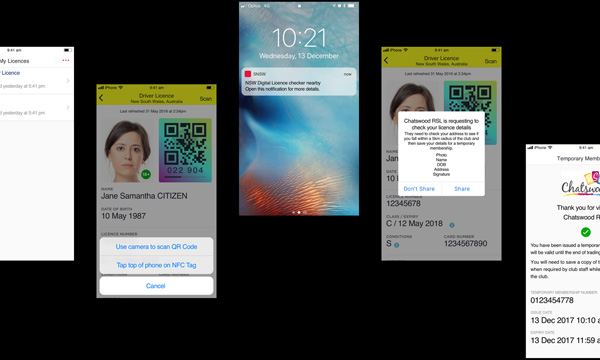 At Adobe Symposium in Sydney, 27-28 June 2019, Adobe hosted a panel discussion titled Desire Lines: The Path to UX for aspiring UX designers. A diverse panel of specialists in UX and related fields talked about how designers can get involved in this new field and tackle different types of projects. Human interaction with design, technology and space is gaining importance in business, services delivery, education and communication.
This panel featured people from two project development companies, Mentally Friendly and Fjord, and an Adobe product developer Hoyle Wang who has worked on Adobe XD from the start.
Mentally Friendly
Senior Product Manager Alison Bartholomeuz
 joined the panel from Mentally Friendly, a company that helps develop projects that involve interacting with large, varied groups of people in an individualised way. Some are research projects, for example, they were able to make product and service recommendations for state government digital services based on research gathered from local people. They also updated the ABC Kids app experience based on researching customers ranging from regional families around the country, children with disabilities and learning difficulties and migrant families with language barriers.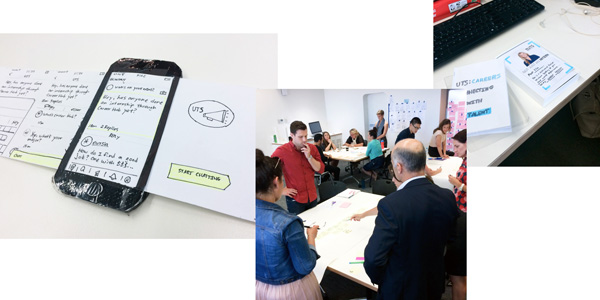 Also, when the government and drivers were both uncertain of the implications and uses of the NSW digital drivers licence, Mentally Friendly ran prototyping and testing sessions to address concerns about data security, control of information, accessibility and institutional trust. Projects for users included scaling up UTS' internship program by making the way the university screens students and employers much more consistent and efficient. The team also developed a web application to help people find and connect to mental health services.
All of these projects needed an accessible user experience, web and mobile app development and interface design, and integrations with existing platforms.
According to Alison, UX design uses so many different skill sets that the job becomes an opportunity to bring your own wider experience to projects. Each person's background can be useful. She said, "Forming diverse teams gives you an advantage. Groups of similar people risk simply following a single path without questioning or varying content. Such teams encourage inclusivity so that your experience will work for mny users – otherwise it is hard to recognise exclusion in your work and to be informed enough in your choice of images, use of language and how technical your approach should be.
What Alison likes best about her work is the chance to take advantage of her curiosity about users, which in turn benefits UX design. "Ask questions," she said. "Get to know your users and what they respond to as far as possible."
Fjord – Responsible UX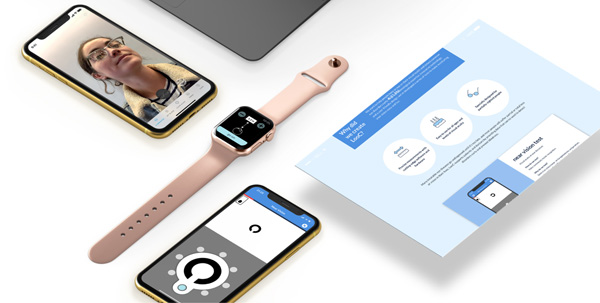 As the General Manager of Fjord across Asia Pacific, Bronwyn Van Der Merwe works with clients in the process of updating their businesses and user experience to take advantage of digital opportunities and become more customer-focussed at the same time. Fjord designs projects such as customer web services, mobile banking and mortgage applications, the youth engagement strategy for a mobile phone operator, TV channel mobile portals and so on.
Many of their customers are companies who want to extend their usual product portfolio to include a wider customer base, or change their corporate culture or public perception. Fjord's designs can then help them manage the pace of change. "While we are always designing for a purpose, the people-focussed nature of UX design means we need to be responsible and think of the consequences of what we are doing. We aim for inclusiveness and shared value."
Like Mentally Friendly, Fjord also takes advantage of natural curiosity and experimentation by building teams of people from different disciplines, cultures and industries. "A simple design works best because people are naturally drawn to designs that are intuitive to use. Fjord's start point is to put themselves in the users' position to help solve their problems. Data analysis is critical as well – our approach is always data-driven – but the results should combine emotion with logic."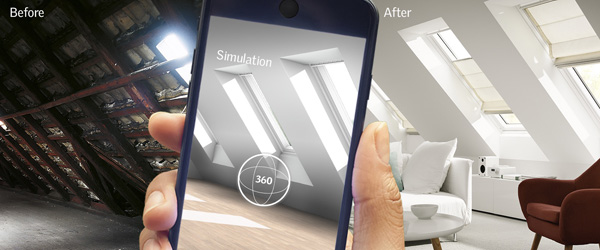 Testing for Confidence
Alsion said, "To build confidence in your own work, you need to test the assumptions you made about your users on real people. Testing involves facing uncertainty and possible disappointment, but it is the time to look past people's opinions and determine the real behaviour that your UX is eliciting from users."
Fortunately however, Bronwyn said, "Design never stops. Once a project goes live, all design can be improved, if only you can understand how it's used in practice. We work with clients to optimise a UX based on performance indicators and real-time evaluation."
At that stage the panel's third speaker, Hoyle Wang from Adobe, was able to give more hands-on advice based on his involvement with Adobe XD, software that designers use to design, prototype and share their work within one application. He looks after design tooling for XD, plus the iOS and Android companion apps. About himself, he said, "I'm drawn to complex, interdisciplinary human-centric challenges. I like to focus on questioning assumptions and delivering elegant, easy to use tools and approaches."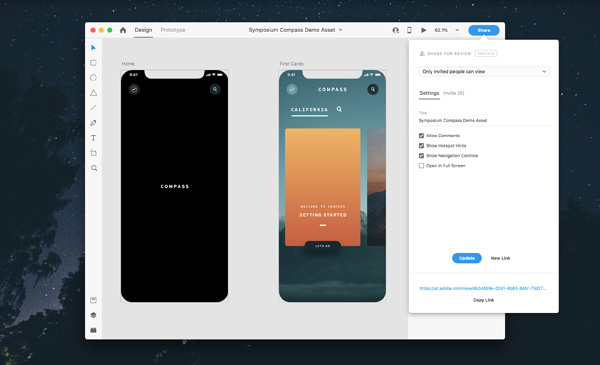 User testing in Adobe XD
Adobe XD
After Symposium had finished, Digital Media World asked Hoyle about XD itself. Regarding the testing stage for UX designers, he said, "We believe that designing, prototyping, and quickly iterating in order to gather feedback is extremely important to delivering the best user-centric design possible. As a result, without switching to another application, you can share a prototype to users for feedback directly within XD. Users are able to comment and have discussions on the web prototype, and designers are able to see this feedback where it's most important - in the context of their design."
While he had been talking at the event he mentioned that it is important for designers to avoiding letting XD, or any software, shape their designs. "One of the inherent superpowers of designers is to create what should be, not necessarily re-create what already exists," he said. "Of course, with that power comes great responsibility. Designers constantly have to juggle between many things at once, while still focusing on creating an elegant solution that solves customer pain points."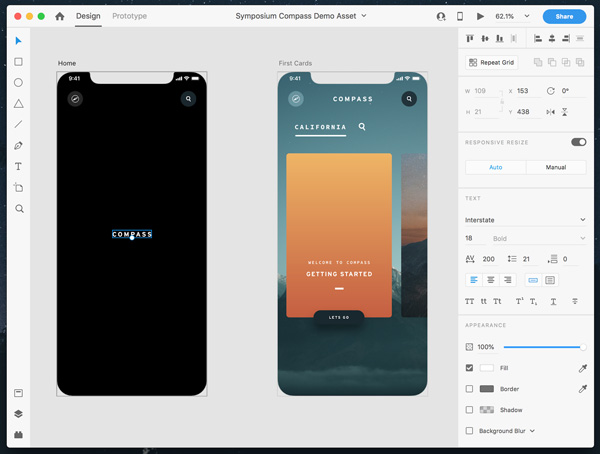 Design mode
Furthermore, in the face of increasing demand for content, users are being asked to create for more situations, applications and users than they were before. That is why, as they continue to develop XD, Ädobe aims to challenge many design tooling conventions and create entirely new tools that reduce repetitive tasks. For example, XD's layers panel solves the layer organisation issues encountered in Photoshop. The repeat grid function limits the need to copy and paste content, and responsive resize reduces the time it takes to layout content for different screen sizes.
Designing for Joy
Hoyle said, "By improving the design process, it's likelier to bring designers actual joy when designing. Because we know that people are influenced by the tools they use, we spend a lot of time making thoughtful decisions on default behaviours for tools, rather than relying on things like Preferences that put the burden on the user."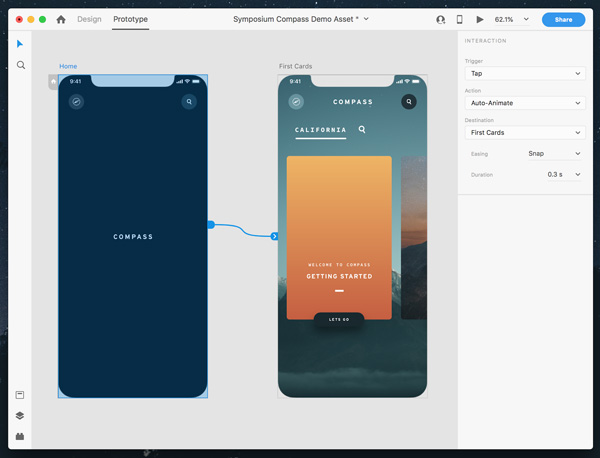 Protoype mode
Adobe XD handles three major UX design stages – artboards, design and prototyping. Hoyle said, "Almost all designs start on an artboard, which is your clean slate representing the device you're designing for. XD's collection of artboards are sized and configured to match the most common mobile, tablet, desktop and wearables screen sizes, or you can define your own custom size.
In Design mode, you design the visual look of the artboard, like adding text, colours, vectors, images and so on. Once you have designed a few artboards, you can wire them together in Prototype mode and define the interactions between the two. Experience design isn't just about how something looks, but rather how it works. XD allows you to bring the experiences you've defined to life. Being able to prototype, test and iterate leads to a result that works for the end user.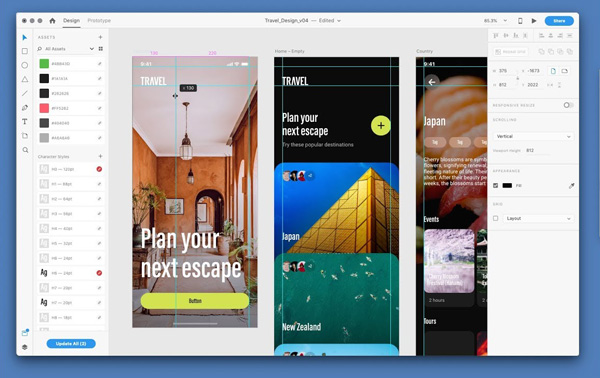 Design Systems
Keeping Up with UX Design
Three of the most recent updates to XD that stand out for Hoyle as a UX designer are Design Systems, Auto Animate and Voice Prototyping. "Design Systems help make sure assets and components are used consistently across multiple projects. Many organisations of all sizes face this problem," he said. "With the release of Components and Linked Assets, which help designers and developers create and maintain design systems, users have a system that allows a great deal of flexibility while keeping synced to a central source of truth.
"Designers can use Auto Animate to prototype immersive animated experiences without having to switch to a complex, timeline-based prototyping program. Auto-Animate is quite simple to use, but can create brilliant effects and transitions and help designers quickly communicate how the end user experience should feel. As I mentioned, experience design is just as much about how something works as how it looks."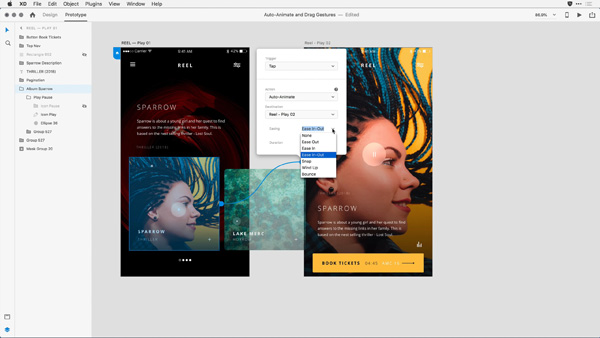 Auto Animate
Hoyle believes that the new Voice Prototyping function is especially important for designers right now. "Voice-based experiences like the Amazon Alexa isn't going to be big - voice is already big. With 80,000 Skills available for Amazon Alexa alone, voice-based experiences are now part of our daily lives. Whether you're incorporating voice and speech into an existing product or creating a voice-first platform, the same design, prototype and share process remains the best way to approach experiences. XD is one of only a few collaboration platforms that integrates voice-based interface design as a part of the core experience," Hoyle said. www.adobe.com