ChyronHego's Data Visualisation Gives Bristol City FC a Competitive Edge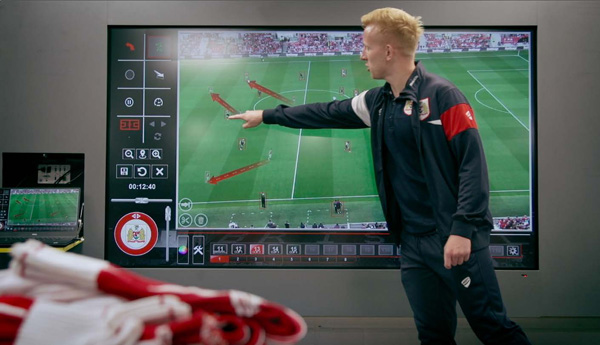 Bristol City Football Club (BCFC) is one of England's oldest clubs, founded in 1894. Currently a Sky Bet Championship club with their eyes on the Premier League, they are aiming to take advantage of modern technical sports resources to stay ahead.
As their prospects right now look especially good with competitive players and experienced coaches, the team wants to improve coaching and give players a better advantage during matches. They have started using a combination of ChyronHego's TRACAB player and ball tracking system with the Coach Paint telestration and analysis software. By combining video visualisation with real-time tracking data, BCFC is able to engage, teach, prepare and recruit players more effectively.
Data Capture and Analysis
The TRACAB Image Tracking System uses Super-HD cameras and proprietary image processing generate live tracking of all moving objects within a sports arena with a maximum delay of three frames. Two of the TRACAB Super-HD Camera units, which are quite compact, are positioned at the pitch during matches and use a stereo process to continuously record the entire playing surface from several angles. The system's software then analyses every image to extract X, Y and Z positions for each object, resulting ing in three-dimensional trackinreal-time.
The captured data is processed via an open protocol that makes it available to graphics rendering platforms - in this case, Coach Paint. The TRACAB system includes modules that extract detailed statistics for various sports, and work in parallel with the real-time object-tracking data capture. They operate on the same interface so that broadcast graphics platforms can be used for analysis graphics like heat maps, pass charts and move types that contribute to match analysis, player development and performance training.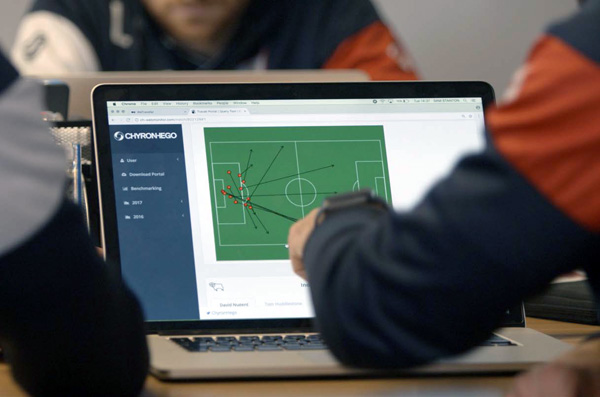 This data feeds Coach Paint's telestration tools that the coaches and players use to highlight the game video during training sessions. With functionality such as player cut-out, spotlight, zoom, zone tracking and others, these are essentially graphics creation tools customised specifically for marking up and explaining sports videos.
By using the chroma-keyer, they can place the telestrator graphics onto the video playing surface without interfering with the field lines, players or the ball. An internal image-based tracking engine derives enough 3D information from the video image itself to keep the graphics anchored to the ground when the camera moves.
Interactive Visualisation
The combined TRACAB-Coach Paint system gives BCFC the means to capture, visualise and analyse player and team performance data to make training sessions more engaging and interactive.
Lee Johnson, City head coach believes the clarity that it brings to pre-match meetings makes the recorded action more meaningful for the players. "I can use it to prepare and go into each training session with a very clear message, and we can also use it on the training ground to design sessions, illuminate plays and move players around to make a point or demonstrate an effective approach," he said.
Dean Holden, assistant head coach, said, "Many of our coaches were players themselves and appreciate a chance to make the training sessions as interactive and compelling as possible. With the touch screen, it's not just coaches in front, lecturing the team – the players themselves can come up and illustrate a point or put themselves in certain positions, and ask questions."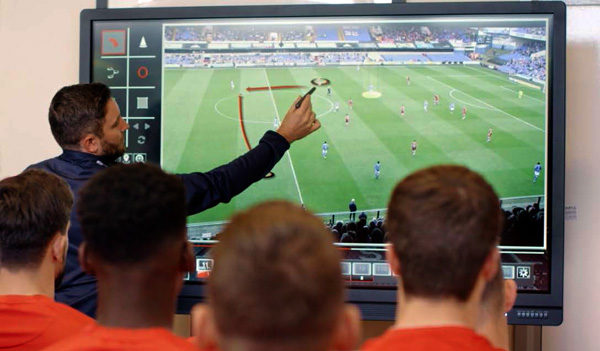 Player Management
Further to training, the software also gives insights into player performance that may help prevent injuries and also make sure the right mix of players is on the pitch for the next match. Rhys Carr, head of fitness and conditioning, said, "The performance data we get from TRACAB allows us to make decisions about individual players and how they'll do the next day, including how quickly they recover and how much we can load them in physical conditioning sessions. By the end of the week, the data helps us put together the freshest,strongest players."
However, the ability to use the physical TRACAB data plus the tactical interaction afforded by Paint, both together, is the system's greatest advantage. Rhys said, "TRACAB returns reliable and accurate data to us quickly. Then Coach Paint can take the data and give us a good, tactical context for each game and what we'll be exposing our players to. That way, we can decide how to manage players and prepare them adequately for the next game, which is never too far away."
Coach Paint for Players
The players themselves like seeing the data on how far they run, for example, how fast and how hard they work. Of particular interest is the ability to look at their own clips while a manager or coach puts graphics on the screen that show the best actions to take, such as where they should run or what position they should be in.
Sam Stanton, head of performance analysis, commented, "The system makes the players want to participate in the coaching analysis themselves. They can instantly visualise formation, progression, alignment and other techniques in the same way they are used to watching commentators do on live sports broadcasts and television highlight shows."
The BCFC is pushing its efforts to gain Premiere League status, and is aware that Coach Paint and TRACAB are in use at several of the Premier League clubs. Sam said, "We can click a button and have the whole season's benchmarks all together in one place. Our management is keen to have us stay in the top five in terms of physical output, and I don't think that would be possible without monitoring our performance with these analysis and telestration tools." chyronhego.com